Changing with the seasons
Vendor tables are still full,  just with produce more suited to the falling temperatures
If you come by the market Tuesday evening, at say 6:35ish, you will notice the few pumpkins not sold are starting to sneak back onto the trailers. A vendor may be starting to stack and count market tokens. Market staff taking signs down, packing up while still open.
Here's what's going on. We are racing the sun.
This time of year the sun slouches down to look across our market precisely at 7 p.m., our closing time. After that, we have 20 minutes of good light left to put up. Let's just say our "before-close" customers get a different show than the "before-open" customers. 
All that to say, if you come by at 6:45 p.m. next Tuesday do go ahead and come in the pavilion. Our vendors may be putting away but they are pleased to pick out exactly what you came for and sell it to you. 
Our Tuesday market's finale is Oct. 12th at the regular time, from 4 to 7 p.m.
I am often clad in a market shirt while I am bouncing around the area. This means I get the pleasure of answering questions about local farms, produce, healthy meals, trolleys, gardening – all the things that delight me. I speak of our local farmers in a way that presents them as the rightful rock stars of our area. You would think Hank Williams himself was coming back from the dead to play a show every time market sets up if you listen to me. I don't feel like I am too far off.
These guys practice with their instruments, more accurately implements. They study other artists of similar crafts. Play alongside them at workshops or in training sessions. Our farmers "throw down" very gently because we wouldn't want to bruise the tomatoes, the best flavors of the Four States. They fill their little arenas with colorful symphonies, made up of green beans, bell peppers, cherry tomatoes, eggplant, pumpkins and more. The displays set out on tables are show-stopping.
Even now in September, when the home gardens are being put to sleep for winter, local farmers, bakers and ranchers continue to play their venues. Even though the songs change from Salsa Season and Backyard BBQ to Green Salads and Stew Season, there isn't a statement in my world more false than, "The market doesn't have anything" or "There's just not much here" during the offseason.
A person came to a recent weekday market and said, "Wow, y'all are about done huh? There just isn't anything here anymore, it really thins out." 
I had to politely disagree. At the time this gentleman was speaking with me we were standing between Nature Valley Farm and BeeHunter. Tang Yang's Nature Valley table was chock o'clock full of okra, green tomato, water spinach, eggplant, cucumber, zucchini, squash, and fresh herbs. BeeHunter had every artisan flavor of jelly imaginable. Down the pavilion were three other local farms and an apiary with golden honey made on Kansas prairie land. Behind us was a trailer of sweet natural meats and farm-fresh eggs. So forgive me, I am not being rude, but you are mistaken in your analysis.
This notion that the market isn't as good in the winter comes from people no longer eating by the season. Whereas we feast on stuffed peppers and gorge ourselves on watermelon during the summer, we stuff acorn squash and make huge green salads during the winter. It's only natural if you think about it. In this region, we aren't going to grow vegetables or fruit that require warm sunny days, instead, we will grow broccoli, spinach, sweet potatoes, and other crops that will tolerate the cold under the protection of a high tunnel.
It's as simple as any transition. Juniper Coffee will soon put away the cold brew coffee to focus on hot coffee drinks. When there's room, Star's Agua Frescas will join us Saturdays with Mexican Hot Cocoa instead of their usual natural fruit drinks. 
It's OK to change. In fact, it helps us experience more. The farms that produce for us during the cold months do not diminish their efforts to bring fresh local produce to you every week. The market isn't over just because the season has changed. I hope you come this winter and find out.
It doesn't matter if you are a "before-close" or a "before-open" customer or anything in between. If you have bought from our market then thank you. See you Saturday, and then Tuesday for the last time this year… and then Saturdays from 9-noon. Have I mentioned we're OPEN YEAR-ROUND?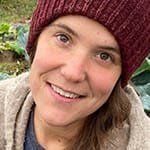 Rachael Lynch
Rachael Lynch is the manager of the Webb City Farmers Market.  For more current updates, visit the market's Facebook page.