Our farmers market certainly isn't an original idea
Only two
THURSDAY

markets left
From the time of the Egyptians, farmers markets have been an essential destination for merchants. We don't see grains and vegetables piled atop tumeric-dyed fabrics; we can claim sophistication with our foldable tables and such, but the concept of making a living by producing basic, fundamental goods is one that is over 5,000 years old. Over the millenniums farmers markets have fueled the growth of nations. 
Yes, I am totally biased. Being the manager of the Webb City Farmers Market means I am hook, line, and sinker into the importance of farmers markets in every community. My bias doesn't discount the point however, farmers markets fuel growth.
The single biggest shift in society was the development of agriculture. Before small family groups would just wander, following herds or rain. Elders passed down information of where to find the edible grasses sprouting during what months of the year, or what rivers still ran with water during the hot months. People lived by the succession of the seasons for survival. At some point, round about 10,000 B.C., a family decided for an unknown reason to stay in one place and intentionally grow food. Hunting was still the way to get meat. The idea of capturing animals, keeping them, and eating their offspring would come later. My point is agriculture changed the history of our little blue planet.
This innovation meant that folks were fed better, upping the chances of older ages, healing from illness, and giving families items to trade. Their skills would grow and meeting places for exchange were arranged. Farmers markets were born and remained the central feature for all civilizations until the last 60 or so years. Modern times have made food unrecognizable, much of it bought in boxes or bags after processing. We can tap screens to even have perfectly shaped and colored produce, products of the same two national corporations, delivered to our door. "Progress" some claim, but so much is lost in this recent method of shopping.
Today we have stripped away the basic connection to people in almost every way. We select soaps made by machines and set upon metal shelves for us to pick up and scan for purchase with the help of a computer. What are we doing? Who is benefiting from these practices? Certainly not us or anyone else in our town.
The next basic need of mankind, after food, is community. Farmers markets have always been meeting places for the cultivation of those two needs. For the last 21 years, our Webb City Farmers Market has been a place of growth and community. We are here to provide nutrient-dense food to help new and old generations stay healthy. We are here to educate those with a longing for a simpler, fulfilling lifestyle. We are here for you.
Now I better get around to what's happening at the market before this turns into a doctoral essay regarding the influence of markets past and present, because folks, I could talk about it all day.
Tomorrow, Thursday the 19th, is the second to last Thursday market of the season. Hours are 11 a.m. to 2 p.m. The decision to end 2021's Thursday market at the end of August has been made, so come out tomorrow or Thursday the 26th if you like to shop during that time.
This Saturday, the Brakers are back from Colorado and will set out some of the last sweet corn of 2021. Our farm tables will be filled with green beans, tomatoes of all colors, okra, eggplant, peppers, peppers, so many peppers, and much more. 
Patti Steel is performing for customers between 9 and 11, and Master Gardener Eric is here helping kids make egg carton gardens.
Tuesday's market, open from 4 to 7 p.m. and will have natural meats from Stormy Farm, WCFM's core farms attend; along with honey, handmade soaps, plus delicious ready-made meals, and thirst-quenching summer drinks.
Lastly, I will pop us back to Saturday and mention who's benefiting from the Cooking for a Cause breakfast. It's the Webb City Redettes! These kids are starting up their school year with a fundraiser that will help them purchase the equipment they need and fund their travels. Everyone at Webb City Farmers Market would like to wish the young Cardinals, Eagles, Bulldogs, Tigers, Dragons, Wildcats, Cavaliers, Cougars, and children schooling from home the best school year.
I am so glad to be living in a community with all you beautiful people. See you tomorrow, or Saturday, or Tuesday!
Children were thrilled to meet Tinker Bell Tuesday during the special Third Tuesday program featuring youth art. At right, even Rachael had her picture taken with Tinker Bell (Anne Marie Wright) because as she says, "Dreams really do come true if we believe."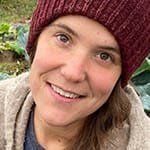 Rachael Lynch
Rachael Lynch is the manager of the Webb City Farmers Market.  For more current updates, visit the market's Facebook page.