Shop with us for gifts as well as produce
Holiday Spirits are high at the Webb City Farmers Market. Holiday gifts, decor, and crafts fill the south end of our pavilion. I love this time of year with the holiday music delighting our ears, along with the mouthwatering aroma of Mexican hot cocoa from Star's and the Granadeno family's pupusas! We want to offer an invitation to all who are reading this, come have fun shopping local.
Every Saturday morning, folks who have small farms wake up with the mission to sell good foods to those who would come for it. The local farms that come to the market offer things like ruby red radishes, so crisp from the cooler growing days. The greens on our farmers tables are lush and offer a balance for all that holiday eating. This is, no joke, the best time of year for salads. Carrots for shredding, onions for mincing, there are enough pecans and microgreens to try I can have a ton of fun creating pretty bowls of wholesome fuel, that's different enough to not get boring. Winter is the season of greens!
December is a special time at market because the walls give a cozy feeling just perfect for Christmas spirit. Johny Wood is a local banjoist who's getting into the holiday spirit with music from 9-11 am, and here is where I tell a funny story… last week I saw on Facebook that Johny has posted on his page about his performance that upcoming weekend, which was last weekend. Well, I was so happy to see a musician promoting our event I snatched it up to use it on the market's page. Before I completed this task, I notice the date in the graphic was wrong. Inside the cute holly wreath with the banjo shadow cast behind it, read the date Dec. 5. That seemed off, I looked at it and was like, 'no, Saturday is the 3rd'. Woops. We all get mixed up, I know I have typed something that flashes through my mind instead of the thing I was typing about, so I thought little about the mistake. Before posting the information I edited the meme to have it show the correct date. All's well, until David Loving, a talented guitarist and singer who writes his own music arrives at 7:45 a.m. on the banjoist's morning. Woops again. I greet David and have him start setting up as I step outside to call Mr. Wood. When he answers we establish that his posting the 5th, and my thinking the 3rd was together an even bigger misunderstanding. He was in fact to play the 10th. So heavens folks, come hear a free show any Saturday morning featuring local talent. Whoever they are, we promise you'll smile.
The pictures that are a part of this rambling are Braker Berry Farm's spinach and Stillwater Farm's radishes, two of the six produce farms attending all winter at WCFM. Our ranchers with natural meats and bakeries for all diets mean families are shopping local for groceries. This December, we can also enjoy picking up perfect accents to our holiday gift giving. The accompanying delicately painted ornament can be found in Virginia Gatschet's booth nestled amongst the other booths full of jewlery, glass work, leather work, doll clothes, bath bombs, pottery and more in the market's Christkindle section.
A new addition on the south end is for customers who like to purchase their frozen meats at the market, but don't necessarily want to be as cold as the products they've selected. Heaters! Due to the issues of putting a meat trailer inside facility only accommodating to pedestrians, our ranchers have faced the cold winds of winter huddled in their trailers or ducking from the heated shopping pavilion out to help a customer who just walked up to their table. I'd watch them dance to stay warm. Our customers are the best, and pretty good dancers too.
There are plans for future accommodations, but the fact that our meat vendors are cold now has always bothered me. I considered outdoor patio heaters but their cost of purchase has been out of reach, so when I popped out to Famos Grill of Cartervill this summer to pick up lunch and noticed shiny silver heaters out behind the restaurant, I inquired. JT, owner of Famos, told me they'd been used the winter of '21 to heat their overflow seating on an enclosed patio, much like our winter pavilion. Thanks to the support of his customers, his restaurant was able to enclose their extra dinning this summer and they no longer had a purpose for the heaters. Now, thanks to the compassion and community mindedness of the Amos family our market was lent the patio heaters making winter more comfortable for an important part of our market. Now we just need to talk to nature about what we can do when the wind blows. Ha!
We are going to hope to see you soon so we can share with you the unique things that make up our winter markets.
Webb City Farmers Market
Open 9 to noon every Saturday
Santa will be with us Dec. 17 and 24
We'll be open New Year's Eve, Saturday, Dec. 31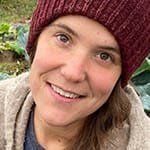 Rachael Lynch
Rachael Lynch is the manager of the Webb City Farmers Market.  For more current updates, visit the market's Facebook page.