Supporting the WIC program is one measure of the importance of community
I am writing from my living room for this week's online Sentinel. Looking around on the coffee table, I noticed four small jars from our market vendor Beehunter's Jams & Jellies. My son sits next to me eating a snack from a bowl I picked up 3+ years back during one of our market's Empty Bowl campaigns, and the zucchini bread in the bowl is made with local veggies and pecans. Surrounding me are the little things that shopping (OK, and working) at a farmers market has provided for me. There are rain boots I bought for those April-shower-type market days placed in my shoe collection. Crafts my kiddos made at Kids Gardening Club are on a bookshelf. 
I am sitting here, considering what to write and just gazing about my living space. I am hit with how wonderful our market is, and what I support by being a member of it.
It's a community, and one which works for the good. You see, the Empty Bowl campaign was supported by a beautiful woman named Linda Stewart. One year she made so much blackberry cobbler that we sold a serving plus a clay bowl for $10. Each purchase paid for one family's week of participation in the USDA's Women and Infant Children program at the market. 
If you don't already know, we have been privately fundraising for five years to enhance the WIC program at the market. My first spring with the market, we offered each household active in WIC $10 a week for grocery shopping at Webb City Farmers Market. It was successful for a couple of months until funding was diminished. 
We've been able to continue the program off and on and in the past year we haven't had to pause the distribution of coupons. That's been possible because of support from donors and fundraising. 
There are other states that fund programs like ours. We are waiting to see if Missouri follows suit. Until that day, we will continue asking for donations and conducting fundraising events such as the Empty Bowl. That was a pretty good fundraiser, maybe we should do it again. What do you think?
It's exciting. The more public offices see the benefit to people shopping locally for groceries, the more farming will become a way to support the life you want again. During 2020, farmers markets were allowed to stay open just the same as grocery stores and supported this area with fresh vegetables and meats when the stores were out. Local food systems are essential, last year proved it.
My son has noticed I am typing the column. He's been reading it aloud while I type in a newscaster voice… He is still reading it as we go…
Okay, I'm back. I couldn't type because I was laughing too hard. I told him to go back to reading his book so I could finish writing, and his giggle-tainted response was, "And then I can be your grammarly." He's hysterical. (People who work from home with family running around, let me hear a shout-out.)
Like I was explaining, my life is filled with evidence of a thriving farmers market and it's here because I show up. I shop. I appreciate it. The jelly that used to fill the jars on my coffee table, those preservative-free sweet flavors, have been in my kids' school lunches this semester. This market is something its patrons cherish and value. We love meeting new customers who tell us they just moved to the area. Their smiles are big when they explain they are thankful to find a farmers market that is so well stocked. At the end of last month I met a beautiful family who were happy to share that they'd just bought a bit of land and were new to the area. They plan to grow food and learn the joys of homesteading here in our neck of the woods. I've spotted them each week since. They are part of the movement of people who are all making a habit of shopping local. We, as a market, are excited to have an active and bountiful market to offer.
Peppers and fresh mozzarella.
This Saturday's market will offer fresh produce, free-range eggs, raw honey, holiday crafts, artisan breads, and something new! 2nd Street Made is a new vendor joining our lineup with made-at-the market fresh mozzarella. Cheesemaker Jay has experience in making cheeses at farmers markets in California and has recently moved to our area. He visited us and immediately began talking about making and selling his product here.
Just Jake & Corky will be playing music from 9-11 a.m. Jane's Glass Art will begin setting up a table with lovely glass items appropriate for the season. The Joplin WIC office is also joining us this weekend to hand out recipe cards with five uses for pumpkin, and also to answer any questions about the WIC program.
The last thing I will point out from the vantage of my couch is the bouquet in a vase that accompanies the jelly jars. It was freshly picked at Maypop Flower Field on Sunday by my daughter. The flower farmer, Molly, has ended her season and all her sales for the most part. Winter for her means bringing in truckloads of compost and many more tasks in preparation for spring. For one more weekend, though, she thought we'd enjoy the chance to pick among her "beat down" field's flora. The event also featured local coffee, donuts, and handmade vases. The dahlias, celosia, lisianthus, marigolds, and other plants are still quite breathtaking even as fall temperatures have begun to drain the life down, hailing the time to bare seed.
Picking flowers, just my daughter and me, is a memory made because of the creativity and work of a local farmer. Part of that farm's success comes from the business it receives from you and me. Farmer's markets can help sustain our lives and bring so much joy. If you don't believe me, read this again and notice the little joys I found while trying to think of something to write about. We, the customers make the choice to come to a farmers market. The customer is who we look forward to getting to know better each week. Thank you for being our customer, thank you for supporting this community.
See you Saturday. Only Saturday though, because the weekday markets are now both closed until the 2021 season. We're open Saturday mornings (9 a.m. to noon) year-round.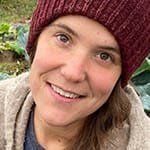 Rachael Lynch
Rachael Lynch is the manager of the Webb City Farmers Market.  For more current updates, visit the market's Facebook page.