Santa's coming to our market Saturday
This is it! Santa will be at the Webb City Farmers Market Saturday to gather last-minute wishes and spread Christmas cheer before he and his elves return the night before Christmas. He says he'll be happy to let you snap a picture and welcomes your fur babies.
The market will be open 9 a.m. – noon.
Rich Roberts will play the classic holiday tunes from 9 –11 a.m. There will be a holiday craft for the kiddos to do and several Christkindlemarket vendors will be sprinkled throughout the pavilion.
Diamond Z Leather has belts available for custom fitting. Deb's Cottage Creations will be here with kitchen adornments, handmade scrunches, and hot bowl holders. Cait's back with her CoCoa Bombs and bees wax wraps. There will be wooden decorations, hand-wrapped gem jewelry, and hand-painted ornaments.
Many of our favorite vendors have gotten into the spirit of the holidays by offering gift boxes, coffee subscriptions, and stocking stuffers. The farm tables are stacked with broccoli, bok choy, fresh herbs, crisp lettuce, carrots, radishes, turnips, Brussels sprouts, onions, pecans, mushrooms, and more. Sunnylane Farm offers all natural pork, beef, lamb and chicken.
Countryside Bakery is attending with fried pies, apple bread, jalapeño cheddar loaf, cookies, cakes, pie, and hand-made chocolates. Redings Mill Bread offers wood-fired artisan backed goods.
A vendor I'd like to take a second to talk about is our beloved chicken lady, Ms. Ashley. Ashley Cummings is someone I got to meet this summer while scouring the countryside for more eggs, something our customers always could use more of. I've been asked why it's so hard for us to find a good supply of eggs when it seems like everyone and their mother is currently raising laying hens. I mean, my kids and I have six spoiled little ladies whom I have included a picture of because we love them.
Enough about my birds, we were talking about the egg supply at the market. So in order to sell at the Webb City Farmers Market, an egg farmer must have a special egg license. Meaning they have learned top-care practices and proper handling of eggs after harvest. Your neighbor, who you might grab a dozen from their hens every once and a while, could have a beautiful flock, but those eggs cannot be sold to the public.
Another thing about keeping chickens is that it has a high cost for the return, so many small egg operations can run into difficulty. There's cost of shelters which can provide protection at night, balanced feed, bedding, veterinary care when illness sets in, and heat in winter.
Each dozen of eggs bought to market represents the week's work of about four birds, and the cost of those eggs has to cover the cost of what's needed to feed them. Then there are the needs of the chicken farmer, which in order to stay in business, must also be met.
Large egg operations can offer a cheaper, poorer quality egg because they can order feed by the truck loads and stuff as many birds into a metal structure as allowed. Last time I checked it was one bird per one square foot and these are those "cage free" eggs you'll see at the box store. That's sad, and why I choose to support local birds from farmers I know like Ashley at Cummings Cross Farm.
Ashley has a pretty flock of chickens, ducks, and guineas, who are well looked after by Ashley and her daughters. She understands that good tasting eggs come from birds having a diet high in protein. So to be cost effective, they started raising their own worms and beetles. Yes, I said that. Ashley takes care of her birds to a level I was so impressed with that I approved her to sell at market the moment she walked me into the space where she keeps her bug farm.
"After working at Empire District Electric for nearly a decade we decided it was time for me to stay at home in 2018 with our four daughters," says Ashley. "I stopped at the local Orschlens one day and went home with 175 clearance chicks not knowing what I was doing. 
Through trial and error I learned how my grandfathers before me successfully farmed. Since then we've traded chickens for ducks and guineas. We now have a few more than 200 chickens, 15 ducks, and 3 guineas. I have worked to cross breed and hatch my chickens to gain a larger variety of color in our eggs and size which increases yearly. Using, reusing, and recycling is very important to our family in using what God has given us."
Stories about exceptional care and exceeded expectations aren't unusual when you research our farms. It is our hope to bring you the best, and we plan to keep doing it as long as you show up.
We hope you come shop the last two markets of 2021. We are open Saturday from 9-noon and on Christmas Eve from 10 a.m. to 2 p.m. See you beautiful people soon!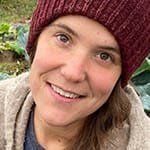 Rachael Lynch
Rachael Lynch is the manager of the Webb City Farmers Market.  For more current updates, visit the market's Facebook page.