Cade Wilson, on fourth down, squeezes around a block by Dupree Jackson.
Braeden Jackson hoists a flying Cardinal, Cade Wilson, after the the team's second TD.
2021 Class 5 STATE CHAMPS
Dupree Jackson gets a push and a pull while making a first down. Angel Velasquez (54) and Nate Miller (75).
Cardinals made it interesting to say the least
The 2021 Webb City Cardinals – in nail-biting, leg-gripping fashion – joined the school's list of state championship teams by defeating Holt 26-21 Friday in the Show-Me Bowl at Columbia.
The 2021 Cardinals became the 16th Webb City team to win a state championship but are the first to do it in Class 5.
This team was also the first to make it to the Show-Me Bowl with three losses. Unlike their fans, who likely gave up on them making it to the playoffs, let a lone to the championships, after their devastating (42-14 in Week 4) loss to Carthage, the 2021 Cardinals kept working.
"We just grinded it out every single day in practice," said senior linebacker Cooper Crouch in the post-game interview.
"I love these guys," said Coach John Roderique. "It's a special group. I wish we could still keep practicing and playing. We have fun every day."
Lucas Ott (48) and Cooper Crouch (49).
After Holt's interception at goal, Lucas Ott sacks Holt quarterback Frank Merrell, as Billy Wolfe assists.
They could have made the game less interesting.
With 5:39 left in the fourth quarter, it looked like the Cardinals, leading 26-7, were about to put the game away by taking a four-touchdown lead.
But Holt intercepted a Webb City pass at the 5-yard line.
Webb City's defense got a sack on the next play, but that didn't deter the Indians, who completed a 95-yard drive.
The Indians' onside kickoff was successful, giving them possession on Webb City's 44-yard line. They took only 43 seconds to come within one touchdown of stealing the win from the Cardinals.
Webb City got the ball again with the succeeding kickoff but couldn't get a first down. Cooper Crouch boomed a 42-yard punt (Webb City's only punt of the game) to Holt's 13-yard line with only 1:20 left in the game.
Three first downs later, Braxton Surber sacked Holt quarterback Frank Merrell at the Webb City 28-yard line.
Time ran out as Dupree Jackson intercepted Merrell's pass on the 3-yard line. The Cardinals went wild, and their fans caught their breath before celebrating.
Sitting next to the championship trophy moments later with the team captains, Coach Roderique was apologizing for calling the ill-fated pass play and thanking his players for saving him. 
"My whole thought process was, I hope I didn't cost these kids a state championship by calling a pass play that got intercepted. Terrible call." he said. "That is one I'm glad they saved my butt on that one."
Regarding the 16th championship continuing a tradition, Roderique noted that two of the players seated with him, Buddy Belcher and Brentan Wilson, had dads who had been on Webb City championship teams. Josh Belcher was on the 2000 team, and Bobby Wilson was on Roderique's first of 13 championship teams in 1997. He also mentioned that Cooper Crouch's dad, Shannon, had been on a Seneca's 1987 championship team.
Webb City dominated all but the beginning and end of the game.
After the Indians, 13-0 going into the game, drove 71 yards on the opening possession to take a 7-0 lead, the Cardinals scored four unanswered touchdowns and almost a fifth.
Webb City's leading rushers, Cade Wilson and Dupree Jackson, both ran for two touchdowns and joined the list of players with 100-yard Show-Me-Bowl performances.
Quarterback Cohl Vaden completed five of 12 passes for 65 yards. His receivers were William Hayes (2 for 36 yards), Kaden Turner (2 for 21) and Jackson (1 for 8 yards).
Kaylor Darnell recovered Holt's third-quarter fumble, which gave Webb City a midfield start for their fourth touchdown drive.
See the MSHSAA game stats online and below – and the updated 1985-21 team record.
Game over as Dupree Jackson comes up with the crucial interception.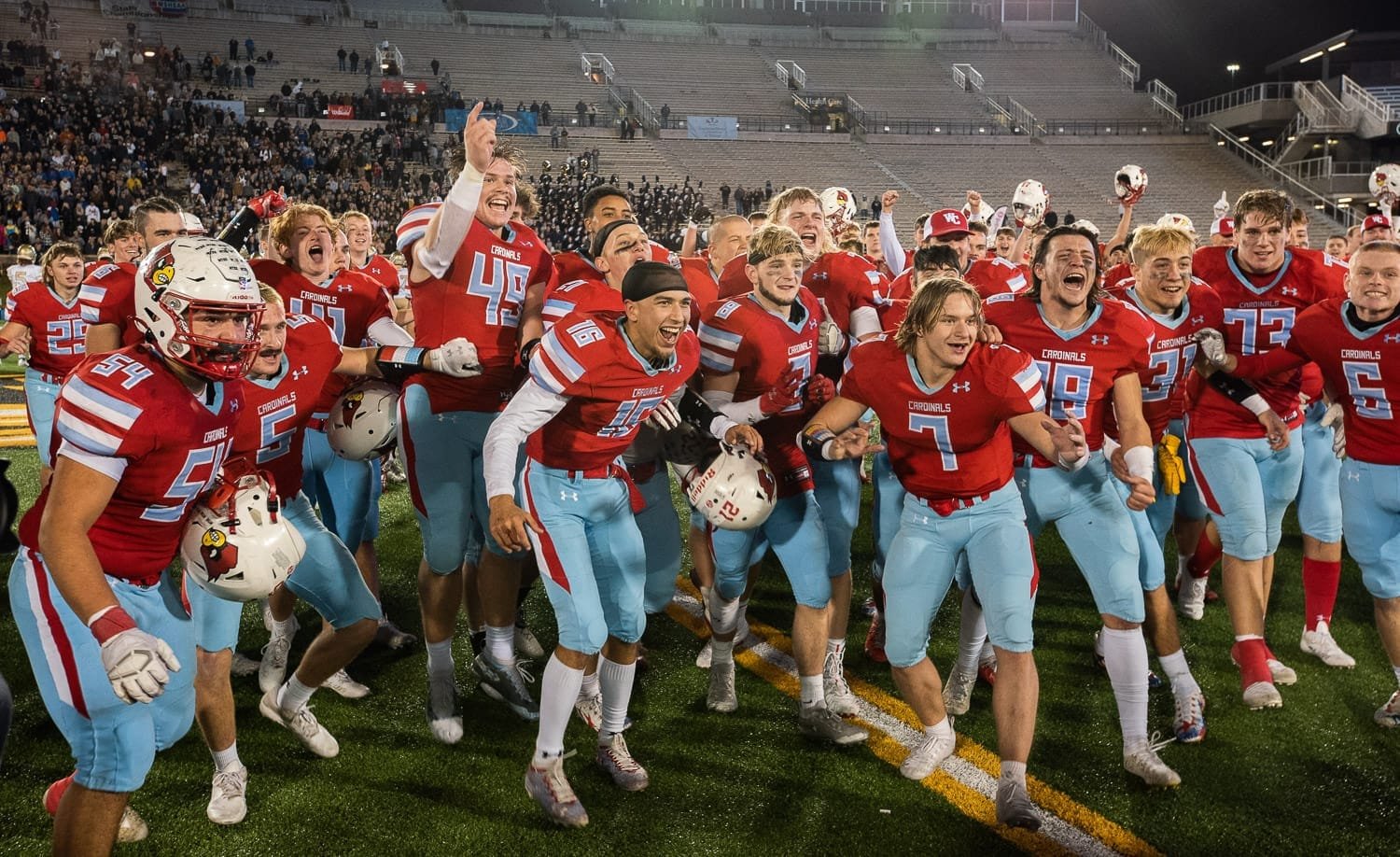 Cardinals await the Class 5 state championship trophy presentation and then greet fans in the stadium.
NOW IT'S TIME FOR BASKETBALL
Two Show-Me Bowl teams faced off on Lamar's basketball court Tuesday. (Lamar lost a heart-breaker, 33-27 to Lutheran St. Charles in Class 2).
Webb City receiver Kaden Turner led all scorers with 19 points. Dupree Jackson added 10 for the Cardinals, who won 58-40.
Their next game will be at 4 p.m. Thursday against West Plains in the Carthage tournament.
The first home game will be Tuesday against East Newton. Cardinal Dome will also be host to the Webb City Junior Varsity tournament Monday through Thursday.