Before and after a second story and wrap-around porch were added to the house at 304 N. Ball St.
Ancestors, Legends & Time
304 N. Ball St. got the extreme makeover treatment
Most of the time we are disappointed when older homes are left in disrepair and a front porch or upper floor is removed. This particular home, at 304 N. Ball St., was just the opposite. The original home was a single-story. A neighbor lady recalled the excitement on the day when Lewis Stevison rode into town at a fast gallop and while running into his house shouted, "Hey Molly, we've struck it rich!" He soon added the second story, and the home represented his success.
I love the rags to riches stories of the Webb City's mining era. Lewis J. Stevison is one of those fortunate ones who worked hard and made that fairy tale come true. 
The parents of Lewis Stevison were John W. Stevison and Lucinda Howe Stevison, of Jackson County, Ohio. John W. Stevison, a farmer, served in the Civil War. His son, Lewis, was born Nov. 3, 1861, in Jackson County, Ohio. The parents died in 1902 and 1894.
Lewis attended school until he was old enough to work, at which time he was pulled from school to be a farmer. At age 19, Lewis went to work as an Ohio coal miner for three years, after which time he went to work in the coal mines in Pittsburg, Kan., and then Fort Scott, Kan. 
In 1886, Lewis J. Stevison arrived in Webb City to begin working in the mines as a pulley boy, receiving a dollar and a quarter to pull buckets of ore out of the shafts. It was hard work, 80 feet below ground, but Lewis persevered and managed to save some of his hard-earned money. When he had saved enough, Lewis bought an interest in a mine and earned enough money that he felt he was ready to take on a bride.
Lewis J. Stevison and Mary P. Hatcher, daughter of H.E. and Melissa Hatcher, were married Feb. 3, 1887.
In 1890, after his mine ceased to produce ore, Lewis, along with Joseph Aylor, Will Coil and Mack Bergner, leased some lots on the Eleventh Hour land and struck pay dirt. He kept buying interest and working in other mines and finally found himself beyond the reach of poverty and close to reaching the millionaire mark.
In the fall of 1900, Stevison, along with Charles Moore, of Joplin, leased some lots in the Conner Lands, south of Webb City. They developed the mine, taking out ore worth $20,000 within the short space of nine months. Then they sold the mine for a tidy sum of $33,000.
In 1901, Stevison secured a lease on the L.H. Baker land, along with a lease on 40 acres of the Musslemand Property, opening mines on both properties. Each brought in a profit until 1904. In this same time period, he bought 70 acres of the Smallhouse Fee at Neck City and organized the Reliance Mining Co., capitalizing at $300,000, and the company's three properties paid in dividends amounting to $270,000. In 1904, 1905 and 1906, Lewis Stevison, along with James Stewart and a few other prominent men, purchased a mine in Duenweg, which proved profitable.
In the spring of 1905, Stevison, along with others organized the Merchants' and Miners' Bank of Webb City, with a paid-up capital of $50,000. They opened the bank in an old building on Main Street (Broadway), meanwhile buying a lot on the southwest corner of Daugherty and Allen (Main), where they built the new magnificent building that still graces that corner.
In 1906, Stevison organized the Stevison-Rogers Land and Zinc Co., which controlled 700 acres of rich land and some very good mines.
Lewis and Mary Stevison had six children: Edwin F. Stevison, born April 20, 1888, graduated from Webb City High school 1907, entered the University of Michigan and while sailing with some friends at Ann Arbor drowned as the boat overturned. He died May 12, 1908.
Elmer G. Stevison, born March 20, 1891, graduated from WCHS, and with the class of 1909 at the University of Missouri.
Earl C. Stevison, born July 6, 1893, graduated from WCHS and from the Welch Military School in 1911.
Clara Stevison, born May 28, 1894, died May 1, 1902.
Harold Stevison, born April 27, 1903; and Mary Louise Stevison born May 26, 1905.
Lewis Stevison belonged to Webb City Lodge #512 of the A.F. & A.M.; Chapter R.A.M.; Joplin Commandery, K.T.; and the Webb City B.P.O.E. Lodge. He was a Republican. Mary Stevison was a member of the Order of Eastern Star and belonged to the Christian Church.
This brief history of Lewis J. Stevison's career shows clearly that our nation offers every opportunity to men to rise by their own efforts to positions of influence and affluence. He started at the bottom of his chosen career and worked himself up through the ranks with hard work and smart investments. What an inspiration to all.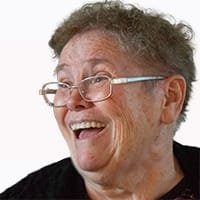 Jeanne Newby
A lot of us appreciate the Bradbury Bishop Fountain, but Jeanne actually worked behind the counter making sodas while she was in high school. She knows everything about Webb City and is a member of the Webb City R-7 School Board.