Ancestors, Legends & Time
There wasn't streaming in the '50s and '60s, but we still had some memorable shows to watch
Well we have talked about the first televisions and the favorite shows of the early television shows. I was contacted by a few readers who said I left out some important shows in that list of favorites. So I promised we would hit a few of them this time.
As children of the 50s and early 60s, it seems that one of the most common playtime activities was playing Cowboys and Indians. Girls and boys alike could play this game as the heroes of the television covered both genders.
How many of you recall all the westerns that were on television. There were plenty.
Do you remember "Bonanza," which did not start until 1959. "Gunsmoke" began in 1955 and was a favorite around this area since Dennis Weaver grew up in Joplin. James Arness was popular also. Clint Eastwood was famous with the ladies in "Rawhide." And Chuck Connors could sure twirl that rifle in "The Rifleman." I had a coloring book of Sugarfoot, and wanted to be Annie Oakley, but the closest I came to it was Halloween 1961.
Hop Along Cassidy (1948) was on the sides of milk cartons and small grocery stores. And it was so cool to see the Texas Rangers come in from the sides until they had a large group of Rangers riding together.
Gabby Hayes was in so many westerns you didn't know who he was riding with as a sidekick. It could be Hop Along Cassidy, Gene Autry, Roy Rogers, John Wayne or many other western heroes.
"Wyatt Earp," (1955) with Hugh O'Brian, had a catchy song. There were theme songs with lots of the westerns that children memorized. And many westerns that were mimicked like Kit Carson, Cisco Kid, Wells Fargo with Dale Robertson. Richard Boone was a favorite as "Paladin in Have Gun Will Travel." "Bat Masterson," with Gene Barry, was a dandified cowboy. "Wagon Train" (1957) was a rough life for cowboys. "Broken Arrow" had the best Indian of all, Cochise played by Michael Ansara. Is there any wonder why the favorite pastime would be playing Cowboys and Indians? I had my cap guns with the pearl handles, cowboy hat and boots. My horse looked like a wagon and I didn't always win the fights, but I had fun trying.
Cowboy games were delayed on Saturday morning as we watched the cartoons. I mentioned a few of my favorites and then some friends shared their favorites also. Some of these were mentioned by my "older" friends because I don't remember watching all of them. There were lots of puppet shows in the early 50s. Such as: "Rootie Kazootie" (1950), "Shari Lewis," "Judy Splinter" (late 40s), "Jimmy Nelson & Danny O'Day," "Lucky Pup" (1948), "Children's Corner" (1955), "Howdy Doody" (1947-1960), "The Singing Lady" (1949) and of course, "Kukla, Fran & Ollie" (1949).
I don't know how I could have forgotten "The Beatles," a cartoon show of the 60s. I mean I was alive when the Beatles came to America! That seems to amaze some younger folks! And we did enjoy "Rocky and Friends" (or better known as Rocky & Bullwinkle).
Game shows seem to have been a popular item of the 50s. Of course, many of them originated on the radio and switched to television when it became more popular. "Queen for a Day" with Jack Bailey; the queen was selected from the lady who could give the best hard-luck story. That show ended in 1965.
"Truth or Consequences" was hosted by Bob Barker. "Treasure Hunt" was a favorite with Jan Murray. "What's My Line," "I've Got a Secret," and "To Tell the Truth" seemed to have the same panelists all the time. "This is Your Life" and "Name that Tune" were fun to watch. "Name that Tune" came out many years later as a new game show. The "$64,000 Question" and "The $64,000 Challenge" earned some big money for contestants. "The $100,000 Big Surprise" brought even more money to the game. It was hosted for a while by Mike Wallace (you know…the news announcer!)
"The Price is Right "started out in 1956 hosted by Bill Cullen. There were many other game shows through the years and it seems like that was a popular television show to offer the viewers. The 60s brought different game shows like: "Let's Make a Deal," "Password," "Match Game," "Video Village," and many more.
Television was a guest in our home and it was very entertaining. It was good clean fun for the entire family. Children still managed to get their homework completed, their baths and off to bed at a decent hour. They still had time to play outside in the sunshine with neighbors. And you had to mind at your friend's house because every mother was in charge and you knew to behave.
I hope you enjoyed another trip down television memory lane. There are still many wonderful shows like "Twilight Zone." But do you remember when they started showing the "Saturday Night Movies" in 1962. How awesome to be able to sit in your own living room and watch a movie that you used to have to go to the theater to enjoy. Many theaters used to show reruns of movies and with television showing free movies, theaters had to make changes.
Many of us get to watch some of the old television shows on some channels that show the old episodes. It's fun to go down memory lane but the kids still don't know what it's like to wait for the television tube to warm up before the show comes on. You had time to run to the kitchen to grab a snack while waiting for the tube to warm up!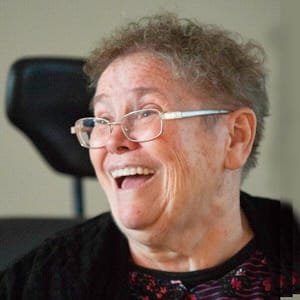 Jeanne Newby
A lot of us appreciate the Bradbury Bishop Fountain, but Jeanne actually worked behind the counter making sodas while she was in high school. She knows everything about Webb City and is a member of the Webb City R-7 School Board.