1889 building on Main at 1st went from selling buggies to autos
Just A Taste will sell you wine there today
The Main Street of Webb City in the early days was called Allen Street. It was the place of action. It was the place of parades celebrating holidays, events and happiness. It was the Saturday gathering place for farmers and merchants to sell their wares. And then on Saturday night it was the place to be with family. The citizens of Webb City visited with neighbors, family and friends to share the highlights of their week.
Many businesses were located on Allen (Main) Street. Some were there for years in the same location. Many came and went leaving behind just a memory. Let's take a look at some of those businesses. One that stands out in my mind was located at 101 S. Allen (Main) St., on the northeast corner of Allen and First Streets.
In 1889, the building was home to Koontz Trading Co. Owned by S.H. and Julie A. Koontz. The wife Julie in later years was noted to have been a centenarian, living to be 102. She died in September 1950. 
Koontz Trading Co. was in business from 1889 to 1900, when they sold the building to George F. Haskins and Frank E. Haskins in June 1900 for $2,500.
George and Frank established their business, Haskin Brothers, in 1901. Those industrious young men started their business selling buggies, harnesses and seeds. Frank and his wife Elizabeth (Kerr) lived at 1124 S. Jefferson St., and George and his wife, Patti, lived at 327 S. Roane St. After Patti's death in 1929, George married Ida.
The early part of the 1900s was a fast moving era. The horse and buggy, which had been the mainstay of the Haskin Brothers business, was making great changes. The new automobile business was just beginning, and the mining industry in Webb City was coming to a major slowdown. The Haskin boys were pretty smart businessmen and knew they had to change with the times. They kept their buggy and harness business going as they added auto supplies and tires. The brothers also carried hardware. Their business survived even with many other hardware stores and automotive stores in town as competition.
After 53 years in the same location, two different addresses (as Allen Street was officially changed to Main Street in 1921), the Haskin brothers decided to retire. They sold their building to Fred Casada in 1946 for $3,000. Fred and his wife Doris opened C&W Furniture. That furniture business was doing great, but the Casadas were getting tired so they rented the building to Edith Richards, who started Richards Furniture Store. Edith finally bought the building from the Casadas in 1971, then sold it in 1973 to Larry and Connie Sweet, and it became the Home Rug and Furniture Store.
The building eventually became home to the American Legion. Many meetings, parties and dinners were held in that building. The American Legion built and moved to its current hall at 1000 N. Webb St. Then the former furniture building became a church for many years.
Today, the building is one of several combined as Just A Taste, a winery, restaurant and event center.
Those buildings have quite a history and are a symbol of the perseverance in the changing of the times. That description holds true for Webb City as well.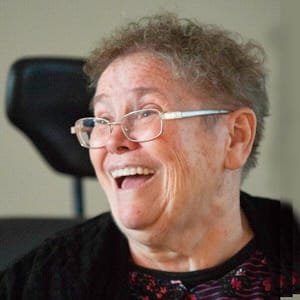 Jeanne Newby
A lot of us appreciate the Bradbury Bishop Fountain, but Jeanne actually worked behind the counter making sodas while she was in high school. She knows everything about Webb City and is a member of the Webb City R-7 School Board.