Traffic had to be stopped when Georgia City Bridge's historic metal frame was moved to Webb City.
Ancestors, Legends & Time
Do you remember these moments?
Moments in time. Sometimes we have special moments that only last a few minutes. Then again, there are special moments that hang around a little longer. Sometimes, those special moments leave our memories and we are blessed when we have a picture to help us remember the special times we have enjoyed.
Webb City was your typical small town where everyone knew each other or at least knew of each other. Just a typical small town community where major events left an impact because they didn't happen often. Do you recall memories of special events in Webb City. Do you have a picture to help you remember? Here are a few special events that I recall.
Do you remember when the Goodyear blimp was hanging out at the airport? Many cars pulled over and took pictures of their children in the foreground and the blimp In the background just suspended in air.
Were any of you able to make it to the airport when John F. Kennedy made a stop? It was nearly impossible to get into the small airport at that time.
How about this? Do you recall a side show that set up on a vacant field about 1969 on Range Line Road just north of Newman Road. They had a lady frozen in ice, and you could walk through the trailer to view her through the ice. It cost a quarter for a memory to last a lifetime!
My grandchildren and I were so excited the day the big truck brought the Georgia City Bridge to King Jack Park. My father-in-law, Alvin Newby, was born in 1909 in a house next to the bridge in its original location. A classmate of mine wrote a book about the episodes that occurred below the Georgia City Bridge. History was moving into our park. It took a few years but it was finally put to use when added to the walking trail. A pretty sight in King Jack Park.
I remember when Bill Lundstrum organized a circus to come to Webb City. I still have some of the circus posters that announced it was coming. We all promoted the circus as the "first circus" in Webb City… but we were wrong. Sara Easley McKibben shared some old time photos with us that shows a circus parade in Webb City. The circus would have a parade to let the citizens know a circus was in town. That circus parade was in the 1920s. What an exciting day in Webb City, the day the elephants roamed Main Street!
I notice as I am going through old pictures and memories that Webb City loved a parade. We had parades for holidays, special events, homecoming, important visitors in town, the annual Mining Days Celebration and many other special events. Any excuse was a good excuse for a parade.
The Georgia City Bridge, now a foot bridge, spans the lake in King Jack Park.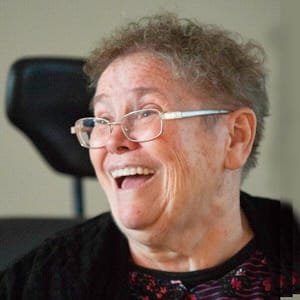 Jeanne Newby
A lot of us appreciate the Bradbury Bishop Fountain, but Jeanne actually worked behind the counter making sodas while she was in high school. She knows everything about Webb City and is a member of the Webb City R-7 School Board.