Imagine not one semi on MacArthur Drive. 
Ancestors, Legends & Time
Before McDonald's, Walgreens and City Pointe
This awesome photo from the past shows all the houses still on Madison Street, where Culver's and the City Pointe shopping center are now located. Most of the historic homes were moved to a block west of Madison Street on Cedar Circle.
In the closest (southwest) corner are the Ozark Cafe and Ozark Motel. Oakland Street is in the foreground.
The vacant northwest corner, is now the Walgreens site.
7-11 and Handy Dandy Liquors are on the northeast corner.
Note that you could still cross MacArthur on Jefferson Street. If the Dairy Queen was there (across from the three-door garage), it is hidden by trees.
Look the photo over and enjoy a trip into the past.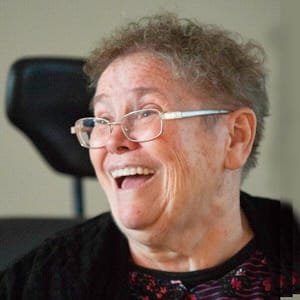 Jeanne Newby
A lot of us appreciate the Bradbury Bishop Fountain, but Jeanne actually worked behind the counter making sodas while she was in high school. She knows everything about Webb City and is a member of the Webb City R-7 School Board.