Hazel and Helen Dickson, born in 1921 and at age 3 when their father died, sit with Mabel and Marion Dickson, born in 1913. The family consisted of five brothers and four sisters, including the two sets of twins.
Ancestors, Legends & Time
Twins run in some families
Twins run in the Dickson family. Mabel Mae Dickson was a twin with her brother Marion. They had a set of twin sisters, Helen and Hazel, younger than them. 
Family history tells of another set of twins in the Dickson family. Josiah Eliazar Dickson and George Ebeneezer Dickson were born the 5th of April, 1832, in Lincoln County, Ky., to Reverend William Dickson and his second wife Eliza S. Lee Dickson. Josiah and George were brothers of Grandfather Ambrose Dickson.
Josiah never married but George married Laura Brown on Oct. 8, 1868, at the age of 36. They had three children, William, Joshua and Nora Belle.
In 1927, on March 5, Josiah (Uncle Joe) Dickson was interviewed for being the oldest twin in Kansas City at the age of 95. They asked Uncle Joe what was his formula for longevity. Uncle Joe smiled, shook his head and said it was a secret! He said it was not his secret nor any man's knowledge. Joe claimed he never smoked, chewed or drank, but many men who have done those things have lived as long.
At the time of the interview, Joe's twin, George was living in Higginsville with his daughter, Nora Belle.
The twins grew up on a cattle farm in Lexington, Ky., and continued in the cattle business as adults. Joe, when he was 21, helped drive 300 head of cattle from Kansas City to California. He made two more cattle drives in his younger years.
Webb City has always had plenty of twins through the years. If you have some twin pictures or stories please share them. Send them to newbyjm @sbcglobal.net.
(FRONT) Ambrose 1844-1933, Lakie 1872-1950, Shellie 1889-1958, Josiah 1876-1924 (father of the two sets of twins), Roselba Dickson. (BACK) Frank 1879-1958, Nora 1874-1954 and Clemence 1884-1958 Dickson.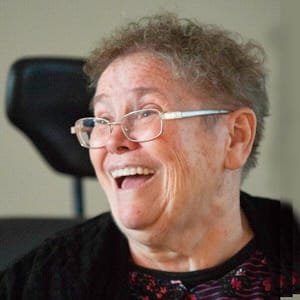 Jeanne Newby
A lot of us appreciate the Bradbury Bishop Fountain, but Jeanne actually worked behind the counter making sodas while she was in high school. She knows everything about Webb City and is a member of the Webb City R-7 School Board.