Maude Byler's house in Oronogo.
Ancestors, Legends & Time
Alfred Tyre Byler and Maud Aurora Radley
By their daughter, Dorothy Byler Birge
Maude Radley lived in Joplin with her family. She was a bookkeeper. Maude had lots of friends. They were all beautiful, well dressed, educated and called themselves the dirty dozen.
Alfred Byler was living in Webb City working as a farm laborer. The Bylers came from Cooper County. They had lived there since about 1829 so were considered pioneers of Cooper County. The Radleys came from Illinois.
Mom met Papa at Lakeside Park between Carthage and Joplin. Sam Edge told me he wanted to marry Mom, but that Byler guy came around and she just fell in love with him and that was the end of that. Sam Edge married someone else. His family died in a fire, his wife and four children. Sam Edge worked with my Uncle Elmer in the real estate business. The four Byler boys were Elmer, Henry, Tom and my dad, Alfred Tyre Byler.
Maude and Alfred got married in Enid, Okla., around the turn of the century. The Radleys had some interest or land in Enid. Mom and Papa had their first child there, Vella Clarice, in 1905. Papa was up there in Oronogo Rural and Mom was living with her family in Joplin. Grandpa Radley told Mom that she couldn't be separated from her husband and to take her baby and get up there with her husband. Evidently Papa didn't have work, but Grandpa said she had to go with her husband. They lived in a little house up in the orchard that Uncle Henry stopped using. Mom painted, papered and bought window glass. She put linoleum on the floor. Papa was then working in the harvest. He also worked in the Yellow Dog Mine as a screenman. Near his death from interstitial nephritis he was a truck farmer. He died from Fabry's Disease in 1918 at the age of 41. Fabry's is a X Chromosome linked disease that attacks the kidneys. It ran in the Byler family. It didn't help working with heavy metals.
When Papa died, Mom was left with the four children; Vella Clarice 13, William Otis 9, Dorothy Elizabeth 5, and Virginia Mae, 3. Papa had insurance from Woodsman of the World, a fraternal organization. I am Dorothy Elizabeth.
Vella Byler in school in Oronogo.
So, Mom, with the insurance money, bought a two-story house in Oronogo with a big barn. Mom rented out the barn to a man who had mules. The place was next to the railroad and Mom would let bums sleep in the barn loft if they didn't smoke. One night the barn began burning. Mom came to wake me up but I was already awake and trying to awake Gyn. I finally got her up and the men came with buckets and everyone was yelling and men came upstairs to throw out anything they could save.
I was worried about the house burning because the barn was only 50 feet away. The men saved the house but the barn burned down and they found footprints of someone jumping from the barn loft and running toward the railroad tracks.
The fire didn't burn the chicken house or the chickens. The man got the mules and he was pulling those crazy mules and then someone came behind the mules and used the whip on their hiney and shoved them outside.
We had a cellar and down in the cellar we had the root vegetables, carrots, cabbage and apples. In that cellar we had the apples spread out on screen wire. Mom said,"Well I have to make do somehow." We had a cow named Betsy and we had a separator so we made money off the cream. Adults had to pay 10 cents on the streetcar and children had to pay 5 cents. So, Mom sent me to take the creme to the creamery to get the butter fat money. The amount we could get for the butter fat fluctuated from time to time.
Mom always had ideas for making money. First she bought a small brooder for 100 chicks. Then she decided that was too small so she bought a brooder for 350 chicks. She would get up in the middle of the night in any weather; snow, sleet or whatever, to turn those eggs over. I'd hear her pad downstairs and hear her going outside. I would worry she wouldn't be able to find her way back to the house. I would lay there awake until she came back to the house and I would hear the door open. One time she said, "You go to sleep now, I'm back." So, she knew that I was awake waiting for her to come back. Gyn (Virginia) always slept through it all.
Everyone in Oronogo gave Mom dresses. Mom changed every dress that I ever had so no one would know that I had hand-me-downs. My cousin Lula said, "Dorothy, I tried to dress my girls just as beautiful as your mother because I was so jealous of what your mother could do with your dresses." "You always looked so beautiful." She didn't know it was hand-me-downs most of the time. My other cousins, Edith and Laraine, were older than we were, so my aunts would give Mom lovely clothes. Mom would tear them up and make other clothes for us from them.
My sister Vella married and had a baby with birth defects. Her name was Betty Lou. She died shortly after her birth. Vella stayed with us for a while. Her husband came and got her, then killed her. Mom never got over that. Vella died in 1925.
Near that time, Uncle Fred, Mom's brother, wrote to her about the passing of his wife. He had moved to California. Uncle Fred wrote to her and said, "Edith died a year ago and I have all these kids and I have a store here. How about you coming out and help take care of my kids and I'll take care of your kids." So she sold the house in preparation to move and Mom was waiting for the school to let out in May. Mom bought a brand new Ford touring car for $350. We had side curtains for rain. She had all of our things loaded on that car a mile high. She had side runners and she could put things on the runners. Otis went into the Navy when he was 16, he said he was 17 but he was really 16. So Otis didn't go with us.
Mom was going to drive this brand new Ford she had bought. I went down and sold off Betsy and I got the money out of the bank and I think that was $150. Mom had sold her chickens and her house and everything she could sell after she heard from Uncle Fred.
So in 1926 we moved to Tuolumne, Calif., and Mom worked in Uncle Fred's store. It wasn't easy for Mom but she always took very good care of us. We moved after that to San Diego and Otis, Va., and I went to school, married and began our own families. Mom worked hard and finally bought some land and built three houses and lived in the little one in back. She served in a ladies service auxiliary for the city of San Diego and started the Missouri Club. Mom also painted and did ceramics. We all have some of the beautiful things she made.
She died 23 Feb 1959 in San Diego at the age of 78 from cancer; leaving Otis, Dorothy and Virginia and our families. I loved Missouri and went back for a visit with cousins in 1982. Otis went back also and took pictures of our house and had a good time visiting our cousins. We will always have ties to Oronogo, in family and our hearts.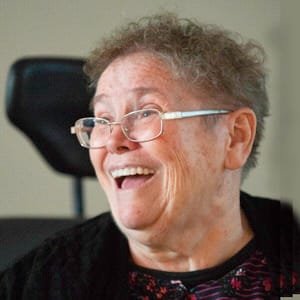 Jeanne Newby
A lot of us appreciate the Bradbury Bishop Fountain, but Jeanne actually worked behind the counter making sodas while she was in high school. She knows everything about Webb City and is a member of the Webb City R-7 School Board.