Ancestors, Legends & Time
Tidbits about our history
• Webb City received a silver medal as an award for its mineral display at the 1898 International Exposition at Omaha, Neb. It was the only silver medal ever awarded. Nobody knows where that medal disappeared to. In 1893, Webb City had a large piece of lead on display at the Chicago World's Fair where they claimed it to be the finest display of all.
• In 1959, Radar Hill was established in Oronogo by the Air Force. It was located across from the Oronogo Circle Mine Pit on material that had been removed from the mine. Many young soldiers moved here for a short stay. That hill is still standing. It escaped the EPA.
• That new traffic light located at Daugherty and East streets sure stands out. Can you imagine what it was like when Webb City had two traffic lights on Main Street in 1947. One was at the intersection of Broadway and Main Street and the other was at the intersection of Daugherty and streets. Wonder what happened to them and why they were removed.
• Webb City's first kindergarten classes began in September 1963. Before then, parents had to pay for private kindergarten classes, which were held in churches and daycare centers. Kindergarten was only half-day until 1998 when the first all-day kindergarten classes began.
• In 1935, Joplin purchased 319 acres of land from Webb City to develop the Joplin Regional Airport.
• The area of Mount Hope Cemetery was known as Pilot Grove, owned by Thomas C. Webb, a cousin to town founder John C. Webb. Tom brought his wife from Tennessee and he found this beautiful land with rolling hills and plentiful trees. Thomas could stand at the high point of his land and see all over the area for miles. This young couple in their 20s had many plans and dreams for Pilot Grove. 
During the Civil War, vigilantes were very active along the Missouri/Kansas lines. The sad part is those who were just defending their property were often killed. Thomas was one of those brave property holders who died defending his property and family. That left Mary a young widow. 
Mary kept the Pilot Grove Farm going and raised her children alone. She divided the land among their children. One of those children was Erasmus Webb, who married his second cousin, Eliza Jane Terry. Erasmus and Eliza had three children, Jesse Thomas Webb, John Edward Webb and Clementine Webb, Erasmus died in 1888, leaving Eliza to raise the children alone. Eliza married William Alonzo Bigger. The land on the hill became known as the Bigger Place but old timers still referred to the hill as Pilot Grove. 
In April 1905, 11 Joplin and Webb City businessmen incorporated a business and purchased the 77 acres of the Bigger Place from Eliza for $11,550. The businessmen made the cemetery a tribute to the wonderful families that helped build Webb City. They contacted family members and arranged to have the bodies of those glorious families moved to Mt. Hope Cemetery. The top mound of the cemetery holds well known families such as the Webbs, McCorkles, Stewarts, Chinns, and many more families.
• Just southwest of Oronogo, north of Webb City, Homestead Road area just south of Ivy Road is the location where a small town, French Point, was located. It was the site of a couple of Civil War skirmishes, one on May 14, 1863, and the other on May 18, 1863.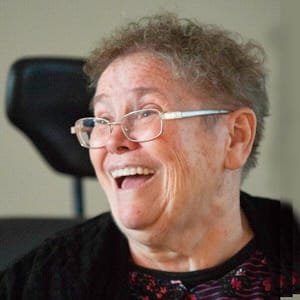 Jeanne Newby
A lot of us appreciate the Bradbury Bishop Fountain, but Jeanne actually worked behind the counter making sodas while she was in high school. She knows everything about Webb City and is a member of the Webb City R-7 School Board.