Ancestors, Legends & Time
Too mushy about Webb City? Too bad!
I decided to run this article again because it reminded me of how much I like Webb City and I thought you might like to remember also.
I really like Webb City
Originally written May 6, 2005.
KSMU radio out of Springfield is doing a show about Webb City as part of a series "Sense of the Place." A really nice young lady interviewed me about the history of Webb City and the history of the Webb City Mining Days Celebration. It aired May 18, 2005, on 98.9 FM
In the process of interviewing, she asked me the question, "What do you like most about Webb City?" I must admit, I had a hard time picking out just one item, as I feel there are lots of things to like about Webb City, but I did narrow it down to the school system. 
The interviewer had interviewed others in the city, and she said most of them had mentioned the school system. What a nice comment. 
But the whole idea of naming what we like most about Webb City got me to thinking that I would like to hear from some of you. Will you take a moment to tell me what you like about our fair town?
I know we have the basics like the school system, but I want the little things. I want to hear things like, "I like seeing the Praying Hands as I drive my kids to school. It helps to start my day with a wholesome thought." Too mushy? Maybe something like, "I love going to the Farmers Market twice a week. It's fun to feel that country charm as I choose my vegetables, eat lunch, listen to music and visit with friends." Too corny? Nothing is too mushy or too corny. If you like it, I want to hear about it.
How about, "I like seeing the smiling faces of the teachers and principals as I drop off my child for a day of learning?" Or maybe you have a mail carrier who greets you with a smile. Have you ever seen that big truck with the Cardinal Head on the side [This was written in 2005] and noticed Jasper Morris behind the wheel. There is a smile on his face at all times. He loves his job! Now I know you think this article is getting too mushy. Too bad.
I like seeing some of the old historical homes being repaired. I like the fact that Steve Vogel was conscientious enough to find a place for those beautiful old homes on Madison Street [where City Pointe is now) to be relocated instead of bulldozing them down as has happened to others.
I like it when folks put their flags out on holidays and accent the fact that Webb City is the City of Flags. I like to go to school activities and see the large number of people who attend in support of their children, grandchildren, nieces, nephews, or just friends. I like the teachers and parents who are willing to spend extra hours after school to work with students to have concerts, plays, awards ceremonies, banquets, fundraisers, and sports activities. That is what builds a strong community, and that is what I like about Webb City, which is a strong community with strong support.
I like that Webb City has so many wonderful volunteers who serve on many boards, clubs, organizations, and city leadership groups. I like parades in Webb City. What a wonderful show of community pride.
Of course, you all know that I love the history of Webb City. I love writing and speaking about the history. But in general, I like that Webb City has a way of showing off that history as much as possible.
I like seeing folks use the parks and trails of Webb City. I like having them walk by my house and wave or yell a "hello" or quack at the ducks and feed them. I am amazed and like to see how many people go to the ball fields and soccer fields.
I like running into friends and family while shopping and taking a moment to get caught up on their families. I like reading the Webb City Sentinel and finding out what is going on in Webb City. What a positive newspaper.
This article was written 16 years ago and we have had changes and additions, so there are many more things to like: Cardinal Dome, the splash pad, more eating places, boutiques, remodels, roads, roundabouts, and much more!
I like our hometown atmosphere. I know this article contained the word "I" a lot more than it should. So I hope it will get you to thinking about what you like about Webb City. Send me comments on what you like about Webb City. 
I'll be looking for your messages in my inbox at newbyjm@sbcglobal.net. Let's bring this 2005 article up to date in 2021.
The City has even taken on the slogan "Webb City… We love it here!"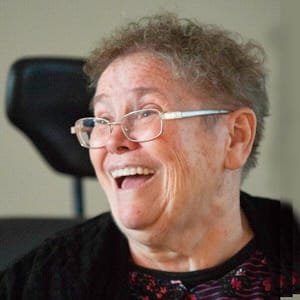 Jeanne Newby
A lot of us appreciate the Bradbury Bishop Fountain, but Jeanne actually worked behind the counter making sodas while she was in high school. She knows everything about Webb City and is a member of the Webb City R-7 School Board.