As of Wednesday, Jan. 5, 2022
May 6, 1928 – Dec. 29, 2021
Elizabeth Anne Foos, 93, a resident of Spring River Christian Village, Joplin, passed away Wednesday, Dec. 29, at Mercy Hospital Joplin. She fell after enjoying time with family on Christmas and died of complications after surgery to repair her hip.
Mrs. Foos was born on May 6, 1928, in Council Grove, Kan., to Elmer Henry "Tink" Snider and Elizabeth May Williams Snider. After graduating from Council Grove High School in 1946 and a summer at Emporia State University, she was recruited to teach elementary school at Healy, Kansas, a four-hour drive west, partly on unpaved roads back then.
Anne met one of the available bachelors in Healy, Willard E. Foos, a World War II veteran. They were married on Aug. 21, 1949, in Council Grove. Anne kept her teaching certificate current by taking summer classes at Emporia. She was teaching fourth grade at Dighton, Kansas, when she decided to become a full-time wife and mother and take on a more active volunteer role in the community. 
In 1980, Anne and Willard, with daughter Glenda, followed son Bob and his family to Webb City. Among the activities keeping them busy was collecting. Willard collected coins, and Anne collected stamps. Anne survived being isolated during the pandemic by reading non-fiction books and watching PBS. She read practically every sentence in the Joplin Globe, even those by columnists she didn't agree with. She particularly enjoyed Craig Tally's column in the religion section. She got an iPad so that she could read the Globe on days it doesn't put out a print edition. Of course, that also allowed her to read her son's newspaper, the Webb City Sentinel, when it converted to a website.
Anne grew up in a Masonic family. Her mother, Beth, was worthy matron of the Kaw Mission Chapter of the Order of Eastern Star in 1946 when the chapter celebrated its 50th anniversary and Anne joined at the earliest age possible, 18. Anne later belonged to the OES chapter in Dighton and Webb City Chapter No. 204. She received her 75-year pin on Oct. 12, 2021.
The granddaughter of a Congregational pastor, the Rev. William T. Williams, she was a student of the Bible throughout her life. She was a member of the Healy United Methodist Church before transferring her membership to Central United Methodist Church in Webb City.
Anne and Willard were married for 56 years prior to his death on May 28, 2006. In addition to her parents, she is preceded in death by a brother, Tom Snider.
Survivors include a son, Bob Foos and his wife Ann, Webb City; a daughter, Glenda Baumbaugh and her husband Bill, Columbus, Kan.; three grandchildren, Sonya Neece-Hill and her husband Kevin, Broken Arrow, Okla.; Jake Foos and his fiancée Starr Conley, Olathe, Kan., and Tom Stark, Webb City; three great-grandchildren, Julia Neece, Ally Neece, and Bentlee Stark; a great-greatgrandson, Brooks Neece-Harvey; a brother, Ralph Snider and his wife Donna, Council Grove; and several cousins, nieces and nephews.
A funeral service will be held at 2 p.m. Saturday at Hedge-Lewis-Goodwin Funeral Home, with the Rev. Clint Lambeth officiating. Family visitation will follow until 4 p.m. A ceremony at Healy Cemetery will be held in the spring. Memorial contributions may be made to Central United Methodist Church.
Dec. 19, 1962 – Dec. 29, 2021
Mr. Jeffery Lee Martin, age 59, of Webb City, passed away Wednesday, Dec. 29. He was a lifetime resident of the Joplin area.
He was born Dec. 19, 1962, in Kansas City to Lonnie and Alice (Smith) Martin.
After graduating from Parkwood High School in 1981, Jeff began working at Joplin Workshop. He loved the fast pace and the feeling he got from making a difference in his community. Jeff was a member of Emmanuel Baptist Church in Webb City.
In his free time, Jeff enjoyed old western movies, the good old country music, and going to his favorite restaurant, Cracker Barrel. He also enjoyed supporting Webb City High School's athletes and attending their sporting events. Jeff truly enjoyed living in Webb City and was proud to call it his home. 
Many will remember Jeff for walking everywhere around town. Everyone knew who he was and could expect a friendly smile or wave as they saw him passing by. Jeff will also be fondly remembered for his kind soul and his deep personality. 
Jeff is preceded in death by his mom, Alice Martin.
He leaves behind his sister, Donna Martin; his dad, Lonnie Martin; several extended family members, friends, and his church family. Jeff was loved by many and will be greatly missed. Arrangements were under the direction of Mason-Woodard Mortuary.
Jan. 6, 1931 – Dec. 28, 2021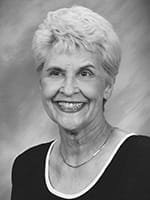 Carol Lee McDaniel, age 90, was welcomed into the loving arms of her heavenly father on Tuesday, Dec. 28. She was born in Claremore, Okla. on Ja. 6, 1931, to Harold and Katherine Cushman, of Neosho. Carol spent her childhood and school years in Neosho, graduating in 1948.
After graduation, she attended Kansas State Teachers College (Pittsburg State University), receiving her teaching certificate. She was a member of Alpha Sigma Sorority and homecoming attendant in 1948.
She met the love of life, C. Ray McDaniel, while in school there. He precedes her in death. They married Aug. 20, 1950, and welcomed a daughter in 1953, and a son in 1956.
Eventually, the family moved to the Joplin area in 1971. After a varied career of homemaker, florist, and clothing store manager, she found her calling in real estate.
She began her real estate career in 1979, ultimately becoming an owner/broker of Pro 100, Inc Realtors in Joplin. She was a lifetime member of the Million Dollar Club, a Realtor with designations as CRS, GRI, and RRC. She retired in 2014. She received the Distinguished Service Award from the Ozark Gateway Association of Realtors in 2014. She was a member of Central United Methodist Church in Webb City.
She is preceded in death by her parents; an infant brother; her husband; and son-in-law.
She is survived by her daughter, Susan Watts, of Webb City; her son, Dan McDaniel and wife Debbie, Collinsville, Okla.; eighth grandchildren; 12 great-grandchildren; three great-great-grandchildren; and numerous nieces, nephews, cousins, and dear friends.
Funeral services were held Tuesday at Central United Methodist Church. Burial was in Mt Hope Cemetery. Arrangements were under the direction of Mason-Woodard Mortuary. Contributions may be made to Children's Haven, St. Jude Children's Hospital or Ronald McDonald House of Joplin, in care of the mortuary. 
The family would like to extend a special thank you to the staff at The Arbors at Silver Creek and Integrity Hospice for their excellent care.
Dec. 25, 1936 – Dec. 30, 2021
Donna Gay Rogers Richardson was born on Dec, 25, 1936, in Purcell to Della and Fred Rogers. After living in California, she attended Webb City High School, where she met her high school sweetheart and late husband, Ronald Dean Richardson. They were married on Sept. 7, 1957, at First Presbyterian Church in Webb City. 
After serving as house parents at the University of Missouri, they bought their first home in Harrodsburg, Ky. Ron and Donna raised their three children – Douglas Richardson, Summerville, S.C., Lori Richardson Berry, Annapolis, Md., and Heather Richardson Banke, O'Brien, Fla. – while residing in multiple states in the Midwest and East Coast for 40 years. 
Mr. and Mrs. Richardson relocated to Annapolis, Md., in 1998 to be closer to their family. Ms. Richardson was a manager of a Hallmark store, served as a volunteer for Hospice for 20 years, and was the manager of Chesapeake Treasures in Severna Park, Md. for five years. 
Ms. Richardson passed from complications of Alzheimer's, surrounded by her immediate family. Her ashes will be buried with her husband's back in her hometown in Mt. Hope Cemetery in Webb City.
She is survived by her sister, Ginger Pearish; nephew and niece, Tad and Loni Pearish; and their two sons, Cade and Finn; son and daughter-in-law Doug and Julie Richardson; daughter Lori Berry; daughter and son-in-law Heather and Rick Banke; and her six grandchildren, Connor and Austin Richardson and fiancées Megan Anderson and Emily Shores; Megan, Hunter, and Emily Berry; and Vivian Banke. Memorial contributions may be made to Hospice of the Chesapeake.
June 25, 1947 – Dec. 17, 2021
Linda Ann Woodard, age 74, of Diamond, passed away Friday, Dec. 17, at Mercy Hospital Carthage. She was born on June 25, 1947, in Webb City, to William Howard Harnden and Wilma Irene (Brown) Harnden.
She loved God, spending time with her family, watching St. Louis Cardinals baseball, and was an avid reader.
Linda married Ronald Woodard on Dec. 16, 1967, in Carterville. They were married for 54 years, and he survives at the home. She is also survived by her sons, Ronald Woodard II and wife Kimber, and William Woodard; and one grandson, Sebastian Cole Woodard. The family will announce a graveside committal service at Ozark Memorial Park later in the spring. Services are under the direction of Simpson Funeral Home.