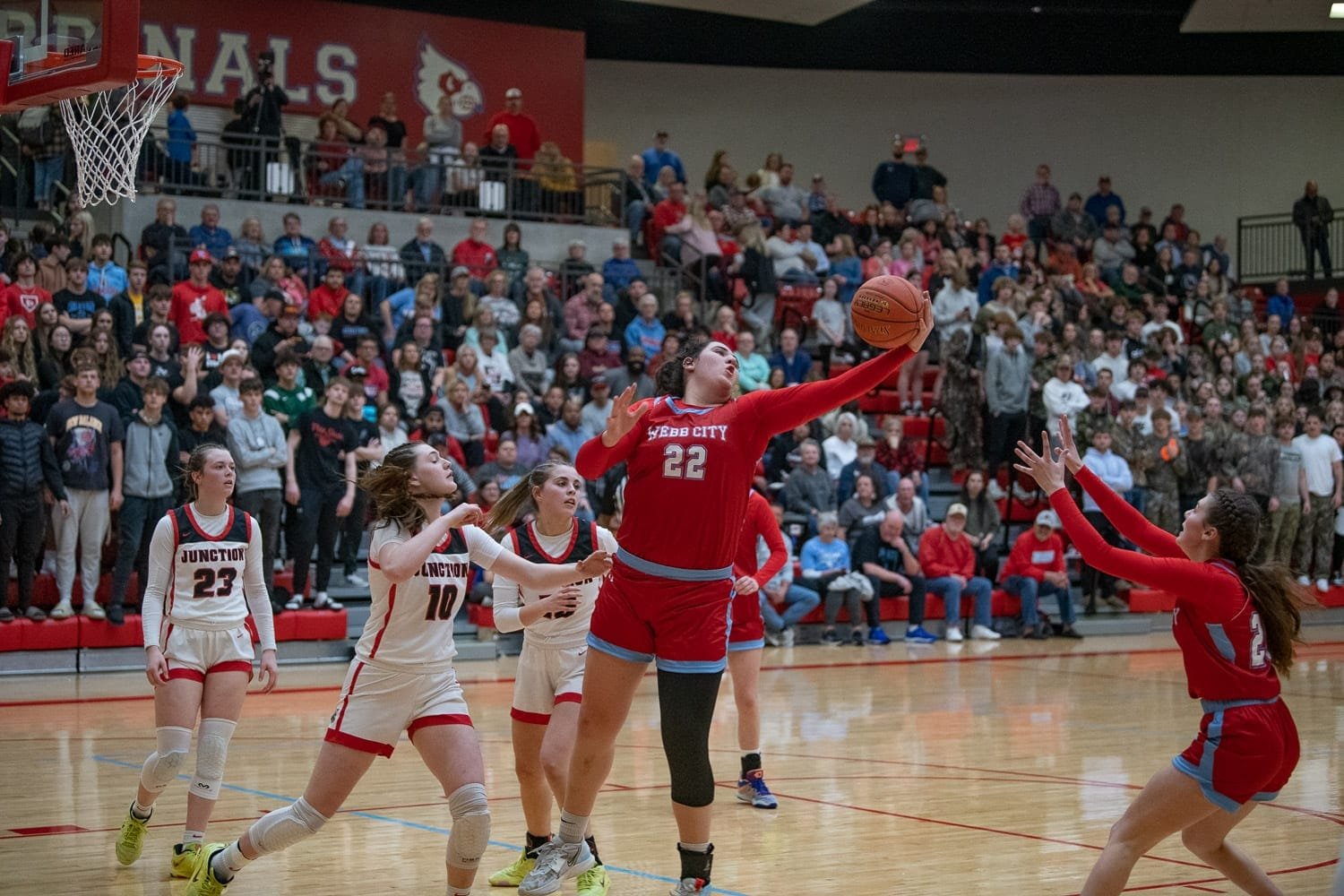 Sami Mancini grabs a rebound for Webb City in the district final here Tuesday.
Basketball seasons end with district tournament losses
Izzy Lopez (5) guards Destiny Buerge.
Malorie Stanley takes a steal past Klohe Burk.
Webb City's basketball season has ended with both boys and girls advancing in the Class 5 District 7 tournament brackets but shy of a championship.
The girls, seeded second and on their home court, defeated Belton 34-24 in the opening round and made it to the final by defeating Bolivar 55-34 in the semifinals.
On Tuesday night before a full house in Cardinal Dome, though, Carl Junction's Bulldogs dominated the second half of the final to win their eighth-straight district championship 67-42.
The runner-up Cardinals were led by Sami Mancini's 23 points. Also scoring were Mia Robbins 6, Kirra Long 5, Malorie Stanley 5, and Izzy Lopez 3.
Destiny Buerge led the Bulldogs with 36 points. Carl Junction (28-1) will go to Sedalia Saturday for a 1:45 p.m. game against Lincoln College Prep.
The Cardinals finished their season 18-11. They're saying goodbye to two seniors, Kate Brownfield and Izzy Lopez.
Kate Brownfield is guarded by Dezi Williams.
The Webb City and Carl Junction boys traveled to the district tournament site in Belton last Wednesday to play each other. Webb City, the second seed, defeated the Bulldogs 56-37.
On Friday, though, Ruskin defeated the Cardinals 79-63 in the semifinals. Barron Duda led Webb City with 15 points and 8 rebounds. Alex Martin and Trey Roets added 11 points apiece.
Jaquan Smith scored 28 points for Ruskin, which went on to win the district championship to face Pembroke Hill Friday in the quarterfinals.
Webb City (17-11) is losing three seniors, Joe Adams, Alex Martin and Trey Roets.