Madison & MacArthur the way it used to be, looking northwest.
Ancestors, Legends & Time
Before McDonald's and Walgreens
What an interesting picture from the past that features the intersection of Madison Street and MacArthur Drive.
Ozark Motel on the southwest corner of the intersection (top left quadrant in the photo) was replaced with McDonald's, 410 S. Madison St. Look how long the Ozark Motel building was. It was torn down in March 1999, and the grand opening of McDonald's was Sept. 8 the same year.
The homes on the northwest corner were replaced by Walgreens, which was constructed in 1999 and 2000.
The northeast corner, where the 7 Eleven convenience store was located, hasn't change much except for the name of the business, which is Kum and Go now.
The southeast corner had some old historical homes that were moved to an area one block west of Madison Street between Third and First streets. One of the buildings not moved was the Book Barn, which can be seen in the photo at the corner of Fifth and Jefferson streets. 
The City Pointe Shopping Center replaced those houses in 2006 and changed the intersection tremendously.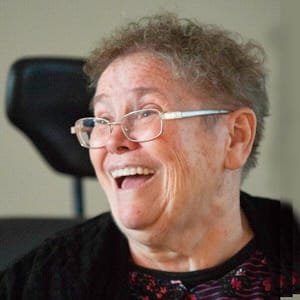 Jeanne Newby
A lot of us appreciate the Bradbury Bishop Fountain, but Jeanne actually worked behind the counter making sodas while she was in high school. She knows everything about Webb City and is a member of the Webb City R-7 School Board.