Ancestors, Legends & Time
Oronogo was known in the baseball world as the home of Byler Bats
Elmer Byler, son of James and Nancy Hunt Byler was born Feb. 6, 1880, in Camden County. At the turn of the century, Elmer met and married Emma Gouse of Columbia, Kan. Emma was the daughter of Aaron and Elizabeth Gouse. They started out their married life in Alba and Neck City but moved to Oronogo in 1908.
When we think of baseball and the towns of Alba, Oronogo and Purcell, most people think of the "Boyer Boys." They left quite a mark in baseball history for this area. But before the Boyer Boys of Alba, there were the "Byler Boys" of Oronogo, Cecil, Herbert and Curtis, sons of Elmer and Emma. These boys were quite active in playing baseball, but they didn't go on to become famous professional players, instead they left their mark in another way.
Elmer had a good career in real estate for the county, but he took on another "hobby" that showed his interest in his sons' activities in baseball. Elmer started a business in the barn out behind the family farm on D Highway. This new business was known as the Byler Bat Company of Oronogo. These bats were sold locally and across the country. Even the St. Louis Cardinals used bats from the Byler Bat Company. Only a very few are left nowadays. The bat business was in the 1920s, so some of those bats would be about 100 years old. Does anyone have a Byler Bat?
Another Baseball Moment…
Baseball was a favorite pastime to young and old alike. Webb City's first "baseball nines" were named the Webb City Stars. There were only nine players made up of local hometown boys. The original lineup of the Webb City Stars consisted of Lon True on first base, John Schwartz on second base, Harve Houser on third base and Harrison Peppers at short stop. Out in left field was Tom Fox. Dave Sutherland, the team captain, was in center field. And Charley Goatley was in right field. Players dropping out were replaced by Anson Blackwell, C.C. "Charles" Harris and a man named Miller. George Keys eventually took Dolly Johnson's place as catcher. The catcher was the only player allowed to use a glove. It was only a half-hand mitt with the fingers cut off.
The Webb City Stars made quite a name for themselves. It was a hard act to follow, but Webb City has never been afraid of a challenge. There have been so many players over the years that it would be impossible to name them all. But believe me, those memories will be around for a long time and have been shared among families, friends and other players.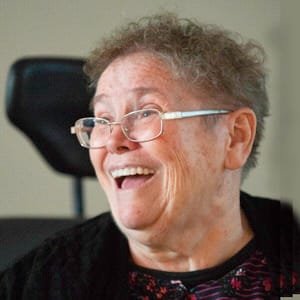 Jeanne Newby
A lot of us appreciate the Bradbury Bishop Fountain, but Jeanne actually worked behind the counter making sodas while she was in high school. She knows everything about Webb City and is a member of the Webb City R-7 School Board.