Selfless Service and Ethics During a Pandemic
Cadet Claire Rives represents Cardinal Battalion again in the annual JROTC essay contest
An essay by Cadet 2nd Lt. Claire Rives has been selected for the second year in a row to represent Webb City Cardinal Battalion in the annual JROTC essay contest.
This year's topic is "Selfless Service and Ethics During a Pandemic." All Webb City High School cadets were asked to write the essay. Cadet Rives' essay was selected by a panel of WCHS communication arts teachers and then submitted to compete with others in the 3rd JROTC Brigade. That winner will then be judged against the top essays from the seven other brigades within the United States Army Cadet Command, which sponsors the contest with the College Options Foundation.
Selfless Service and Ethics During a Pandemic
by Cadet 2nd Lt. Claire Rives
Moral philosophies are often forgotten when stressful situations arise. Since day one of our school career, we have been sworn to the golden rule: "Treat others as you wish to be treated." During a pandemic, while locked away in quarantine, virtuous morals and patience can be elusive. So, what does selfless service look like in a pandemic situation? Can ethics play a role during a virus outbreak? It all depends on how one defines the word selfless and how much they are willing to stay committed to their community.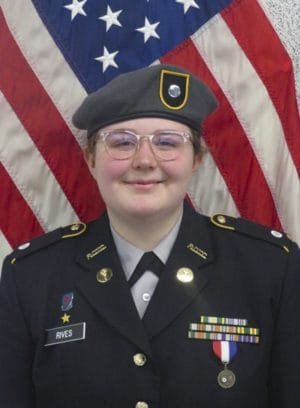 Selfless service is when people participate in activities that better the people around them, such as tutoring, helping at a homeless shelter, and spreading awareness for gang and drug violence, while not really obtaining a personal benefit for it. Doing these new activities can be intimidating or even considered useless to some, yet it will always be worth it in the end. To me, selfless service is all about doing exceptional things while expecting no reward and giving up your time to those who deserve better. Selfless service is essential when it comes to being a good human because you can help strengthen the community and your social skills. It is also a great opportunity to learn more about yourself. Gandhi sees selfless service as, "The best way to find yourself." The more you expand your horizons and learn the importance of selfless dedication, the better off you will be when communicating and interacting with all kinds of different people and places.
The coronavirus put an abrupt halt on numerous important tasks, including (but not limited to) contact with other people, going to school, and supply transportation. It became much more difficult to see friends and family, let alone help them. Therefore, the need for selfless service jobs went up to an all-time high. Doctors, scientists, nurses, and many more front line workers were all working to help fight off the virus. As a student, I felt a big toll in marching band. We couldn't compete in competitions, while other schools in our area didn't get to play an instrument for the entire year. Many students lost motivation to participate and dropped the class entirely. For the rest of us, we marched on. Staying in band during a pandemic with not much to do was a service many of us provided to our community. We wanted to help keep the school spirit alive, while the world around us crumbled. Meanwhile, other community members could continue to help by consistently washing their hands, wearing a mask when they didn't feel healthy, and maintaining a good distance from people when possible. Even though doing mediocre tasks may seem like it's not helping the situation, it can assist in creating a positive atmosphere. Small things can go a long way on the road of serving a community through a pandemic.
Ethics help us stay honest and disciplined throughout our daily lives. Albert Einstein said, "Without 'ethical culture,' there is no salvation for humanity." While participating in selfless service, one must stay true and committed to the task at hand. The Junior Reserve Officers' Training Corps, or JROTC, has led me to a better way to practice morals and ethics by following the seven core values. In the marching band, the remaining few and myself, had to prove our commitment ethics were still strong. The older members helped me see every favorable leader has their own set of ethics they live by, consisting of virtues leaders deem to be the most important in day-to-day life. Einstein lived by education, sympathy, and social ties, which accompanied his success throughout his work of science. Without ethics or morals, we would not understand why serving without a reward is an act of helping us grow. Many people only offer a helping hand when a prize is in store, but that simply defeats the purpose of the word selfless.
Serving the community can benefit everyone. People can teach us so much if we just spend our time more wisely and create a set of morals for ourselves. While the world around us changes, humans should change with it, by opening up their hearts to exciting opportunities and new ways to engage with others. In a pandemic environment, selfless service and strong ethics are as important as ever. The word selfless is thrown around like confetti, but when put into action, it can take on a whole new valuable meaning.