McQuade Eilenstein and other Webb City defenders start the quarterfinal here Friday against Lebanon stopping the Yellowjackets on fourth down.
Cardinals advance to the semifinals
1 p.m. game here Saturday will decide whether Webb City or Jackson go to the championship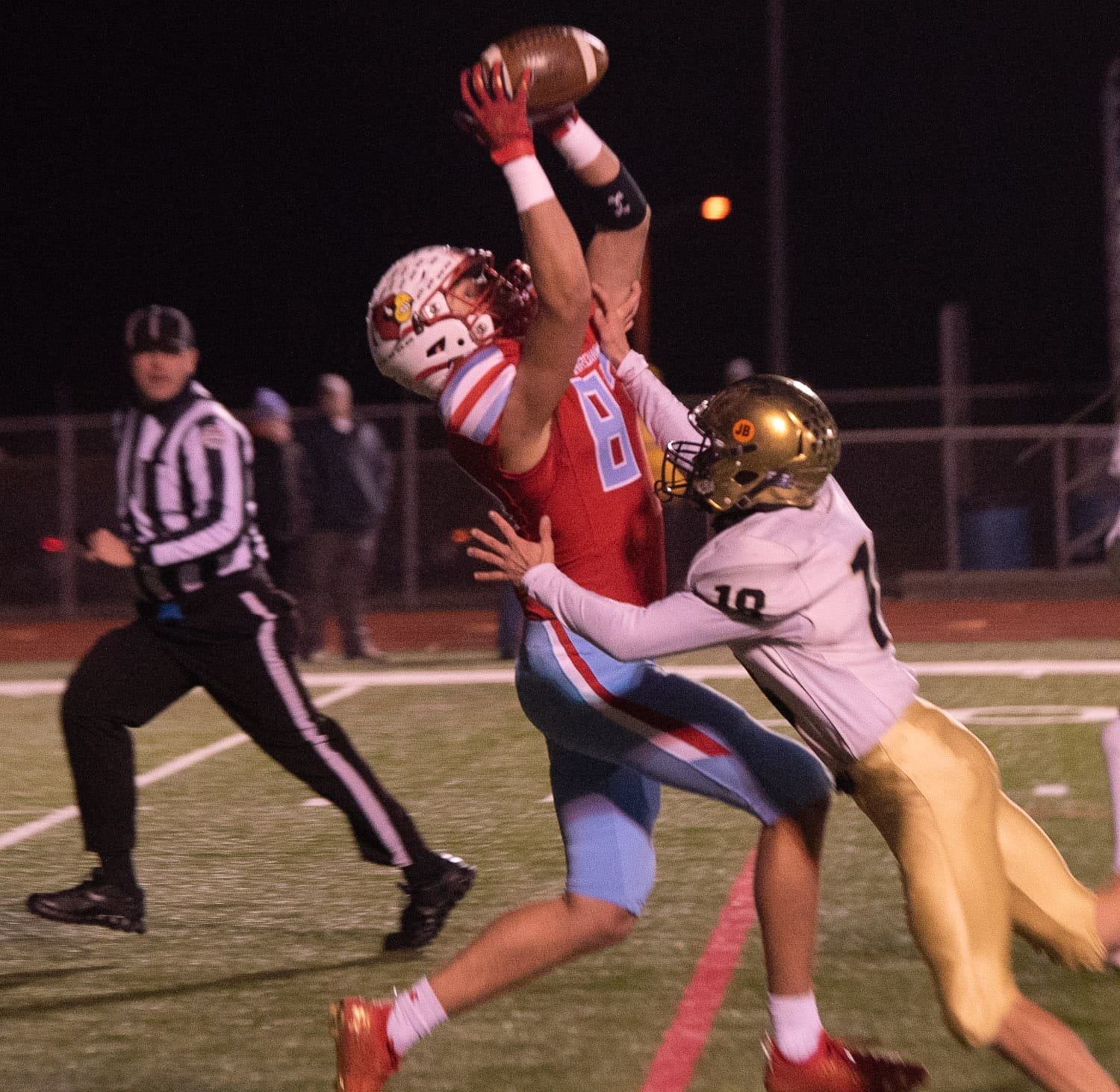 Trey Roets catches a 34-yard pass to set up the Cardinals' first touchdown.
Cade Wilson rushes for a touchdown at the start of the second quarter.
The Webb City Cardinals, making it to the semifinals for the fifth year in a row, have to beat the reigning Class 5 state champion Jackson Indians in order to make it back to the championship game.
Jackson is traveling across the state to play Webb City at 1 p.m. Saturday at Cardinal Stadium. Tickets ($8.55 including a handling fee) are only available online.
The Cardinals earned their way to the semifinals by defeating the visiting Lebanon Yellowjackets 35-13 Friday.
A Cohl Vaden 34-yard pass to Trey Roets set up Dupree Jackson's 1-yard touchdown run as the Cardinals took a 7-0 lead.
Lebanon answered with a touchdown still in the first quarter.
On the first play after the start of the second quarter Cade Wilson scored from 7 yards out. Webb City's defense held Lebanon to two field goals in the quarter to go to the locker rooms with a 14-13 lead.
Brentan Wilson disrupts a Lebanon pass play.
All of the second-half scoring was by Webb City.
Jackson completed a drove with a 4-yard run. And Dante Washington caught a 29-yard pass from Vaden for a touchdown.
Needing a first down to run out the clock in the fourth inning, Vaden exceeded expectations by making a cut through the Yellowjackets defense for a 36-yard touchdown.
Vaden was 7 of 16 passing for 158 yards and ran for 56 yards. Wilson also rushed for 56 yards, and Jackson added 20.
Washington had four receptions for 91 yards and kicked five extra points. Billy Hayes caught two passes for 33 yards, and Roets had the opening-drive catch for 34 yards.
Brentan Wilson and Quade Eilenstein both had six solo tackles.
It was the Yellowjackets' first loss of the season.
The Jackson Indians also come to Cardinal Stadium undefeated. In fact, they've won 26 consecutive games. Their last loss was to Carthage 27-21 in the 2019 Class 5 championship game. A night earlier, the Cardinals had won the Class 4 championship 48-0 over Platte County. Jackson defeated Platte County 42-7 a year ago for the Class 5 championship.
Cohl Vaden goes beyond a first down for a touchdown.