The offensive line creates running room for Cade Wilson.
Cardinals again fall behind early at Carthage, keep fighting to win 28-21
District champs now prepare to take on the 10-1 Lebanon Yellowjackets at Cardinal Stadium
Dante Washington and Trey Roets celebrate Washington's touchdown pass in front of the cheering Cardinal band.
The touchdown pass and the 2-points after on a pitch from Cohl Vaden to Dupree Jackson.
"Needs improvement" may have been the consensus about the Webb City Cardinals after being overwhelmed 42-14 at Carthage two months ago. Improve they did.
The 10-0 Tigers went on to go undefeated and become the No. 1 seed in Class 5 District 6.
The Cardinals, with their 7-3 record, entered the district final at Carthage Friday as the underdogs – but they showed improvement – and won 28-21.
Webb City will host the 10-1 Lebanon Yellowjackets for a quarterfinal at 7 p.m. Friday. On the same side of the bracket are two undefeated teams, Jackson and Rockwood Summit. Winners will advance to the semifinals on Nov. 27.
Talk about improvement, the Cardinals on:
---
WEEK 4 – Allowed Carthage to rush for 426 yards. Backs Luke Gall and Caden Kabance rushed for more than 200 yards each.
WEEK 11 – Held Carthage to 286 rushing yards (Gall 131 and Kabance 102).
---
WEEK 4 – Only gave leading rusher Cade Wilson room to gain 25 yards.
WEEK 11 – Wilson rushed for 157 yards (22.3 yards per carry).
---
WEEK 4 – Gave up the ball on 4 out of 5 fourth-down conversions attempts.
WEEK 11 – Took control on 3 of Carthage's 4 fourth-down conversion attempts.
---
WEEK 4 – Only converted on third down on 5 out of 10 tries, while Carthage was 7 of 12 third-down conversions.
WEEK 11 – Only allowed Carthage to convert on 4 of 11 third-down attempts.
---
WEEK 4 – Possessed the ball 19:12 minutes, compared to Carthage's 28:42 minutes.
WEEK 11 – Possessed the ball for 26:35 minutes, compared to Carthage's 21:13.
---
The Cardinals didn't immediately demonstrate improved ball control. They fumbled on their first two possessions, with Carthage taking advantage to take a 14-0 lead. (The Tigers took a 21-0 first-quarter lead in Week 4.)
Kaylor Darnell pursues Luke Gall.
Buddy Belcher (59) and Gavin Stowell close in on Caden Kabance.
Kaden Turner deflects a Carthage pass.
But still in the first quarter, Cade Wilson scored on a 1-yard rush. Webb City's defense held on Carthage's next possession, and early in the second quarter, Cohl Vaden connected with Dante Washington for a 38-yard touchdown. Dupree's 2-point conversion made it a tie game, 14-14, which is how it stayed at halftime and through the third quarter.
Webb City took the lead (21-14) for the first time nearly halfway through the fourth quarter on Vaden's 4-yard rush.
Carthage answered less than a minute later on Gall's 24-yard run.
With less than a minute left and the Cardinals backed up by a penalty, Vaden emerged through the line for a first down and scored the go-ahead touchdown from 4 yards out.
In his post-game talk, coach John Roderique was philosophical as well as emotional, as he likened his team to family. "This is the way your life is going to be," he told his players. "Keep fighting back!"
He also told them to have compassion for how their opponents must be feeling after they "rolled through the conference" and were expecting to go on.
"Is this the way you want to end your season (as just district champs)," asked assistant coach Darrell Hicks.
If not assistant coach Ryan McFarland told them they have to keep up their intensity in the weight room. "Keep getting better in the weight room!"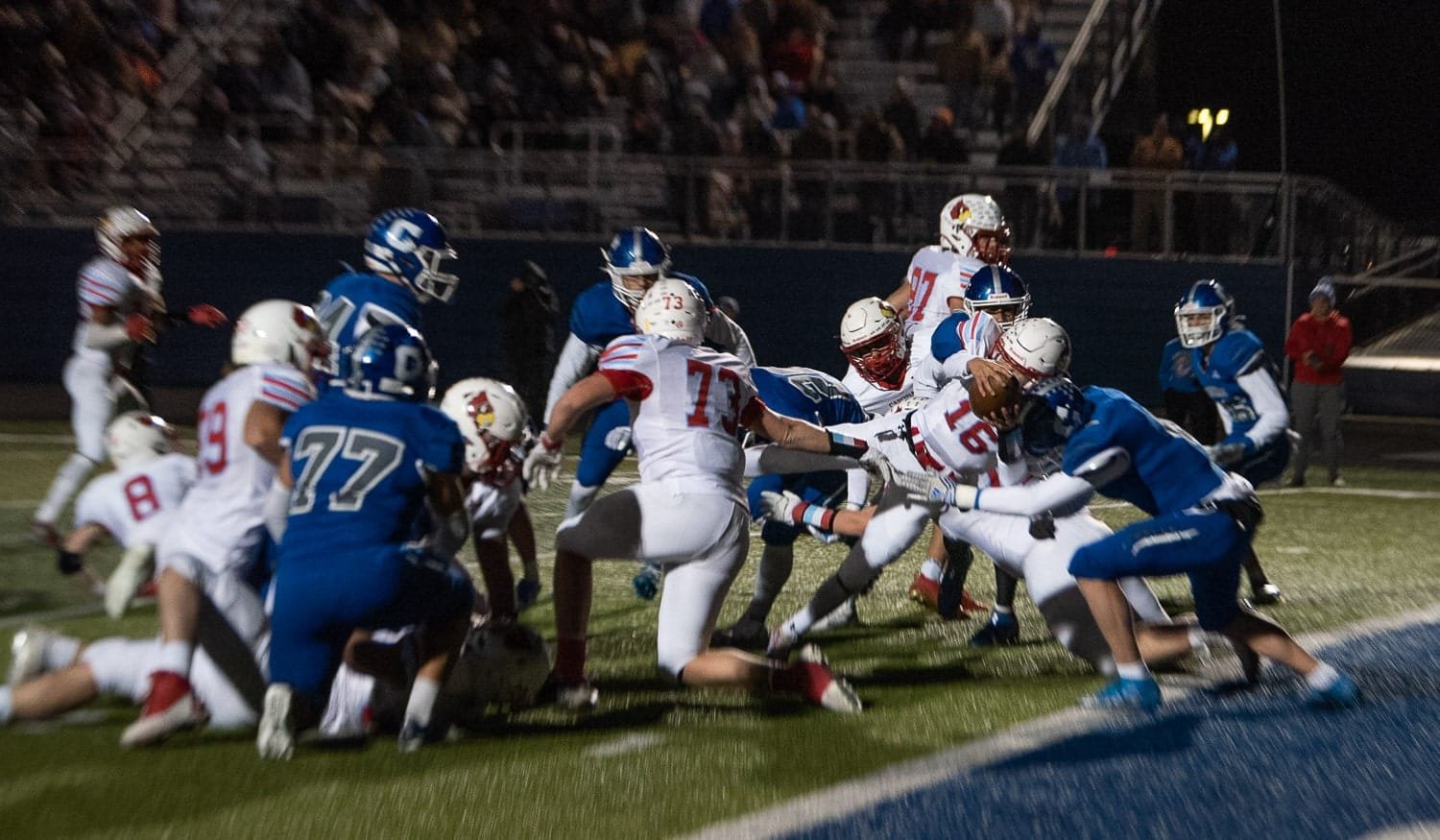 Cohl Vaden touchdown – 21-21.
Lucas Ott causes a fumble recovered by Cooper Crouch.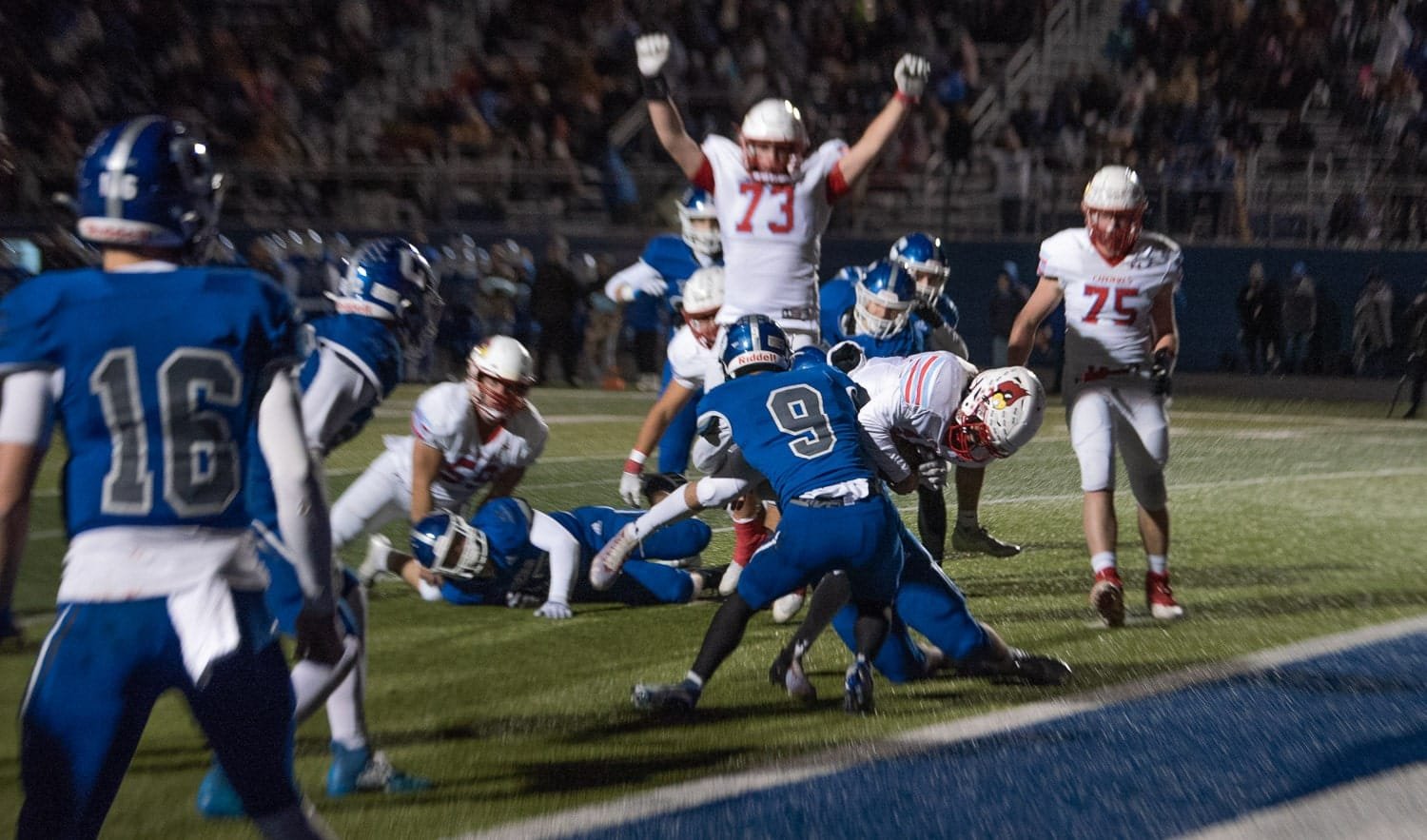 Cohl Vaden TOUCHDOWN – 28-21.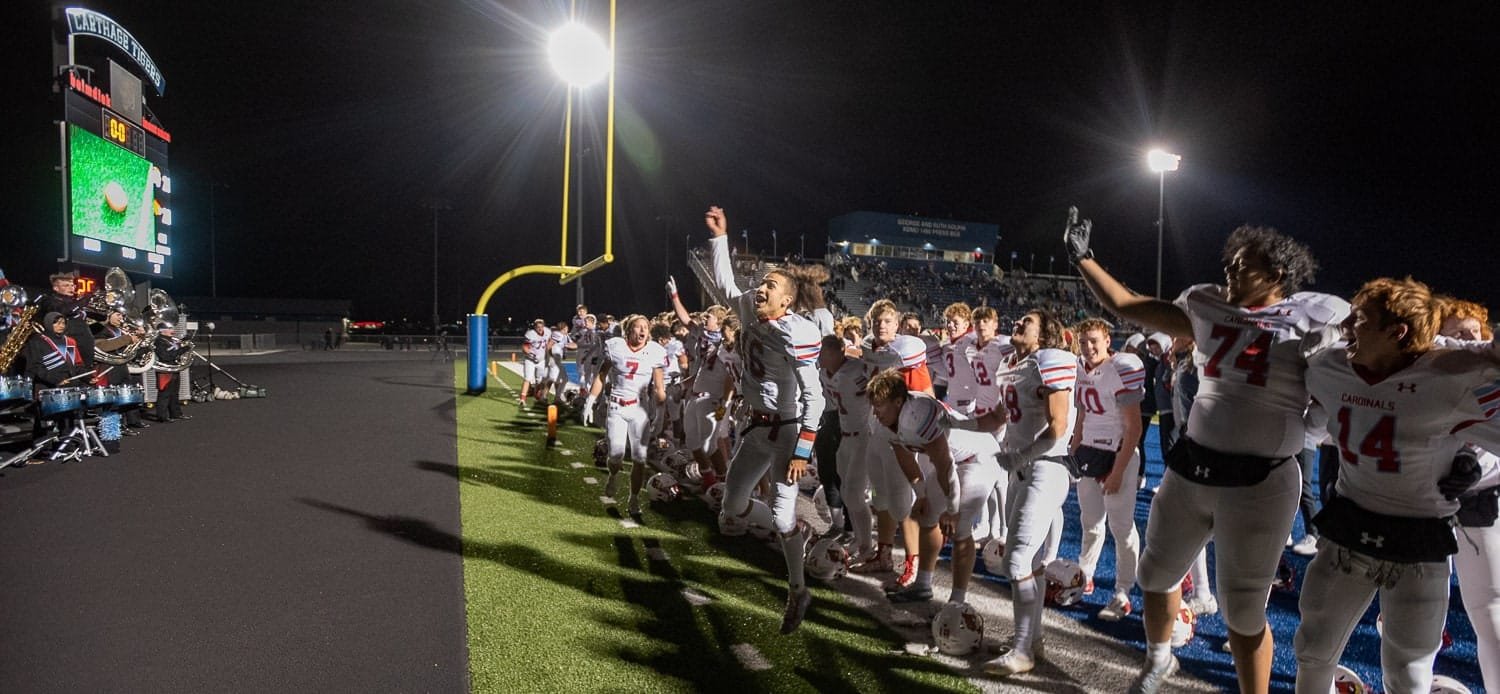 DISTRICT CHAMPS – 22 years straight.