Cohl Vaden beats Carthage's Max Templeman during Webb City's first-quarter scoring blitz in the first quarter Tuesday.
Cardinals defeat Tigers in run-up to the start of districts Saturday
Tuesday was a big night in Cardinal Dome as the varsity squads swept Carthage and the seniors from basketball, cheerleading and the Redettes were recognized.
It was the last home game of the season, and if the makeup game at Branson is called off it could be the end of the regular season.
The Class 5 District 6 tournaments start Saturday, with all games at Willard. Webb City boys (17-8, 5-3 conference) are seeded third behind No. 1 Bolivar (22-3) and No. 2 Parkview (16-8). The remaining seeds are No. 4 Neosho (16-8), No. 5 Willard (14-12), No. 6 McDonald County (12-13), No. 7 Hillcrest (9-15), and No. 8 Carl Junction (4-20).
The four opening bracket games include Bolivar taking on Carl Junction at 4 p.m. and Webb City against McDonald County at 8:30 p.m. (On Jan. 4, Webb City defeated McDonald County 84-53.)
The Webb City girls (11-12) are also seeded third and on the bracket playing No. 6 Bolivar (5-16) at 2:30 p.m. 
Carl Junction (20-7) is No. 1, playing No. 8 Hillcrest (4-19) at 10 a.m. No. 2 Willard (10-15) faces No. 7 McDonald County (5-20), and No. 4 Parkview (8-15) will play No. 5 Neosho (8-16).
The semifinal rounds will be Monday for the girls and Tuesday for the boys. Both finals will be Friday, March 4.
Boys 61-54
On Tuesday, the Webb City boys dominated Carthage's Tigers early, leading 23-2 at one point in the first quarter. They held on to win 61-54.
Kaden Turner led Webb City with 14 points, including 10 (of 12 attempts) free throws. He also grabbed  nine rebounds. Cohl Vaden scored 12 points and had four assists. Dante Washington added 11. Trey Roets was 4-for-4 from the line and had 6 rebounds. Max Higginbotham shot 3 treys for 9 points. Dupree Jackson scored 6, and Isaiah Brisco added 3.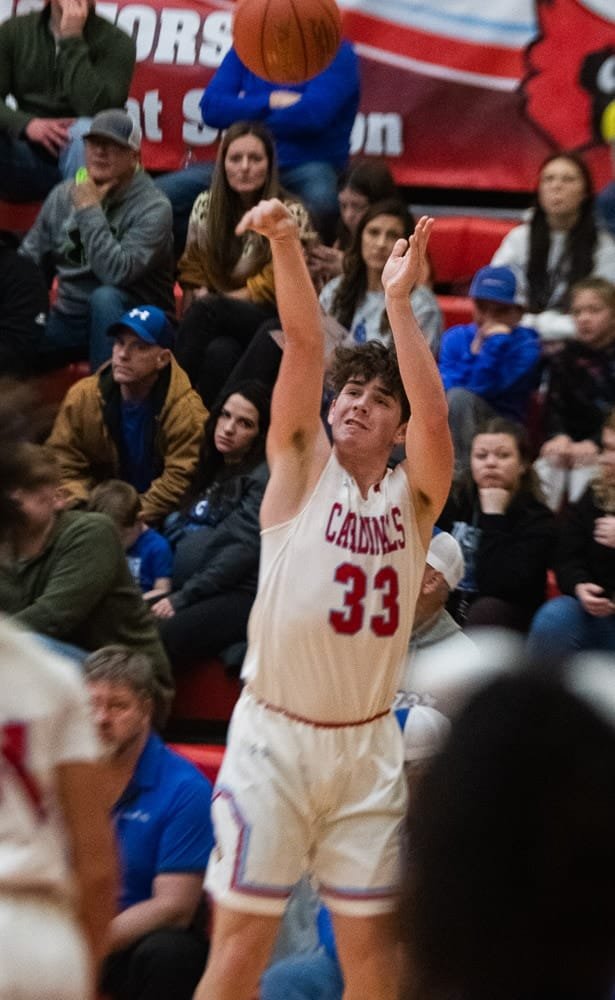 Girls 38-29
Kenzie Robbins scored 12 points to the Webb City girls to a 38-29 win over Carthage.
Kate Brownfield scored 11 and grabbed 8 rebounds. Ripley Shanks scored 5 and pulled down 6 rebounds. Sami Mancini got 6 assists, scored 5 and got 6 rebounds. Also scoring were Izzy Lopez, 3, and Josie Spikereit, 2.
Kenzie Robbine looks to pass inside, with her father, coach Lance Robbins, in the background.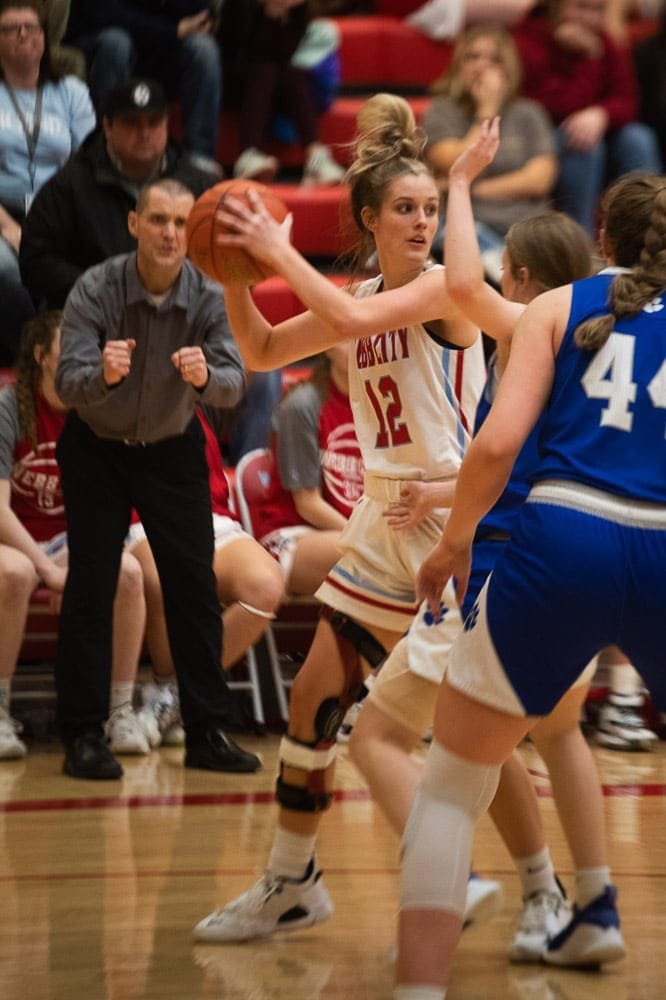 SENIOR NIGHT
CHEERLEADERS
Maddie Cox, Kenna Garza, Haylee Murray, Liv Taylor, Chloe Terry.
REDETTES
Anea Bemo, Emily Burke, Ellie Howerton, Natalie Lewis, Bailey Moore, Elena Ross, Casey Williamson.
GIRLS BASKETBALL
Austin Mickey, Kenzie Robbins, Ripley Shanks, Josie Spikereit.
BOYS BASKETBALL
Isaiah Brisco, Baylor Dickinson, Max Higginbotham, Dupree Jackson, Kaden Turner, Cohl Vaden.