Peyton Hawkins is overjoyed after sliding home in the seventh inning of the district semifinal Thursday at Neosho.
Cardinals upset two teams to advance to softball quarterfinals
Game at Rolla is at 5 p.m. Thursday
Kaylyn Gilbert and coach Shauna Friend (left) celebrate coming from behind against Willard Thursday.
The Webb City Cardinals swung above their seeding twice in the district tournament last week to advance to the quarterfinal round of the state softball championships.
The Cardinals (17-12) will play at 5 p.m. Thursday at Rolla (29-8) for a spot in the final four – for the second year in a row.
Seeded third in the Class 4 District 6 tournament at Neosho, the Cardinals on Thursday held a 3-0 lead over second-seeded Willard until the Tigers tied the game in the bottom of the sixth inning.
Webb City responded in the top of the seventh, Peyton Hawkins hit a one-out double, and Emma Welch got a base on balls. Hannah Wells drove in Hawkins with single. And Kaylyn Gilbert brought in Welch and Wells with a triple for the 6-3 win.
McDonald County's Mustangs were favored to beat Webb City in the final, based on their No. 1 seed and 15-0 defeat of the Cardinals on Oct. 4.
Freshman pitcher Laney Taylor was the same pitcher the Mustangs teed off on during that embarrassing regular-season game, but she held them this time to a 2-0 lead going into the seventh inning.
It wasn't until the fifth inning that Lauren Hicks got the Cardinals' first hit. The first score didn't come until the final inning, when Emalee Lamar hit an RBI single. Still behind 2-1, the bases were loaded for Hawkins when she stepped to the plate. Rylynn McFarland, a pinch-runner for Lamar, was on third. Ripley Shanks, who had gotten walk, was on second, and pinch-hitter Dawsyn Decker was on first with a single.
Hawkins got the ball past the shortstop to bring home McFarland and Shanks to go ahead 3-2.
Taylor closed the game, allowing the Mustangs only four hits.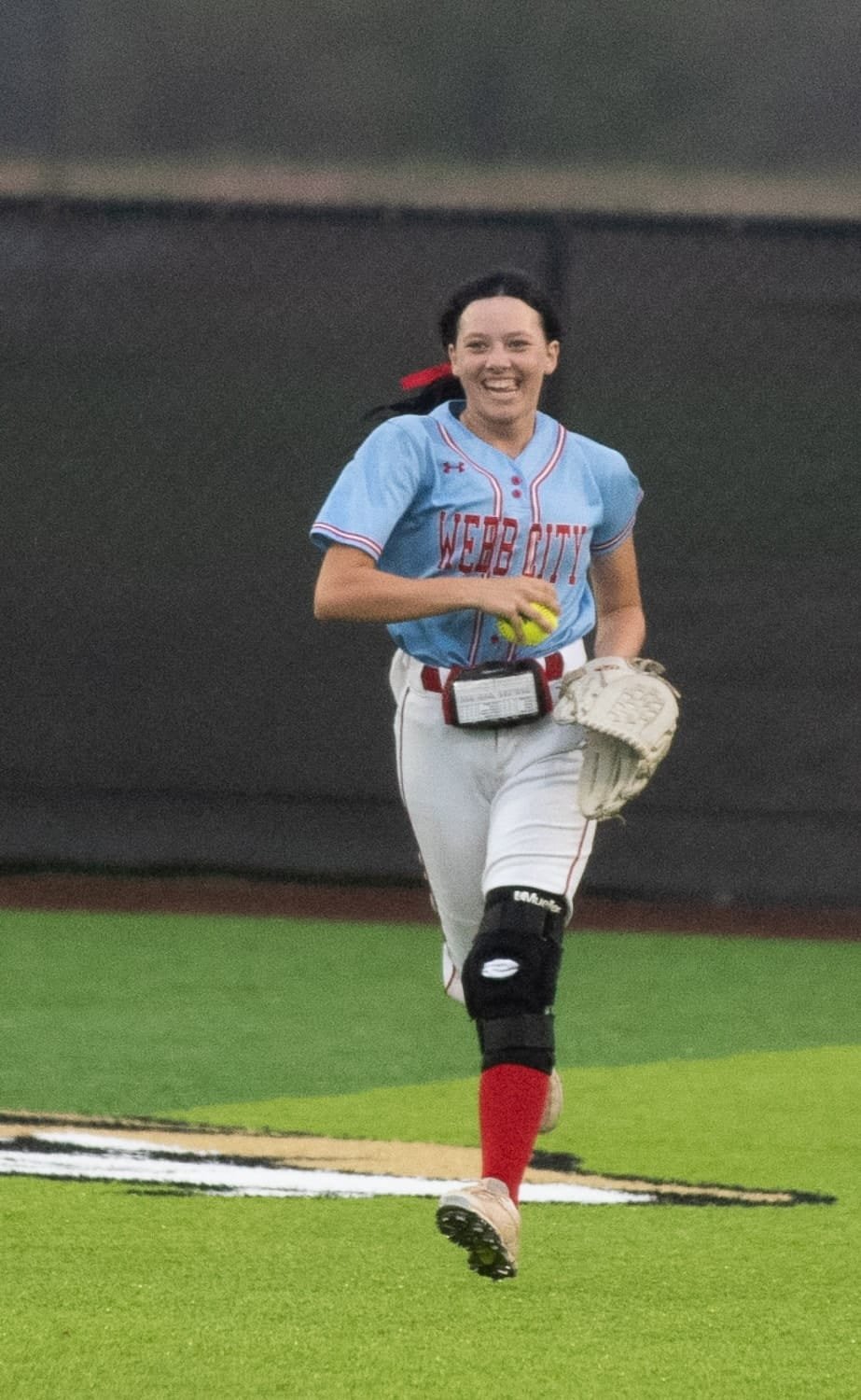 Emma Welch trots in after an inning-ending catch in center field.
Lauren Hicks and Emalee Lamar field a bunt.
Thursday's quarterfinal game at Rolla will be the second time the Cardinals have played there the first time. They lost 5-3 on Sept. 13. However, the Cardinals and Bulldogs are both 3-3 among common opponents.
The winner will play either Incarnate Word or Warrenton in the semifinal round at 2 p.m. Thursday, Oct. 28, at Killian Sports Complex in Springfield.