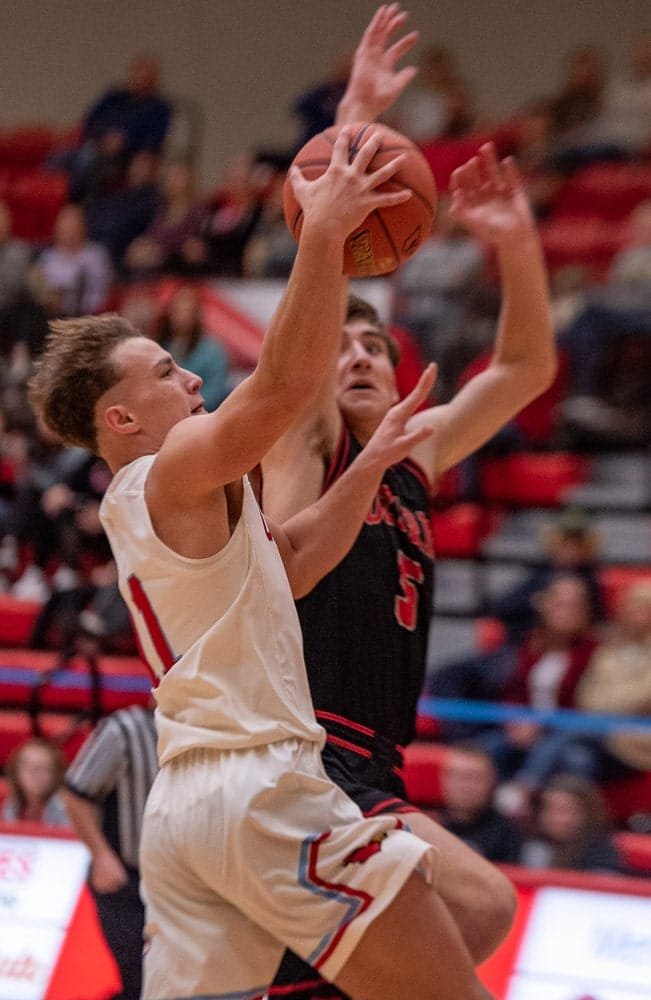 Dante Washington's layup is challenged by Ozark's Greydon Miller.
Cards are 9-4 going into Frontenac Tourney
The Webb City boys basketball team enters the annual Frontenac Tournament Thursday looking for its 10th win.
Two teams that were in the tournament final a year ago, will play in the opening round this year. Webb City (9-4 1-1) will face 2-12 Nevada at 4 p.m. Thursday. 
Although they scored 75 points Friday, they got stuck at nine wins and lost their first conference game because they gave up even more points (80) to visiting Ozark.
Trey Roets led all scorers with 25, to go along with 5 rebounds. Dante Washington and Max Higginbotham added 19 and 12 points, respectively.
Going into the Ozark game, Turner was leading the Cardinals in scoring (190) and rebounding (100).
Washington had scored 169 points, with a .556 shooting percentage.
Roets had 122 points, 82 rebounds, 20 blocks and 13 steals.
Cohl Vaden was the team leader in assists, with 36.
Dupree Jackson stole the ball 16 times.
Turnovers were a team strength, as the Cardinals had 81 steals, compared to their opponents' 63.
A year ago, Webb City defeated Nevada 65-53 in the Kamisky Classic but lost 51-50 in the Frontenac final and 52-49 in the district championship game.
Webb City and Nevada are in different districts this year.
Webb City girls basketball will play the host Logan-Rogersville Wildcats in the Logan-Rogersville tournament at 5:30 p.m. Thursday.
Remaining game times and opponents are to be determined.
The Cardinals are 3-2 after their 59-40 loss at home Thursday to 9-4 Ozark.
On Jan. 10, they won their third game and first conference game by defeating Joplin 45-42 in overtime at Joplin.