As of Wednesday, Dec. 29, 2021
March 21, 1937 – Dec. 24, 2021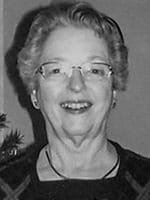 Carolyn Sue Baker, 85, of Webb City, went peacefully to heaven on Friday, Dec. 24. She was truly home for Christmas, reunited with many loved ones but especially her Savior.
Carolyn was the daughter of the late Earl and Lula Dickson. She was married to Fayette Shields Baker on Oct. 5, 1968. They had a loving marriage and, after their children left the home, enjoyed traveling together. Their favorite trips were mission trips and going to Alaska. Carolyn was a faithful servant to her church throughout her lifetime. For the last 36 years she was a member of Carl Junction Christian Church, serving in various roles of ministry including children's Sunday School teacher, helping with the food pantry and hospitality committee.
Survivors include their children, Elizabeth (David) Alford and Mark Baker; grandchildren, Zachary (Alex) Wages, Branden (Whitney) Alford, Joshua Alford, and Harley Alford; great-granddaughter Addison Wages; siblings: Martha (John) Whitacre, Shirley Robertson and Earl Dickson; and many other relatives and friends.
A celebration of life was held Tuesday at Mason-Woodard Mortuary. Memorial contributions may be made to Community Hospices of America or Samaritan's Purse, in care of the mortuary.
Feb. 25, 1930 – Dec. 27, 2021
Mrs. Margaret Ellen Bess, 91, of Webb City, departed this life on Monday morning at Spring River Christian Village in Joplin after a recent decline in health.
Margaret entered this life on Feb. 25, 1930, in Rosebud, Mo., the only daughter of the late A.C. and Sarah Elizabeth (Garrett) Whitworth. She was raised and graduated high school in Ste. Genevieve. Following high school, she furthered her education at Southwest Baptist University in Bolivar.
On June 30, 1956, in Portageville, she was united in marriage to Lee Howard Bess Jr., and to this union two daughters were born. In 1966, she and Lee moved their family to Webb City. For several years she owned and operated Margaret's Beauty Shop. She enjoyed singing and playing the piano (a gift she passed on to her daughter, Rayla), caring for others and helping those in need. She was a member of Harmony Heights Baptist Church in Joplin. One of her greatest joys in life was making people laugh and sharing the laughter with them.
She was preceded in death by her parents; her husband, Lee Bess Jr., on March 13, 2008; and three brothers, Jim, Glenn and Dean Whitworth.
Margaret is survived by her two daughters, Toni Logan, Webb City, and Rayla Kanakis and husband Jim, Webb City; three grandchildren, Adria Trombley and husband Justin, Shane Logan and wife Tish, and Alex Kanakis and wife Ashley; four great-grandchildren, Rylan, Launa, Aubry and Jaxson; a brother, Kenneth Whitworth and wife Barb, of South Carolina; a sister by choice, Maymie Williams, Oronogo; and a faithful and loving friend and caregiver, Carol Cobaugh of Diamond.
Funeral services are 11 a.m. Monday, Jan. 3, at Hedge-Lewis-Goodwin Funeral Home, with the Rev. Lee Kanakis and Jim Kanakis officiating. Burial will follow at Mt. Hope Cemetery. Those honoring her life by serving as pallbearers are Mark Kanakis, Alex Kanakis, John Rousseau, Greg Williams, Greg Wheelen and Norman Wheelen. The family will receive friends at 10 a.m. prior to the serice. Memorial contributions may be made to the Juvenile Diabetes Research Foundation (JDRF), in care of the funeral home.
May 6, 1928 – Dec. 29, 2021
Elizabeth Anne Foos, 93, a resident of Spring River Christian Village, passed away Wednesday at Mercy Hospital Joplin. She fell after enjoying time with family on Christmas and died of complications after surgery to repair her hip.
A service is being planned. Arrangements are under the direction of Hedge Lewis Goodwin Funeral Home.
Sept. 22, 1933 – Dec. 27, 2021
Shirley Maye Gunlock was born Sept. 22, 1933, in Carthage. She passed away Monday, Dec. 27, at the age of 88.
A private graveside service was held Wednesday at Pleasant Hill Cemetery, following a visitation at Simpson Funeral Home, Webb City. Memorial contributions may be made to the Carl Junction Senior Center, 303 N. Main St., Carl Junction, MO 64834, (417) 649-6437.
Shirley graduated from Alba High School in 1950 and married the love of her life, Casper Jr. Gunlock, on May 4, 1963. Shirley and Jr. were members of Nazarene Church of Webb City.
She was preceded in death by her parents, Clyde and Billie Bowman. Survivors include her husband of 58 years, Casper Jr. Gunlock; her sister Joyce Carter; five children, Larry (Nicky) Staats, Gloria (Jim) Staats, Pam (Larry) Huebner, Stan Gunlock and Randy (Pam) Staats; nine grandchildren; and six great-granddaughters. Services were under the direction of Simpson Funeral Home.
March 14, 1942 – Dec. 25, 2021
Rose Ellen Norvell, age 79, of Webb City, passed away on Saturday, Dec. 25, at her home.
Rose, daughter of the late Raymond and Alice (Manzella) Roach, was born on March 14, 1942, in Amarillo, Texas.
On Nov. 23, 1968, she was united in marriage to Merle Van Norvell in Joplin. He preceded her in death on May 12, 2018.
Rose had a caregiver's heart and was employed for over 30 years as a Home Health Aide for several different providers over the years, including Sacred Rose, Oxford, and most recently Integrity. Prior to her working in health care, she worked for Keller BBQ, Elders, National Mills and Cardinal Scales. When she wasn't working, Rose still found time to serve others in many volunteer opportunities. She enjoyed knitting, to which she would then donate hats and shawls for cancer patients for the Freeman Advantage. She previously volunteered at the Freeman Auxillary and helped her daughter plan events for VFW Post 5293 in Joplin. She enjoyed puzzles, spending time making memories with her family, and any day spent at the Webb City Farmers Market helping at the Kings Kettle Korn booth. Her devotion to her family and her gentle kindness will be missed by all.
Survivors include her daughter, Sharon Arner, of Webb City; one granddaughter, Cassie Arner, of Florida; her sister, Theresa Bush and her husband, Nathan, of Richland; and her twin sister, Rosa Duvall and her husband Henry, of Joplin; and numerous nieces, nephews, and extended family members. In addition to her parents and husband, she was preceded in death by three brothers and two sisters.
Celebration of Life services will be held at 6 p.m. Thursday, Dec. 30, at Parker Mortuary. The family will receive friends from 4 p.m. until the service time. Burial will follow at a later date at Ozark Memorial Park Cemetery. Memorial contributions may be made to Joplin VFW Post 5293 in care of the mortuary.