MO' Mushrooms is one of the many market vendors with gift ideas.
Christkindlmarket vendors are now featured at the farmers market
Help WIC: Buy your Empty Bowl on Nov. 27, return Dec. 4 to have it filled with soup
The season of giving is starting to fill our minds and activities. At the Webb City Farmers Market, we begin to host more vendors specializing in home goods, glass art, woodworking, decor, jewelry, and hand-sewn doll clothes. 
Our vendors who dabble in such crafts are called our Christkindlmarket vendors. Some Christkindlmarket vendors have attended for several years, like Jane's Glass Art, which brings glistening sun catchers, cute seasonal plant stakes and delicate glass pendant necklaces.
Someone I look forward to greeting every year arrived at 7 a.m. this last weekend, Mrs. Nancy Lane. This is Nancy's third year attending our market. Back in 2019, the kindest lady walked up to me carrying with her a few frilly dresses fit for 18-inch dolls. I sew a little, so when I saw the tiny straight stitches and detailed trim work I absolutely snagged Nancy for the Christkindlmarket.
She signed up her booth as "Nancy's 18 Inch Doll Clothes," but when she arrived to set up her booth she started hanging tiny hats adorned with feathers, shoes with shiny buckles, and dolly pajamas with matching doll blankets. I exclaimed, "Nancy you don't just have clothes you have a whole closet!" and so Nancy's Doll Closet has quickly become a staple of the Christkindlmarket.
Another tidbit to note about this time of year, is we have a very, very special vendor whom I am quite confident no other market has, and at this time of year, he has to step away from the market. Hide the children's eyes, don't let them read the next few sentences because did you know that our knife sharpener, Mr. Lynn, is actually Santa Clause? That's right, every year Mr. Lynn takes a break from sharpening those knives, mower blades and scissors to go attend to the business up at the North Pole. We will see his return on Saturday, Jan. 1, New Year's Day.
Hard to imagine another year has flown by the coop, but I and the market's board of directors are ready to get to work on 2022. We have decided to have a theme for 2022 to guide our endeavors and set a purpose in our work. The theme is G.R.O.W. It stands for Gain and Retain Our Wellbeing, and the theme is what we hope for our market and our community.
Webb City Farmers Market would like to see our vendors grow, and though I am scouting for bakeries and orchards, the idea of growth isn't isolated to adding to our number of vendors. When you think about something growing the first thing that's envisioned is an expanse of size, something stretching closer to the sky or broadening its girth. 
In order to do this, the transformative organism must first be strengthened in order to develop successfully. 
Encouraging the growth of local agriculture with education and resource development is of high importance to our market.
We want to strengthen the efforts of current members and those farms found at Neosho Farmers Market or Lamar, or up in Columbia. If there is a small farm, our heart wants to see it flourish, we want to see it grow. 
In 2022 our market will step out into the field again alongside good friends from Lykou Farm, MU Extension, and Lincoln University, to expand the knowledge on how to grow berry crops. 
It was just announced that Lincoln University was awarded a grant by the U.S. Department of Agriculture, which we will be cooperating with for the next two years. During the term of the grant, we will offer a class on high tunnel construction, growing strawberries, blackberries, and elderberry bushes. These classes will be open to the public. And twilight tours at Lykou Farm will be scheduled June through September. 
You could say Webb City Farmers Market is on the move with a berry good mission and looking forward to another sweet year.
This Saturday, we have a warm treat for everyone to try. Chuck Lenardo will be present sharing tips on soup making. He'll be here cooking and sampling while his supplies last. Chuck is a long-time Marketeer (market volunteer), participating as a chef for cooking demonstrations all about stews and soups. He's shared his smoked chili recipes and traditional ox tale soups. His recipe this time will take us to a warmer climate with notes from South of the border, Chicken Tortilla Soup.
Meanwhile, Drew Pommert will play on the market stage from 9-11 a.m. Market sales begin at 9 a.m. and end at noon.
EMPTY BOWLS – NOV. 27 & DEC. 4
Now that we are all craving soup, I would like to announce the Empty Bowls fundraiser, which will run on two Saturdays, Nov. 27 and Dec. 4.
On Nov. 27, we will set out lovely clay bowls donated by Phoenix Fire Art. The bowls will be $15. On the first weekend, you can pick up your bowl and a ticket for a hot bowl of soup that will be served on Dec. 4. If you don't buy a bowl on the first Saturday, you can still buy a bowl on Dec. 4, but we won't soup for you.
All Empty Bowls proceeds will grow the market's WIC Program to keep our area's youngest citizens from being hungry.
Growth encourages the idea of more. We'd love to see:
• More successful farms
• More satisfied customers
• More funding for our market operations
• More volunteers to help our causes
• And a more sustainable future for our local community. 
With you beautiful people on our side, anything is obtainable. So get ready, get set, G.R.O.W! 
See you Saturday.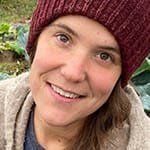 Rachael Lynch
Rachael Lynch is the manager of the Webb City Farmers Market.  For more current updates, visit the market's Facebook page.