The cold 2015 semifinal at Cape Girardeau was one of 13 that led to a state championship during John Roderique's 26 seasons as the Cardinals' coach.
Coach Rod decides it's time
Home-grown player and coach John Roderique has coached 26 Cardinal teams – half of which were state champs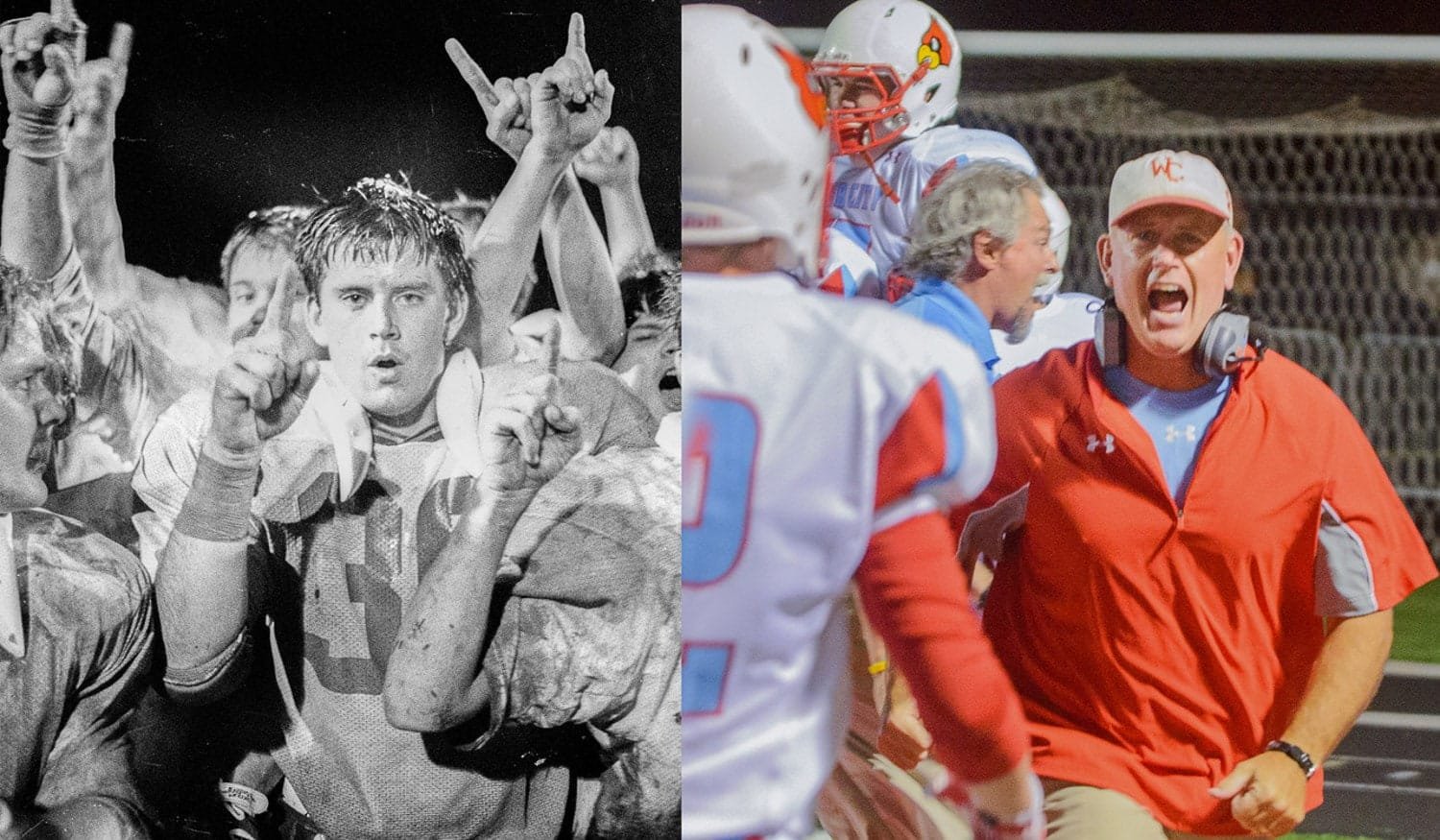 "When we needed a play, John was the guy." – Will Roderique. After kicking the winning field goal in 1985 and a close win at Nixa in 2013. 
The time we Webb City Cardinal fans have known and dreaded would come … some day … is now. Coach John Roderique on Monday announced he is retiring at the end of this school year. He won't return as football coach and athletic director.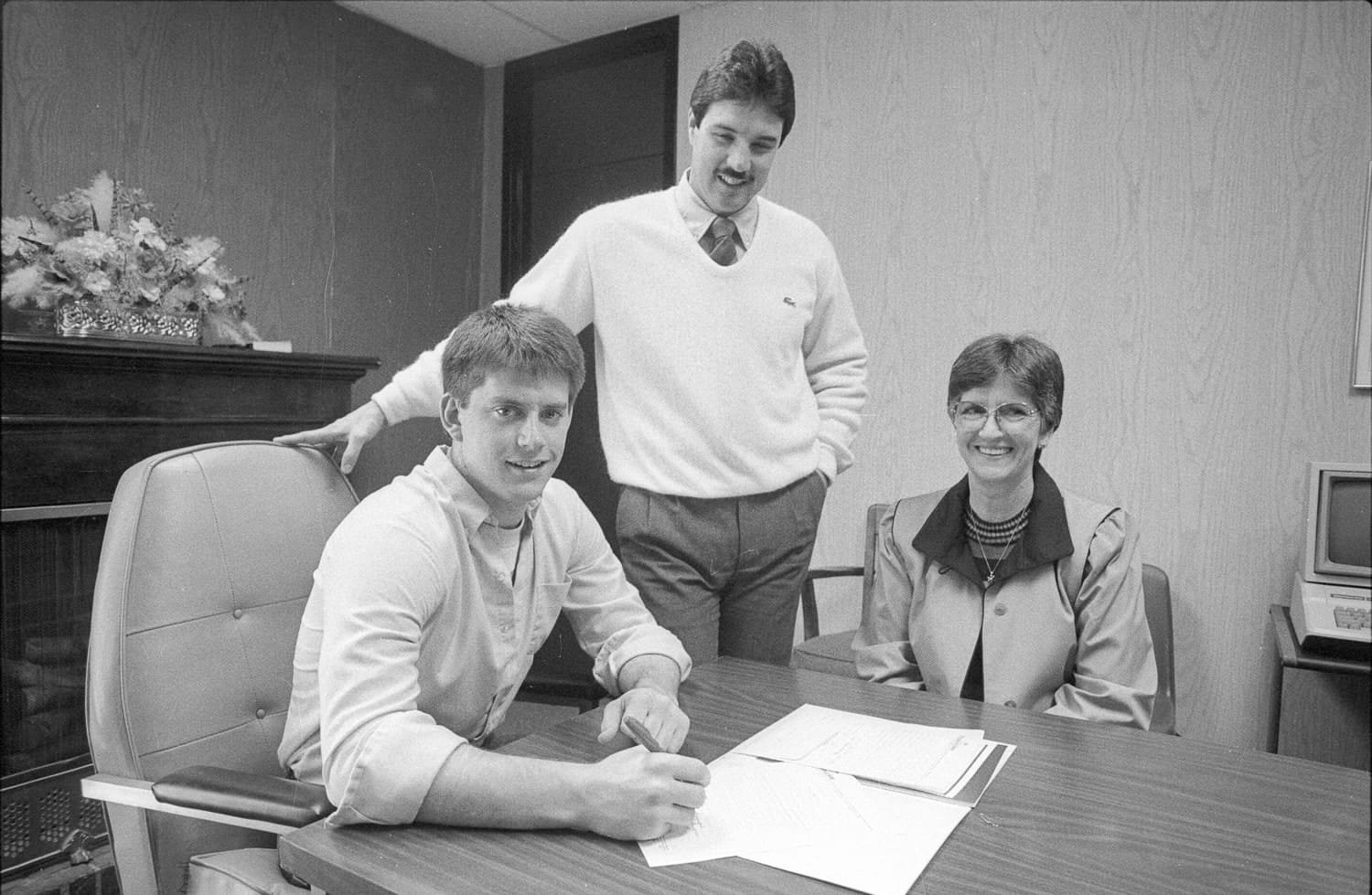 In 1986, John Roderique signs his intent to attend Pittsburg State University, with his coach, Mark McDonald, and mother, Jenell Roderique.
Roderique has thrilled us since his playing days when his field goal lifted the Cardinals to their first semifinal appearance in 1985. During his only time away, he became an All-American linebacker (1988 and 1989) and an assistant coach at Pittsburg State University. (He was inducted into the PSU Hall of Fame in 1999.)
Meanwhile, one of his Pitt State coaches, Jerry Kill, and fellow Gorilla, Kurt Thompson, were strengthening our program. We were getting used to making it to the semifinals and celebrated three championships.
The School Board picked Roderique to build on that. What nobody expected was for Roderique's first team, in 1997, to go all the way. That was the first of Roderique's 13 state-championship teams.
At Nevada in 1997 during the 9-0 game that was considered to have been the "state championship" game.
 Young Coach Roderique coaches his first state championship game in the St. Louis Dome in 1997.
Waiting for the first-place trophy in 1997.
John Roderique reaches the 300-win milestone in 2021.
In 2021, he was honored for his 300th win as the team went on to win the program's 16th state championship.
In his 26 years as coach, he has 315 wins, with only 35 losses, for a 90% winning percentage. And he hasn't had a losing season.
He has gained regional, state and national recognition. In 2010, he was an assistant coach for the USA Football Junior National Team.
Three years later, he represented Missouri at the NFL Foundation-USA Football Youth Summit in Canton, Ohio, with the purpose of promoting a safer game. He teamed up again last year with USA Football and 15 and the Mahomies Foundation to conduct a coaches clinic here on letting players fall in love with the game before focusing on teaching the sport.
Roderique shared then that as he's grown as a coach. "I strive to develop relationships. I want them to know I care more about them than how well they play football."
In accepting the Pete Adkins Power of Influence Award from the Missouri Football Coaches Association in 2015, Roderique spoke about the importance of coaches on young lives. Citing his own experience as a boy who lost his father at age 10, he said he coped by concentrating on sports and "needed coaches."
Now in his position to influence young lives, Roderique said he takes pride in connecting with all of his players – even those that may not be considered likable. He said he challenges himself to say something positive to each of his players on a daily basis.
A contingent of coaches accompanied Roderique when he received the Pete Adkins Power of Influence Award.
During Roderique's induction into the Joplin Sports Hall of Fame in 2017, William Roderique, introduced his brother as a "born football player."
"When we needed a play, John was the guy" the team turned to, Will recalled from their playing days as Cardinals. He said he admired John for his "toughness, gut and want-to" and was proud of him when he led the Cardinals to their fourth state championship in 1997.
The next year, however, when the Cardinals went 5-5, Will said he was saying, "You're not my brother! But he stuck through it – the phone calls and letters telling him, 'You're not a very good coach.'"
Since he had gone on to win nine other championships at that time, Will said he didn't mind being mistaken for his brother.
Later in 2017, John Roderique made it into the Missouri Football Coaches Hall of Fame about as fast as possible – to no one's surprise in the state's football community.
Hall of fame inductees are required to have coached at least 20 years, and Roderique had just finished his 21st season with a 15-0 record and 11th state championship.
As Larry Burchett, of Midway, a 2010 coaches hall of fame inductee, accepted the Pete Adkins Power of Influence Award, he noted that Roderique "got there (hall of fame) 10 years before I did," and with 20 more wins.
In February 2021, Roderique was inducted into the Missouri Sports Hall of Fame.
John Roderique's retirement letter
I am so proud to be a part of this amazing community, school and WEBB CITY FOOTBALL. For the past 26 years, I've been able to do what I love; with the people I love – every single day. What an honor and privilege it has been. Thank you to the administrators, teachers and staff. And, special thanks to the assistant coaches and young men who have poured their hearts into our program.
Thank you to my family for the sacrifices you have made to allow me to do this job for so long. Heather, you're the most important person in my life and I could not have done this without you. You are my rock. Hailey, John and Tyson, I'm so proud to be your dad. The three of you have been my biggest defenders, you have taught me about who I am and who I need to be. You give me hope that what we do everyday matters.
Webb City Football is rooted in pride and tradition and I stand firm on the quote that "great things can be accomplished when everyone works together and nobody cares who gets the credit." This quote epitomizes the players and coaches I've had the opportunity to work with. God has blessed me abundantly!
I'm excited (and a little sad) to announce my retirement at the end of this school year. I have loved my role as the head football coach and athletic director at Webb City High School and will cherish the friendships and memories. From the bottom of my heart – thank you ALL! Peace, Love & God's Blessings –
Coach Rod
John Roderique with his grandsons and family after winning the 2021 Show-Me Bowl at Columbia.