The last 5 miles that were completed are on the Missouri side of the state line. (DRONE PHOTOS BY RIC AKEHURST)
Completion of long awaited I-49 Connector celebrated prior to opening it on Friday
Missouri and Arkansas governors met at the state line to celebrate the Bella Vista bypass
Getting to northwest Arkansas got faster Friday when the I-49 Connector, commonly called the Bella Vista bypass, opened.
It's such a big deal that governors of both Missouri and Arkansas met Thursday with other officials and hundreds of guests at the border for a grand ribbon-cutting.
Arkansas Gov. Asa Hutchinson said he personally knows the importance of the bypass because he grew up nearby in Gravette, Ark., would drive across the border with friends to Shadow Lake Resort in Noel and even lived in Bella Vista, Ark., which has become a traffic bottleneck. 
Missouri Gov. Mike Parson predicted that beyond the convenience and safety, the new stretch of I-49  will "drive the economy of both states."
The last link, a 5-mile stretch of four-lane in Missouri from Jane to the Arkansas border, completes I-49 non-stop from Kansas City to Fort Smith, Ark.
It cost $70.3 million to construct those last 5 miles, more than a third of which ($25 million) was covered by a federal grant. A new intersection at Highway 90 is included in the project.
The importance of the I-49 Connector has been under discussion for more than 25 years, but the state's funding hasn't been in sync. Missouri was the first to have its funding available, but Arkansas wasn't ready. Missouri went ahead and spent its I-49 money on bringing Highway 171 up to interstate standards between Nevada and Joplin. Then, Arkansas was able to build its portion, Missouri had to find new funding.
A Bella Vista resident on a golf cart who was shuttling guests at the ribbon-cutting said she is looking forward to being able to shop in her town without having to deal with the through-traffic.
Cameras galore record the historic ribbon-cutting.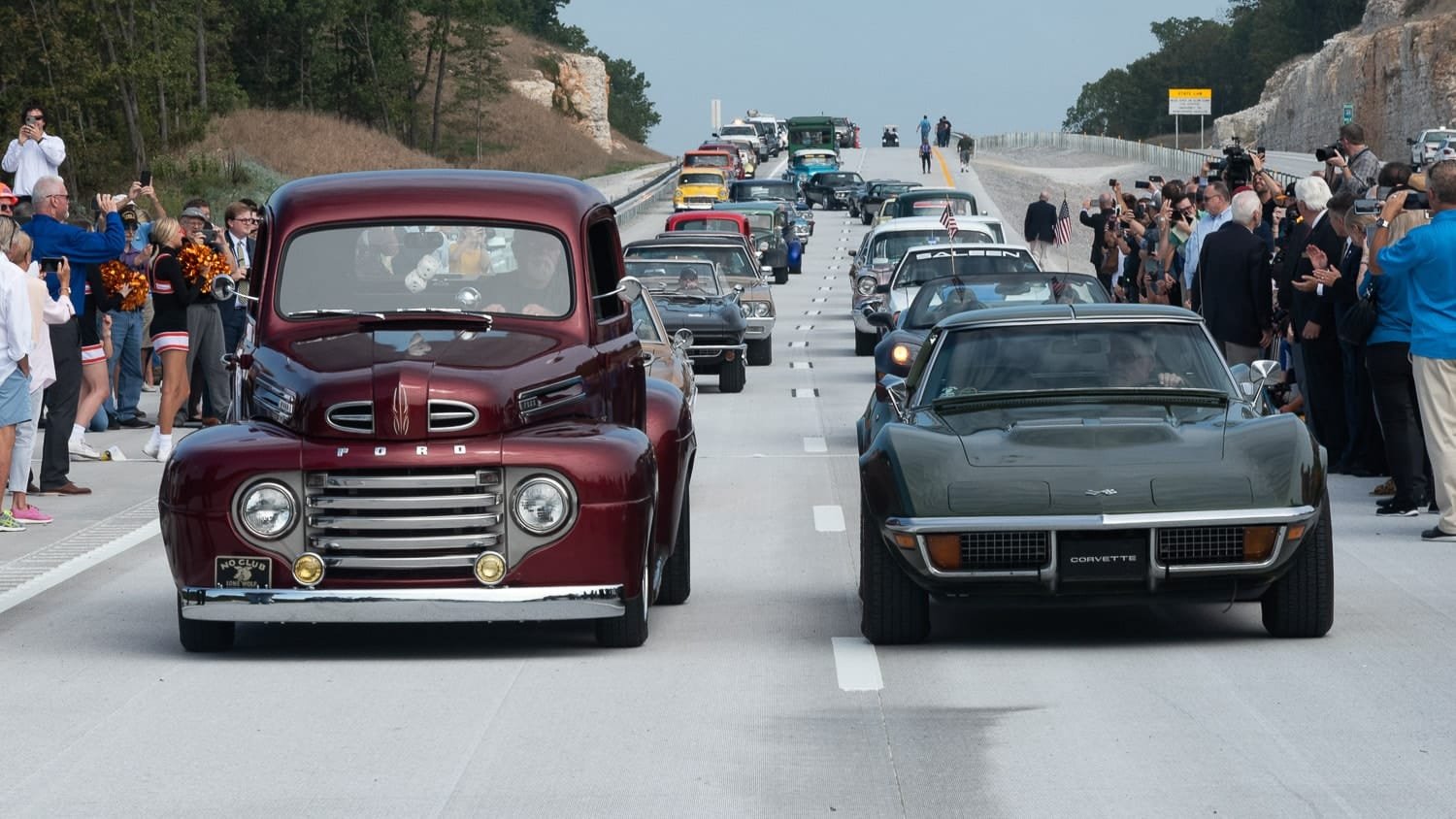 Car club members are the first to drive from Missouri to Arkansas on the new roadway.
Photographer Ric Akehurst, of Anderson, covers the event with his still and drone cameras.