Dante Washington beats everybody else to the end zone on the opening kickoff last Friday night at Cardinal Stadium.  (HELENE SHEELER-JOHNSON PHOTO)
CONFERENCE BATTLE FRIDAY AT NIXA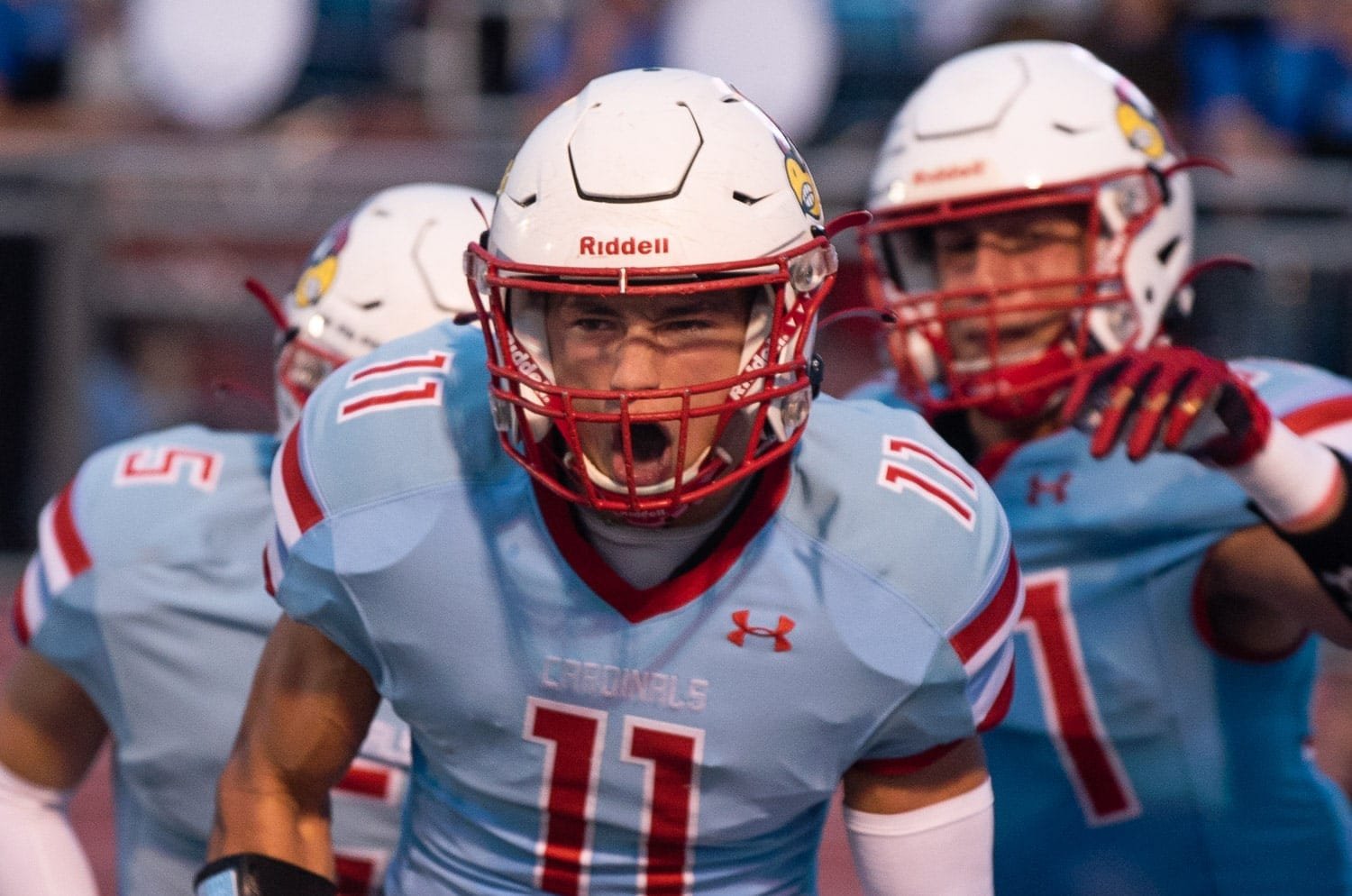 4-2 Cardinals take on 6-0 Nixa after 38-0 homecoming win over Branson
Friday will be a big night for the Central Ozark Conference football standings.
The 4-2 Webb City Cardinals will have a chance to move up when they visit the 5-1 Nixa Eagles, whose only loss was in week 2 to Joplin.
And COC unbeatens Carthage and Joplin square off at Joplin this week.
Quarterback Landon Johnson rushes for a touchdown.
Trey Roets makes a reception.
Webb City got its fourth win on homecoming night last week by defeating Branson 38-0.
Dante Washington ran back the opening kickoff 81 yards for the Cardinals' first touchdown. On their next possession, quarterback Landon Johnson made it into the endzone from 1 yard out for a 13-0 lead.
In the second quarter, Omari Jackson scored on a 46-yard run, and Washington claimed his second touchdown of the night from 9 yards out.
Washington got a third touchdown with 16 seconds left in the half by receiving a 39-yard pass from Johnson.
Gavin Stowell got a 1-yard touchdown in the third quarter, and Mason Quick kicked the extra point to end the scoring at 38-0.
Cade Wilson led the rushing attack with 12 carries for 65 yards.
Johnson completed 8 of 10 pass attempts for 132 yards. Washington had three receptions for 77 yards.
The defense held Branson to 196 total yards, compared to Webb City's 305 total yards. WEEK 6 STATS BELOW provided by Mike Miller and Eric Parker.
CARDINALS SEEDED THIRD IN SOFTBALL DISTRICTS
Webb City Cardinal softball (13-11) will close out its regular season at home Saturday against Kickapoo at 10 a.m. and Rock Bridge at 1 p.m.
Class 4 District 6 action is to start Tuesday, when top seed McDonald County will play Parkview and second seeded Willard will play Carl Junction. 
Webb City is seeded third and will play Hillcrest at 6:30 p.m. Wednesday. All games are at the host school, Neosho, which is seeded fourth and will play Branson in the opening round on Wednesday.
Semifinals will be Thursday and the final at 5 p.m. Friday.
In recent games, Webb City defeated Park Hill South 5-4 on Friday at the Springfield Invitational. The Cardinals took a 15-0 loss Monday at McDonald County and lost Tuesday at Carthage 10-4.
SOCCER TEAM STARTS 4-GAME HOME STAND TUESDAY
Webb City's soccer team has a four-game home stand starting Tuesday.
The 10-5 Cardinals will host Carthage on Tuesday, Aurora on Thursday, Branson on Oct. 19 and Joplin on Oct. 26. The regular season will end on Oct. 28 at McDonald County.
The Cardinals lost Tuesday at Republic 3-0 and are 8-4 going into their Thursday game this week at Parkview.
TWO HOME VOLLEYBALL GAMES NEXT WEEK
After a disappointing week on the road, Webb City volleyball players are returning to their home court starting Monday against McDonald County.
Neosho will be here Tuesday, followed by Republic on Thursday.
Carl Junction defeated the Cardinals (10-5) Tuesday, 25-20, 25-17, 25-18.