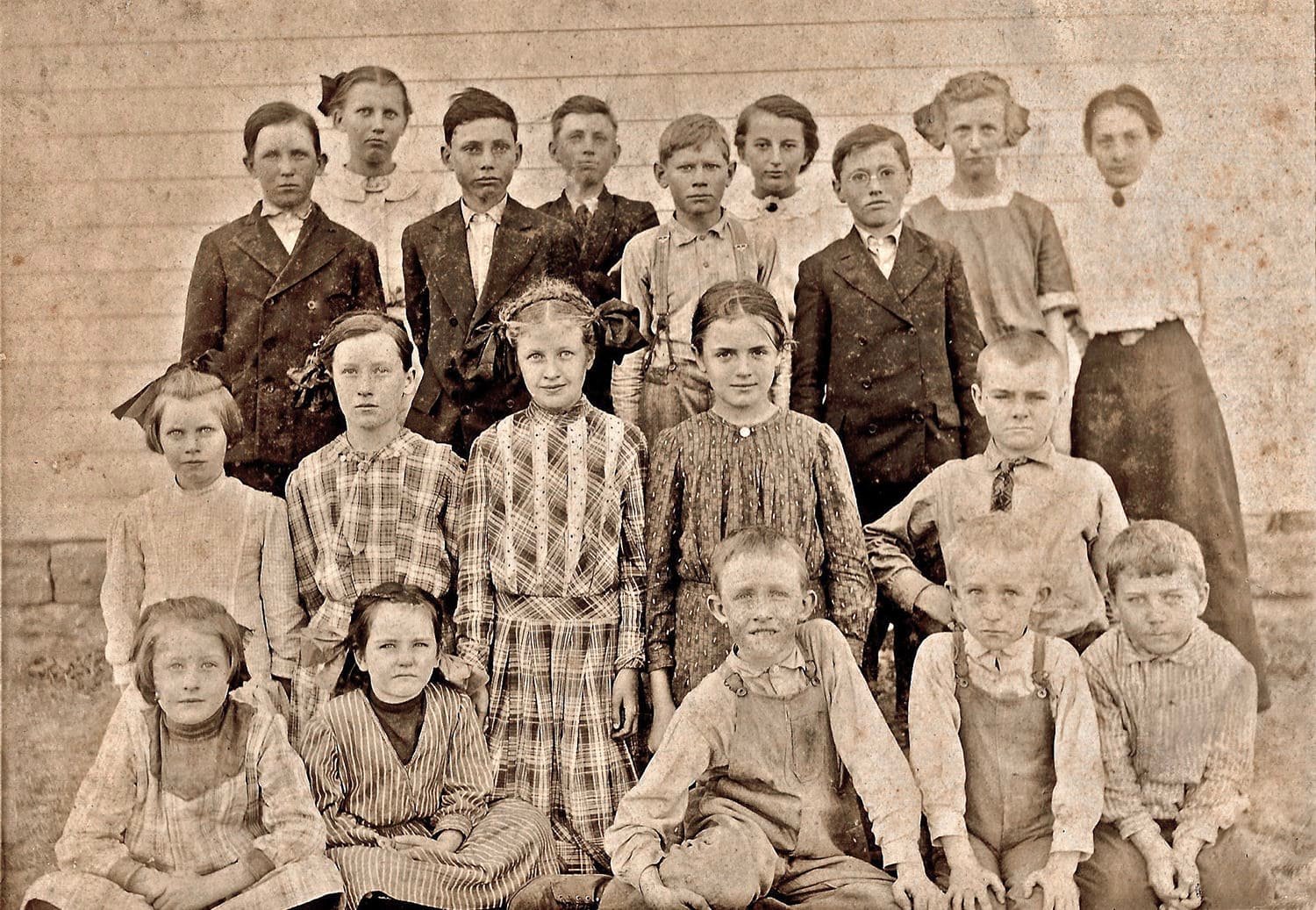 1911 Coonfoot School
(FRONT) Juanita Culton, Annabell Smith, Bill Culton, Theodore Culton, Edwin Davis.
(MIDDLE) Ruth Jenkins, Ruby Culton, Theresa Teague, Cleo Smith, Harry Luman.
(BACK) Floyd Culton, Roberta Weir, Vern Hedgecock, Lewis Hedgecock, Clarence Jenkins, Hester Weir, Charley Hedgecock, Reba Harbison and Miss Florence Tresenwriter-teacher.
From the 3rd floor
of the Webb City Public Library
Coon Foot School District voters decided in 1949 to be annexed by the Alba district
We have two early photos from Coon Foot School, which was located two miles north of Alba.
The 1911 Coon Foot class photo was shared by Annabell Smith McClanahan, Route 2, Jasper.
She wrote, "In 1960, I am the only one in this picture that lives in the old Coonfoot school district now."
The 1914 photo was contributed by Dee Davis. The students are not identified but you can recognize a few of the students from the 1911 photograph.
Coon Foot school was constructed on land donated by John Harbison. It was noted that the school closed in 1944, but newspaper reports say the school was consolidated with Alba. 
In October 1949, voters of the Coon Foot School District voted 19 to 2 in favor of annexation to district C-46 at Alba. The building continued to serve as a meeting house for several years after the school closed.
The name of the school may ring a bell because of Louise Ott's longtime social column, Coonfoot and Vicinity, which was published in area newspapers, including the Sentinel. For years, her house was a polling place. Mrs. Ott passed away on March 6, 2019.
Sentinel bound volumes are now in the Genealogy Room
The WCAGS has accepted ownership of the complete collection of bound volumes of the Webb City Sentinel, from 1983 (after the fire) until the final issue on Dec. 30, 2020.
Those issues can also be viewed on microfilm, along with much older issues.
Webb City Area Genealogical Society
WCAGS members staff the Genealogy Room on the third floor of the Webb City Public Library. Current hours are noon to 4 p.m. weekdays and 10 a.m. to 2 p.m. Saturdays. Meetings are held at 6 p.m. on the first Tuesday of each month in the Genealogy Room.
Everything you want to know about Jasper County Missouri Schools is available at a site compiled by Webb City Area Genealogical Society member Kathy Sidenstricker.