April 17, 1957 – Feb. 15, 2022
Cynthia Jane Campbell, age 64, passed away on Tuesday, Feb. 15, at her home.
Cynthia was born April 17, 1957, in Joplin to the union of the late John and Jane (Watson) Campbell. After graduating from Webb City High School in 1975, she attended Missouri Southern State University and completed all her prerequisites in 1979 before transferring to the University of Missouri-Columbia School of Law, where she obtained her law degree in 1982. After college she returned to Joplin and opened her own practice, "Cynthia J. Campbell Attorney at Law." She served the people of Webb City and Joplin for over 35 years before her passing. She enjoyed going to her "Home Away from Home," Jensen's Resort and Marina, Captiva Island, Fla. She was a lifetime supporter of Webb City High School Football. Above all else, Cynthia was a loving daughter, sister, and aunt.
Cynthia is survived by her brother, Robert Campbell; and niece and nephew, Clara Campbell-Ford and her husband, Joseph Ford, and Daniel Campbell.
Memorial contributions may be made to the Wounded Warrior Project or St. Jude Children's Research. Arrangements are under the direction of Parker Mortuary.
Aug. 5, 1935 – Feb. 14, 2022
Robert "Bob" Charles Ford, age 86, of Webb City, passed away peacefully on Monday, Feb. 14, surrounded by his loving family. 
Bob, son of the late Floyd and Hazel (Pool) Ford, was born in Thompson, Ark., on Aug. 5, 1935. 
On June 21, 1957, he was united in marriage to the love of his life, Arleta Mae Frederick, in Arkansas. She preceded him in death in April 2021. 
Bob honorably served his country in the U.S. Marine Corps, enlisting in 1953 and retiring in 1972 as a Korean War and decorated Vietnam veteran. Soon after, he and Arleta moved to the Stark City area where they owned-operated their crop farm and spent their free time bowling. Bob also owned and operated Ford Insurance Agency and Bob Ford Trucking. Life later took them to Webb City, where Bob worked for and retired from Tri-State Motor Transit. Bob and Arleta enjoyed playing bingo, going to the casino and eating at Golden Corral. Bob was a devoted and loving husband, dad, and grandpa who will be greatly missed and forever in the hearts of his family.
Bob is survived by his children, Rodney Ford (Jennifer), Lakeland, Fla., Debbie Baugh (Shawn), Carthage, Rocky Ford (Eileen), Granby and Bridget Yust (Rob), Webb City; his sister, Marianne Haddock (Woody), Springdale, Ark.; numerous grandchildren; great-grandchildren, and great-great grandchildren. In addition to his parents and wife, he was preceded in death by one son, Randy Ford; and sisters, Louise Lockhart and Linda Darden.
A private family celebration, with military honors, will be held Friday morning, Feb. 18, with inurnment to be held at a later date in Mt. Hope Cemetery. The family extends gratitude to the staff of NHC, with a special thanks to Steve Burish, for their compassionate care for our dad over the past few months.
Arrangements are under the personal care and direction of Parker Mortuary.On Jun
July 6, 1979 – Feb. 8, 2022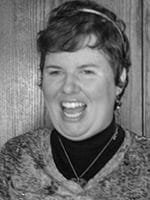 On Tuesday, Feb. 8, 2022, at the age of 42, Kristina "Tina" Ann Kimball finished her race on earth and outstretched her arms to Heaven where she was greeted with a Choir of Angels and Jesus saying, "Well done, good and faithful daughter."
Tina was born on July 6, 1979, in Flagstaff, Ariz., to Kathy Kimball. She was diagnosed with a brain tumor at the age of 1 but didn't let that stop her from living her life full of love, kindness and a lot of fun. At a young age, Tina accepted Jesus into her heart, and through the years until she passed away, she held onto her faith tightly and lived it out every day. When Tina was a young girl, she would say she was going to be a missionary when she grew up. Tina did just that. She was a missionary to the everyday people she encountered. She would tell people about her Jesus, friends and strangers alike. She had a bold faith and was never ashamed of all God had done for her.
After graduating from Flagstaff High School, Tina continued working for the Continental Country Club until she moved to Missouri in 2010 to be close to her sister, brother-in-law, and her nephew and niece. Tina adored her nephew, Austin, and her niece, Allison. She loved them as if they were her own children and their bond was so strong it could never be broken.
Tina loved spending time with her family and friends. She loved painting, crocheting, gardening, fishing, cheering for her nephew and niece at their games, writing letters, Neil Diamond, "The Price is Right," Bunco, rubber stamping and playing jokes on people. Tina also loved church and serving others. Tina handed out her crocheted washcloths with soap and bible verses to the homeless. She would also make sandwiches for the homeless, donated groceries to various food pantries, babysat for Mom's Connection at Christ's Church of Oronogo and Hope City, and served in the Women's Ministry at Villa Heights Christian Church. In 2019, Tina received the Reggie Thomas Evangelism Award from Villa Heights Christian Church.
Tina passed away at her home in Webb City while holding hands with her loving mom, best friend and roommate, Kathy. She was welcomed into Heaven by her grandpa, Walter Gillispie aka "Hunk," uncle Danny Gillispie, aunt Marcia Strow, uncle Brian Hoyt and cousin Jesse Wagner. Tina was joined by her grandma, Maxine Gillispie, only two earthly days after being in Heaven so they can run and explore and do all the things in Heaven together that Tina was not able to do on earth. 
Tina will be missed every day by her mother, Kathy Kimball, sister Kim Murray, brother-in-law Gary Murray, nephew Austin Murray, and niece Allison Murray, all of Webb City, aunts Nancy Gillispie-Hoyt, of Arizona, Sue Zimmerman (Ken), of Arizona, Jackie Kimball, of Oregon; uncle Steve Strow, of Arizona; and many cousins and friends.
Tina may not be physically on earth, but her legacy will live on forever. Her smile is still brightening up rooms of darkness and her joy is still lifting others who knew her. She was one of a kind and people were drawn to her by the Light of Jesus that flowed freely through her. To the best daughter, sister, aunt, granddaughter, niece, cousin and friend, we will love you forever and always! Meet you at the snack bar in Heaven.
Tina's celebration of life will be Saturday, March 26, at Villa Heights Christian Church. Visitation will be at 1 p.m., with the service following at 2 p.m.
Memorial contributions to further Tina's love for evangelism may be mailed to her sister, Kim Murray, 1805 N. East St., Webb City, MO 64870. Arrangements are under the direction of Hedge-Lewis-Goodwin Funeral Home.
March 23, 1930 – Nov. 23, 2021
– Service location updated –
Webb City native John Fredrick Myers, of Jefferson City, died Nov. 23, 2021, at Harry S. Truman Memorial Veterans' Hospital in Columbia.
John was born on March 23, 1930, in Webb City and remained a frequent visitor to his hometown. He was the youngest and last surviving child of William C. Myers Sr. 1895-1952, and Helen Elizabeth (Hardy) Myers 1901-1997, of Webb City.
After graduating from Webb City High School in 1948, John was in the U.S. Air Force for four years from 1948 to 1952, serving as an aerial photographer on top secret reconnaissance flights in the Korean War. His missions included recon flights over Korea in preparation for the Battle of Inchon in September 1950, which turned the war into the United States' favor.
John was a talented golfer, playing professional golf in the early 1950s. In the early 1960s, he was manager of the Webb City Sentinel and Wise Buyer. For nearly the last 40 years of his life, John raised cattle while living in Galena, Kan., which is where he met his loving longtime partner, Helen Price. In 2019, John moved to Jefferson City to be closer to his children. John was a "true believer" in God and studied the Bible extensively.
He is survived by five children, Kevin Myers (Karen), St. Martins, Mo., Beth Benward (Jeffrey), Jefferson City, Amy Collins (Tim), Jefferson City, Janice Williamson (Mike), Mesa, Ariz., and Kurt Myers, Sturgeon, Mo.; four grandchildren; three great-grandchildren; and many nieces and nephews.
He was preceded in death by his parents; partner Helen Price; and five siblings, William C. Myers Jr., Max Myers Sr., Helen Coates, Robert P. Myers, and Mary Margaret McNair.
Services will be held at 10 a.m. Saturday, March 12, at First Presbyterian Church in Webb City, followed by graveside services in Mt. Hope Cemetery. Services were delayed due to COVID concerns.
Aug. 17, 1971 – Feb. 9, 2022
Mr. Kyle Wade Thornberry, 50, of Webb City, passed away on Wednesday, Feb. 9, 2022, at Mercy Hospital Joplin.
Arrangements are under the direction of the Hedge-Lewis-Goodwin Funeral Home.