A postcard of the Holiday Inn dance hall on South Main Street in Joplin.
Dancing in the '40s and '50s
Jim Toutz documented care-free nights 
by Jim Toutz
The young folks would visit the big bands of the area during the '40s and '50s.
Dancing was really a major social pastime for teens, college students, and young adults. The big band era was still in its heyday and there were ballrooms, pavilions, and lounges with dance floors everywhere.
In 1947-48, there was a small cafe at Broadway and Oronogo Street called Ruthies. Ruthies had a large open room on the south side of the cafe that opened out to Oronogo Street, which she made into an unofficial teen dance place. It quickly became very popular and all the kids would congregate there and dance to the music from a bright nickelodeon made by the Wurlizer Company. You could see the latest jitterbug steps i.e., The Minnesota, The Kansas City Shuffle, and others. And there were many partners to chose from.
Alas, the neoghbors became upset with all the kids congregating at night and the attendance noise, so the popular dance place was short lived. It was probably one of the few dance halls with bicycles parked outside.
Later, with most of us at driving age, our horizons widened and we danced at a number of favorite places. There were very few high school or even college students who had their own cars so one of us would beg for the family car and we would load up with as many as four couples per car and go dancing.
Many of the larger dance places served soft drinks, set ups, and beer. Minors were allowed in but could not be served beer or alcohol. In Kansas, however, you could buy 3.2% beer at 18-years of age.
There was the Holiday Inn Ballroom on South Main (33rd and Main) in Joplin, where there was dancing to an orchestra every Saturday night. The "Holiday" and many other ballrooms required proper attire: coat and tie for men and dresses for ladies on Saturday nights. Everyone looked so nice on these occasions. Frequently, they had a big-name touring band for dancing. I remember seeing Tony Pastor's band with Rosemary and Betty Clooney and also Gene Krupa's Orchestra. The regular house band was Forrest Wasson and his orchestra, which featured several Webb City musicians: Bruce Benson on trumpet, Gene Dooley on tenor saxophone, and Byron Fly on trombone.
Another big band ballroom was the Tower in Pittsburg, Kan., where big names such as Harry James and Tommy Dorsey have played. I was fortunate enough to have seen them both there.
Locally, there were other more casual places such as Wimpy's on south 43 highway at Shoal Creek. The Triangle Inn south of Carthage and Bert's Riverside Inn north of Carthage
In the summer, the all-time favorite was Shadow Lake at Noel on Elk River. Every parent dreaded the thought of their children driving 40 miles over dangerous and twisting roads down there and back… but what a fun place for dancing, an outdoor terrace overlooking the river, speedboat rides , and more. If my memory serves me right, Gene Dooley had a small band there on occasions.
Also in the early '50s, there were some popular small dance places in Pittsburg. There was an especially popular group, the Cale Clark Combo, which played frequently at the Hilltop Lounge. Cale Clark played clarinet, his wife Vy played the piano and they had a drummer and or bass player. Their music was in the Benny Goodman style.
The Holiday Inn closed around 1952 and the building was turned into the National Guard Armory. John Garrison who operated the Holiday Inn built another ballroom called The Golden Door about three miles west of Carthage on Highway 71. Webb City's Bruce Benson formed a band that was the house band for a number of years. The place became very popular, so there was a lot of dancing at "The Door."
There were always those individuals or couples who danced so well everyone would give way and watch them. There was no higher compliment. Several names come to mind, that seem to be outstanding, no matter who their dance partners were: Crystal Hargis and Fred Brooks, from Webb City. The son of the owner of Wimpy's, Ralph Winfred and his wife would put on an exhibition from time to time, which was great.
Some of the really popular artists that were famous and we enjoyed dancing along with were: Glen Miller, Harry James, Jo Stafford, Nat King Cole, Frankie Lane, Tommy Dorsey, Woody Herman, Stan Kenton, Ella Fitzgerald, Sarah Vaughn, Vaughn Monroe, the Mills Brothers and many more.
When we went dancing, we danced until we dropped. Everyone would change partners occasionally to test our skills. Many places were not air conditioned so we got a real workout in the summer months.
If I close my eyes, I can still hear the strains of "Strings of Pearls," "You Belong to Me." "That's My Desire," "Mona Lisa," "One O'Clock Jump," and on and on. As we moved through the traffic of a crowded dance floor, cheek to cheek, there was nothing better.
Thank you Jim Toutz, Class of 1949, for sharing those great memories. The big band era held quite a bit of magic in sound and in motion on the dance floor.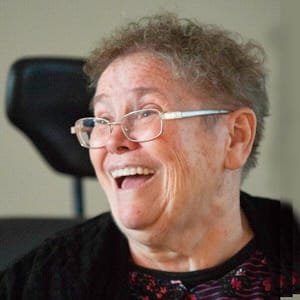 Jeanne Newby
A lot of us appreciate the Bradbury Bishop Fountain, but Jeanne actually worked behind the counter making sodas while she was in high school. She knows everything about Webb City and is a member of the Webb City R-7 School Board.