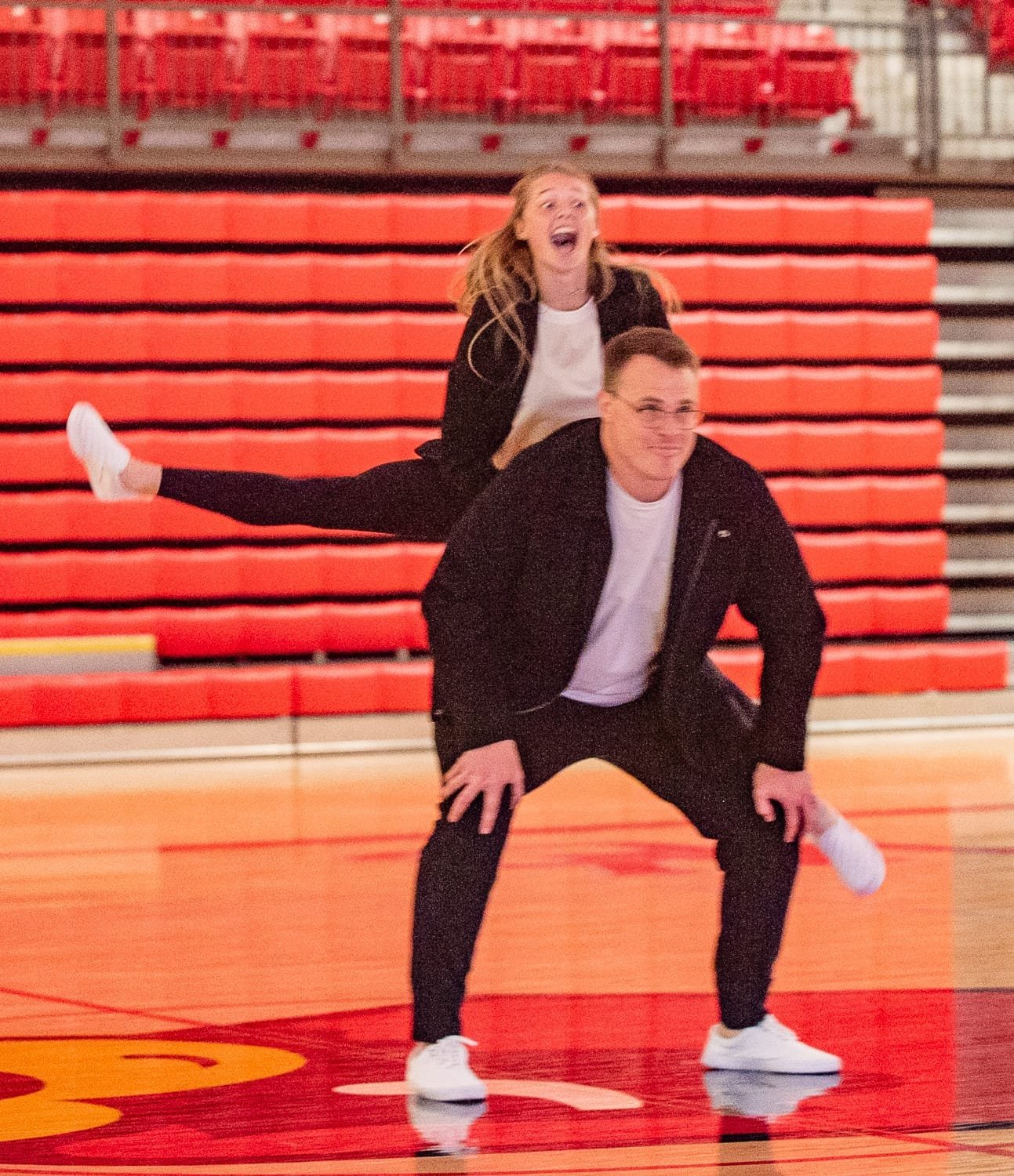 The winners, Rylie Huff and Austin Weece.
Doin' the Hand Jive, Cindy Dagnan and Tyler Wade.
Third place: Peyton Stamate and Spencer Lortz.
Second place: Caleb Cook and Heather Lesmeister.
Fan favorites Jager Carter and Carrie Cavitt, with emcee Kanda Cornell.
Dancing with the Stars 'renewed for a second season'
Lots of money raised for Project Graduation
One thing for sure about Webb City High School's first Dancing with the Stars – there will be another one because it raised a lot of money for Project Graduation.
The event, which had to be canceled a year ago, was held Saturday evening before an enthusiastic crowd in the Cardinal Dome.
Judges picked the team of Austin Weece and Rylie Huff above nine other guest-and-senior teams.
Heather Lesmeister and Caleb Cook took second place, followed by Peyton Stamate and Spencer Lortz for third.
Carrie Cavitt and Jager Carter earned the most bucket-cash votes to be named the favorite of fans.
Other teams were Trey Moeller and Ellie Johnson, Cindy Dagnan and Tyler Wade, Rhonda Lawrence and Asa Morgan, Brad Barton and Kylee Bard, Corey Roy and Haidyn Berry, and Josh Smith and Alil McFall. 
Choreographers were Andrew McGowan, Elease McFall, Chloe Jones, Kaye Lewis, Bridgett Mackey, Sage Cranford, Jenna Shipley, Zachary Pettit, Stephanie Kelley, Maddie Baker and Lily Powel.
Judges were Superintendent Tony Rossetti, Brian Atnip and Kaylee Cole.
(TOP) Kohen Stephens, Paxton Reynolds, Hayden Orr, Breckyn Swaffar. (BOTTOM) Keagan Arnold, Iris Hilburn, Raylan Sparlin and Lydia Cook.
(TOP) Declan Arnold, Jamie Tarkington, Jasen Cook, Ava Rhodenbaugh. (BOTTOM) Madelyn Miller, Kalli White, Liam Bohannon and Seth Lewton. KRISTI COLLINS PHOTOS)
CARTERVILLE ELEMENTARY READING ROCK STARS
The first Carterville Elementary School students to reach Level 4 as Rock Star Readers have been celebrated appropriately. To reach Level 4, they had to read a required number of books, improve their star scores and meet their accelerated reader goals.