Donated food from kids for Christmas baskets collected
Friday was the day all of the donated canned goods from the schools is brought to Emmanuel Baptist Church for sorting and pickup by organizations that will be delivering Christmas baskets. Organizer Jerry Fisher said he's not sure why, but there are only 60 families who have signed up to receive baskets, which is about half the number as usual.
Like Lucy at the chocolate factory, volunteers try to sort cans and jars coming down the conveyor. As usual, the ramen noodles are plentiful.
Central Methodist cantata Sunday, candlelight service on Christmas Eve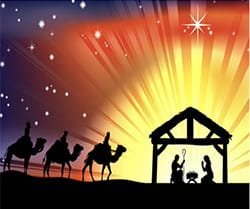 Pastor Clint Lambeth invites all to attend the annual cantata on Sunday and candlelight service on Christmas Eve at Central United Methodist Church.
The Chancel Choir will perform "Where Love Leads," a Christmas musical created by Russell Mauldin and Sue Smith, during the in-person service at 10 a.m. Sunday, which will be broadcast live on Facebook.
The Christmas Eve Candlelight Service will be held at 7 p.m. Friday, Dec. 24, in-person and online, as well, at the same link as above.
Central United Methodist Church is at 5 S. Pennsylvania Street. For information, call (417) 673-4238.
Family night Saturday at Holiday Tree Trail
Joplin Parks and Recreation will host a family night along the Holiday Tree Trail at Mercy Park from 6 – 8 p.m. Saturday.
The free event will include a Candy Cane Scavenger Hunt around the park, a holiday-themed movie on the department's inflatable screen, as well as hot cocoa and popcorn. A new holiday StoryWalk from the Joplin Public Library will be installed on the trail for guests to enjoy. Kids needing to get their last-minute wishes to Santa will have the opportunity to visit with him during the event.
This come-and-go event is free to all four-states residents. For more information about the Holiday Tree Trail, or other light displays in the City of Joplin, visit www.joplinmo.org/holidaylights or call (417) 625-4750.
Sophie Crane recognized during all-state volleyball banquet
Sophie Crane, a Webb City sophomore playing at the libero position, attended the Missouri Volleyball Coaches Association banquet Saturday at Lafayette High School as a member of the all-state team.
Sophie was an integral part of the 2021 Cardinal volleyball team that won the district tournament and advanced to the quarterfinal round.
Coach Rhonda Lawrence notes that Sophie's older sister, Sage, and Molly Peeples, both seniors last year, were honored at the same event last year.