Feeding refugees from Ukraine.  (WORLD CENTRAL KITCHEN PHOTO)
Donations to World Central Kitchen will be collected Saturday
The Webb City Farmers Market will accept donations Saturday in support of World Central Kitchen and its current mission of feeding refugees from Ukraine.
Since day two of the invasion of Ukraine, chef José Andrés and his World Central Kitchen staff have been feeding thousands of refugees inside the country and to the borders where they are fleeing.
All donations will be forwarded to WCK online so checks should be written to the market with "WCK" on the memo line. The market can also accept credit card donations to forward, as well as cash. Tax receipts will be available at the information table. 
The market will be open from 9 a.m. to noon on Saturday in the pavilion at the South Main Street entrance to King Jack Park.
WCK has established outposts at eight border crossings in Poland, where they have already served more than 37,000 meals to refugees. WCK is also financially supporting restaurants in five cities and two border crossings inside Ukraine. The organization is also establishing meal distribution points for Ukrainian refugees in other countries, including Hungary, Moldova, and Romania.
According to Wikipedia "World Central Kitchen (WCK) is a nonprofit devoted to providing meals in the wake of natural and man-made disasters. Founded in 2010 by celebrity chef José Andrés, the organization's first operation was preparing food in Haiti following its devastating earthquake. Its method of operations is to be a first responder and then to collaborate and galvanize solutions with local chefs to solve the problem of hunger, immediately following a disaster."
To quote the WCK website, "WCK responds to natural disasters, man-made crises, and humanitarian emergencies around the world. We're a team of food first responders, mobilizing with the urgency of now to get meals to the people who need them most. Deploying our model of quick action, leveraging local resources, and adapting in real time, we know that a nourishing meal in a time of crisis is so much more than a plate of food – it's hope, it's dignity, and it's a sign that someone cares."
For more information, go to wck.org.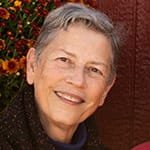 Eileen Nichols founded the Webb City Farmers Market in 2000. From a handful of producers, the market has grown to become nationally recognized.