As of Wednesday, Nov. 17, 2021
Oct. 27, 1943 – Nov. 11, 2021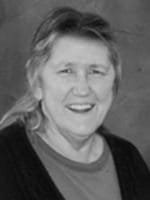 Wanda Mae "Sissy" Fogarty, 78, of Webb City, passed away Thursday, Nov.11.
Wanda was born Oct. 27, 1943, in Carterville, to the late Arthur and Susie Bernice (Conness) Wilson.  She was a lifelong resident of the Webb City area.
Wanda was united in marriage to Cecile Fogarty on Nov. 5., 1971 in Carterville.  Together they shared 30 precious years before his passing on Jan. 22, 2002.
Wanda worked for over 30 years as a dietary aide at The Meadows Care Center before retiring.  She was a woman of strong faith and always placed the needs of others first. She loved to visit antique stores and reminisce about the vintage items she came across. She enjoyed drawing and even attended art school. Her grandchildren and great-grandchildren were her world.  She cherished all the memories created with family and friends.  Wanda will be deeply missed by all who knew and loved her.
In addition to her parents, Wanda was preceded in death by her brothers, David Wilson, Jerry Wilson and Howard Wilson.
Wanda is lovingly survived by her children, Judy Gumm and husband Dave, Christine Fogarty and husband Mike, Joseph Merriman, Eric Wilson and wife Jamie, Pauline Slates and husband Danny; eight grandchildren; 20 great-grandchildren; sisters, Kitty Riley and husband John, Betty Welch, Ruby Petty; and a host of extended family and friends.
Graveside services were held Tuesday at Ozark Memorial Park Cemetery, with Pastor Bob Dart officiating. Arrangements are under the direction of Parker Mortuary.