Local author Roger Desrochers to sign 'The Adventures of Joe the Gardner' books Saturday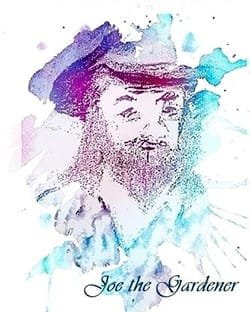 Roger Desrochers, author of "The Adventures of Joe the Gardener," will be signing his books from 9 a.m. to noon Saturday at his favorite coffee shop, Brew and Bake, on the northwest corner of Route D and Highway 96 in Oronogo.
A recently retired over-the-road truck driver of Alba, Desrochers says, "I always wanted to write a book, now I have the time."
The book is self-published on Amazon. He's working on the second book in a trilogy and have three Kindle Vella stories publishing one episode at a time. 
He says "The Adventures of Joe the Gardener," is a fun fantasy that Paul Kemprecos, a New York best-selling author, endorses highly.
Brew and Bake is at 1201 C Hwy 96 in Oronogo.
A second signing will from 1 – 3 p.m. Saturday, Jan. 15, at Always Buying Books, 5357 N. Main St., Joplin.
Chamber schedules State of the City Luncheon
The Webb City Area Chamber of Commerce will hold luncheon on Jan. 20 to update members on the State of the City.
The event will be at noon Thursday, Jan. 20, at the Route 66 Events Center. Follow this link to RSVP for the $15 meal.
SINGERS WELCOME: Choral Society to start spring session on Jan. 17
The spring session of the well-known area-wide mixed community chorus, the Missouri Southern State University Choral Society, begins Monday, Jan. 17, 2022, 7 pm to 9 pm. in room 208 of the Music Building at MSSU.
There are no auditions, and all singers are welcome. Prior experience in a choir in the past is helpful, but not required. The class fee is $30 and covers a semester of choral singing and the spring performance.
The choir will prepare for its spring concert with a selection of engaging and fun-to-sing music.
Melissa Belk returns as conductor of the chorus.
Google My Business for Small Business
The Webb City Area Chamber of Commerce is partnering with Missouri SBDC at Missouri Southern State University to present:
Utilizing Google My Business for Your Small Business 
In this workshop, participants will learn how to claim their business profile on Google, verify their business, optimize business profiles, use tools to engage customers and much more.  
It will be held from 10:30 to 11:45 a.m. Thursday, Jan. 27, at the Webb City Chamber of Commerce, 112 W. Broadway, Webb City. Registered attendees will be sent a Zoom link to participate virtually. 
There's no charge to event. Register here.
University of Missouri Extension Council election Jan. 18 – 25
The 2022 public election of ten new members for the Jasper County University of Missouri Extension County Council will take place Jan. 18-25.
Every county in Missouri has an extension council made up of elected and appointed members who represent the broad educational needs and backgrounds of people in that county. 
The county extension council works with University of Missouri Extension staff members in planning and making recommendations for educational programs.
Citizens over the age of 18 who reside in Jasper County can vote at one of five locations within the county: the University of Missouri Extension office in the basement of the Jasper County Courthouse; Midwest Ag Supply, Central and Grant, Carthage; Avilla Elementary School, 400 Sarcoxie St., Avilla, Central United Methodist Church, 5 S. Pennsylvania, Webb City; and the Webb City Public Library, 101 S. Liberty Street, Webb City.
Beginning Jan. 18, registered voters also have the option of casting a ballot online by going to http://extension.missouri.edu/jasper or printing a ballot from the Jasper County University of Missouri Extension website to either mail or deliver to University of Missouri Extension, Courthouse Basement, Carthage, MO 64836. Voting at the polling places will begin at noon Jan. 18 and end at noon Jan. 25.  Mail ballots must be postmarked no later than Jan. 25.
Nominees on the ballot are: Patrick Bromley, Carl Junction; Charlie Davis, Webb City; Amy Gates, Joplin; Terri Haywood, Joplin; Barbara Hunter, Jasper; Jeremy Jadwin, Carthage; Donya Moll, Jasper; Frances O'Kelley, Carthage; Eric Osen, Diamond, and Dorothy Shull, Carthage.
For more information, call the Extension office at 417-358-2158. 
University of Missouri Extension offers educational programs in such categories as agriculture, home economics, business and industry, community development, youth development (4-H), and various continuing education courses, seminars and workshops. University of Missouri Extension does not discriminate on the basis of race, color, national origin, sex, religion, age, disability or status as a Vietnam-era veteran in employment or programs.
State Historical Society of Missouri Announces 2022 Fellowship recipients
The State Historical Society of Missouri will award Center for Missouri Studies fellowships in 2022 to scholars working on projects examining post–World War II immigration in southwest Missouri and the role of police matrons, predecessors to policewomen, who served in cities and towns across the state.
Craig R. Amason, special projects coordinator for the Duane G. Meyer Library at Missouri State University in Springfield, will receive a fellowship for his proposed study, "The Impact of Immigration in McDonald County in the Twenty-First Century." McDonald, in Missouri's southwest corner, has become home to immigrant and refugee populations from Central and South America, Somalia, Sudan, Micronesia, and Myanmar. Many of these newcomers work at poultry processing facilities in the multi-state Ozarks region.
Amason's study will examine the impact of immigrant groups on the economy, politics, and social and religious fabric of McDonald County and southwest Missouri. He plans to conduct oral history interviews with local leaders, business owners, social workers, immigrants, and refugees while also making use of census data and other government sources.
Connie Yen, director of the Greene County Archives and Records Center in Springfield, has received a fellowship to study the history of police matrons in Missouri. Several Missouri cities, including St. Louis, Kansas City, Springfield, Joplin, St. Joseph, and others, added police matrons to their police departments beginning in the late nineteenth century, often as a result of pressure applied by the Women's Christian Temperance Union. Police matrons typically supervised women prisoners and also worked with juveniles, in an era when police departments did not yet employ policewomen.
Amason and Yen will hold their appointments for the 2022 calendar year. Each will write a scholarly essay for possible publication in the Missouri Historical Review, the quarterly journal of the State Historical Society of Missouri, and may also make a public presentation of their work. Each fellowship award includes a stipend of $5,000. New topics for the fellowships are introduced each year.
Launched in 2015, the Center for Missouri Studies Fellowships underwrite valuable scholarship about Missouri's past, including the interdisciplinary study of Missouri history and culture. "I am looking forward to the new insights these scholars will bring to our understanding of Missouri and its history," said Gary Kremer, SHSMO executive director. "We offer the fellowships each year to encourage study of facets of our history that deserve more exploration and promise to open new windows onto our past."