Winter production conference is off and running
Virtual – and in-person – may be the future of such conferences
Here's how Marta makes a pupas at the Harmony Hill booth.
Well, that was an adventure. I just watched the market's first winter production conference session presented on Zoom and it actually worked! That is because I had nothing to do with the technical aspects. I just helped with planning and organizing. So kudos to our Lincoln University Co-operative Extension and University of Missouri Extension partners for making it all come off remarkably well.
I'm looking forward to seeing more every Tuesday evening in February.  If you missed it, you'll be able to find it on the market's new YouTube channel soon. The link will be on our website: webbcityfarmersmarket.com.
Having a conference online certainly has its limitations, but it has also some real benefits. I know of growers from all over the state that even in normal times would not have been able to travel to Webb City for a two-day conference but they are joining us online. This way they can participate without the expense and time that an in-person conference would require.
We are planning to do a hybrid version of our Missouri Tomato School on  May 20 and 21. Up to 60 people can attend in person at the Southwest Research Center in Mt. Vernon, but it will also be broadcast live online. I expect going forward that may be the new normal.  But in that new normal I'm pretty excited that we'll finally be able to use a Webb City hotel as our conference hotel.
This Saturday is our first February market and that means we're thinking about Valentines.  Jane's Art Glass will be at the market for the next two Saturdays so you can find something special for your love. You'll find other gifts at 2Ts Soaps and Stuff this Saturday. Redings Mill will take orders this Saturday for pecan caramels you can pick up at the market the Saturday before Valentine's Day.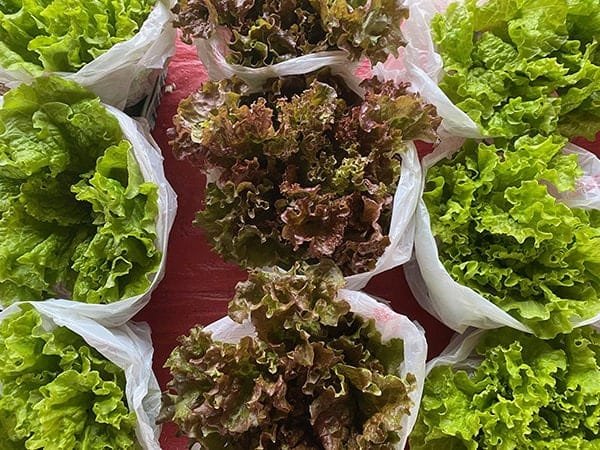 Other vendors at the market this Saturday include:
FARMS
Braker Berry Farm – produce
Helm Family Farm – with honey and honey products
MO Mushrooms – fresh, dried, and powdered mushrooms
Yang Family Vegetable – produce
RANCHES
Clear Water Shrimp
Garrett Family Farm
Misty Morning Farms – they'll have produce too
Sunny Lane Farm
BAKERS
Harmony Hill – they'll have some produce too
Redings Mill Bread
OTHER GOODIES
DnD Smoked
Good Golly Tamale
Juniper Coffee
Marta will be back at the Harmony Hill stand with pupusas stuffed with beans and cheese. There will also be biscuits and gravy, and you can add eggs to order
The Free Kids Meal on Saturday is Breakfast: sausage biscuit, grapes, and milk; Lunch: beef lasagna, broccoli, and milk. It's served from 9 to 11 and is free to any child from 1 year of age to 18.
Justin Cauble is on the market stage.
And I'll be back in Webb City so I look forward to seeing you at the market!