Staff and customers at Sweets and Bakery.
Webb City's been a sweet town for small business from the beginning
Candy and ice cream were among the initial essentials provided by entrepreneurs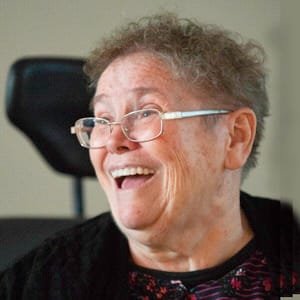 There were many small businesses needed in our city when it first began to grow. Small businesses that did not leave an impact on the city but made life more bearable in the early days. Yes, the grocery stores left their mark as they provided much needed food, hardware stores and lumber yards had materials for building, etc.
Let's take a moment to look at some of the small businesses you rarely heard mentioned. Businesses that left an impact for that particular time period.
There was a business called The Bicycle Agency at 207 W. Daugherty St. It had been in operation for a while, but in September of 1909, Fred J. Williams bought the business and raised it to his standard of excellence. Being a master machinist by trade for 16 years gave Williams a knowledge to provide great service. Williams moved to Webb City in 1897 and grasped at the opportunity to improve on a needed business. His repair department in the Bicycle Agency brought a complete guarantee on service rendered. He offered gas fittings, gas mantles and supplies for those who wanted to fix their own bicycles at the lowest price possible. Give Mr. Williams a call. His phone number was 451 with the Home Telephone Company.
On Nov. 1, Otto J. Gosch moved to Webb City from Illinois and saw a need for a feed store. He located his business at Tom and Aylor streets. He was conveniently located on a Railroad spur of the Missouri Pacific Railroad, which was convenient for receiving and shipping. Gosch carried hard and soft wheat flours, hay, grain, mill stuff, and salts. Gosch became noted for his great business transactions and his reputation for square dealings.
Let's head to the West End of Webb City, down by the Frisco Depot. Across from the depot on Madison Street, close to Daugherty Street, was M.T. Fuls Blacksmithing, Etc. Fuls was a master at the business of horseshoeing and had one of the best equipped horseshoeing facilities in the city. Fuls was an expert blacksmith and his repair work on wagons, buggies, implements and other things in this line was said to have been as perfect as human ingenuity could make it. What a glowing report on M.T. Fuls.
At the turn of the century, candy was such a popular treat that candy stores popped up all over the area. Sometimes the candy store would be combined with an ice cream parlor. If you were going to have a sweet treat, it was easier to make a decision if you had more choices. (Says WHO?) These two commodities were so often combined in the same retail space that the city directories listed them together as confectionery and ice cream.
In Joplin during the early 1900s, they had a large candy factory located on Fourth Street. Independent Candy Mfg. Co. produced a product known as Ye Olden Tyme Candies. This popular factory had a work force of about 50 employees, mostly women.
Meanwhile, in Webb City, John and Gus Klenkious opened the Minerva Candy Co. in 1905. Jim Mallos purchased the candy business in 1921. The Minerva became a landmark on Main Street in Webb City.  Jim's grandson, Duke Mallos, continued the business and sold it to Tom Hamsher. Charlie and Malinda Spencer now operate Spencers' Sweet Call at the Minerva.
Many a young child remembers going in to Minerva and getting some homemade candy. Just walking by and looking at the big chocolate eggs with the pretty flowers on top would create a smile on the face of any child.
In 1882, M. McClelland had a confectionery store where the lady of the house could purchase her candy needs. In 1949, Tom Williams had a confectionery shop at 36 S. Main St. Not to mention the drug stores that served ice cream at their soda fountains and had candy on the side. There were drug stores on almost every corner.
And we can't forget the small mom & pop grocery stores on every other block with multitudes of penny candy. Many of the stores would give a small brown sack of candy at the end of each week as the family bill was paid.
The local dime stores had clear bins full of assorted candies right at the front of the store. Children would stand and stare at those colorful candy displays. Do you have a favorite store that you enjoyed visiting as a child?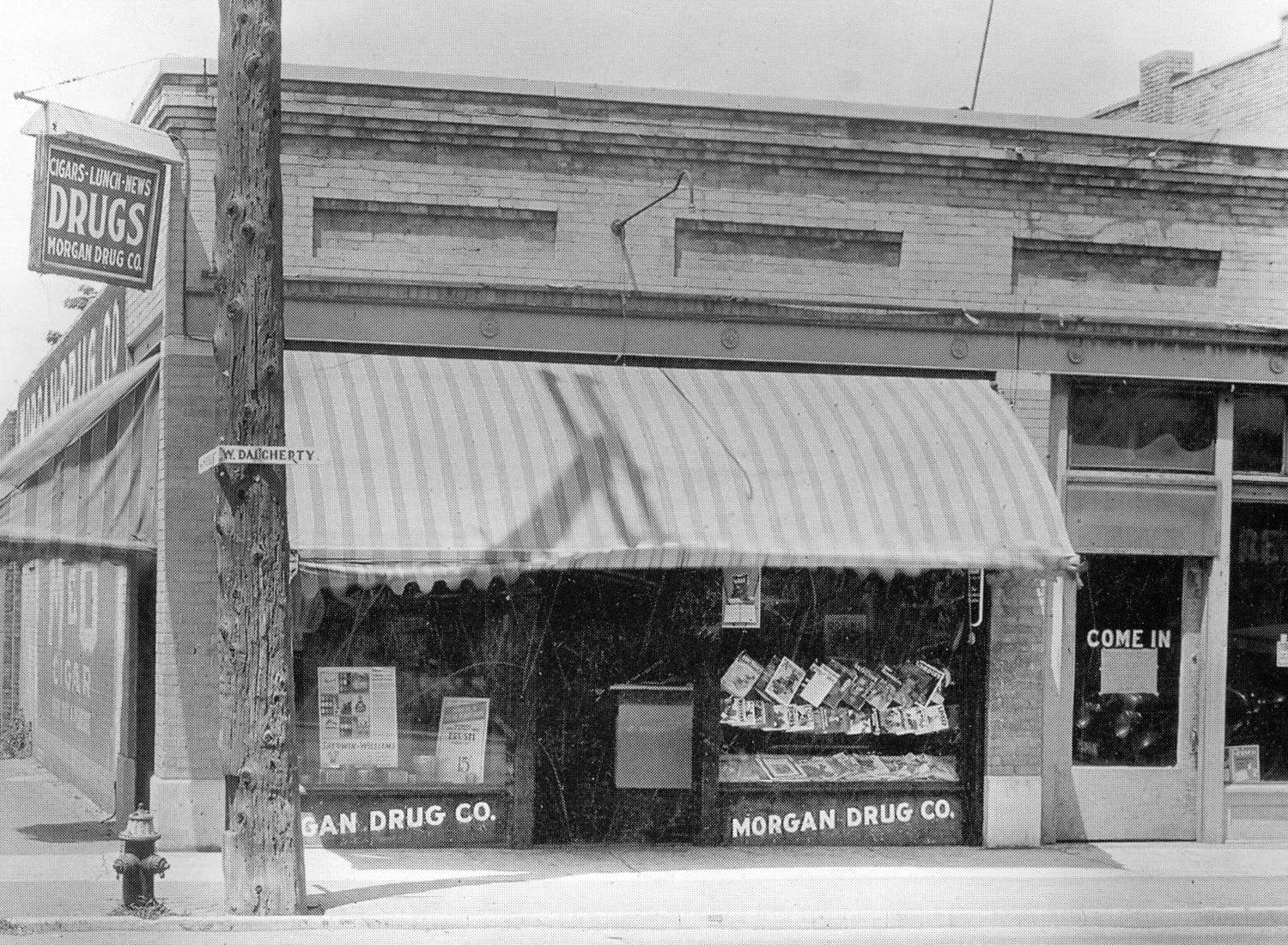 Morgan Drug Co. was in a building still standing at Daugherty and Webb streets. (FRED SPILLE PHOTO)