SAY CHEESE! Because Grison Dairy & Creamery (with cheese) will be at the market Saturday.
We could use some help digging the market garden beds
New market season will start Saturday, April 24
Ready to get your hands in the dirt? We certainly are at the market. The beds are going into the market garden this Saturday at 1:30. 
We have some master gardeners and marketeers coming and you'd be welcome too. Just come dressed for gardening, with work gloves and a shovel if you have one. It's also BYOS&W (bring your own snacks and water). If it's raining, we'll push the project back a week to March 20.
The new market season is heading our way quickly. The members of the market board met last Saturday and set Saturday, April 24, for the opening of the regular season. So that means our first Tuesday and Thursday markets will be the last week of April.
I heard good news at the annual meeting. Teng Yang, with Nature Valley Farm, was there and told me that his wife, Ma, had passed her driver's test. Last summer, for reasons I never quite understood, she had to take the test to get a new license but since Ma cannot read English, she was unable to do the written part. 
With only one driver serving the farm, they had to choose between the two markets they sell at. So they came to Webb City for the weekday markets and went to Springfield for the Saturday market. 
Nature Valley is one of our larger farms, and they usually have at least two tables absolutely loaded up with their high quality produce. They were very much missed on Saturdays last year. 
The good news is that it turns out the driver's test can be taken in French and Ma is fluent in French. She had to brush up on her reading and writing since there's not much need for French in southwest Missouri but after doing so, she passed the test easily.
Road signs are typically not language dependent so the Yangs have never had trouble following the rules of the road here. In fact, Teng was actually a taxi driver in Paris for many years so I'm pretty sure our traffic feels tame to him.
Now don't hold me to every detail of this story because it went through two translations from white Hmong dialect to green Hmong dialect to English. That reminds me that our Hmong vendors are often multilingual, speaking Hmong, and sometimes French, Thai, and a little Chinese and English. The younger Hmong of course are fluent in English and Hmong, but I expect they have lost the other languages, which is a shame.
This Saturday we'll have our usual meal offerings from Harmony Hill (biscuits, gravy, eggs, and pupusas) and Songbird Kitchen (eggrolls, crab Rangoon, and fried rice). 
The Free Kids Meals will be: 
Breakfast – house-made banana chocolate chip granola bar, a banana, and milk.
Lunch – beef enchiladas, baby carrots, applesauce, and milk.

 
The kids meals are free to anyone aged 1 through 18. They are take-out and may be picked up by an adult. Just show the server a photo of yourself with the kids so we can get a head count. The kids meals are served from 9 to 11.
Randy and Phil will be on the market stage Saturday.
Vendors we're expecting include:
FARMERS
Braker Berry Farm–produce
Fairhaven – pecans, jams, jellies, candies
Helm Family Farm – honey
MO Mushrooms – fresh mushrooms & dried mushroom products
OakWoods Farm – produce, wheat grass
RANCHERS
Clear Water Shrimp Farm
Garrett Family Farm
Misty Morning Farms
Sunny Lane Farm
Grison Dairy & Creamery
BAKERS
Harmony Hill – plus produce
Redings Mill Bread Co.
OTHER DELIGHTS
Juniper Coffee – coffee beans, coffee drinks, & house syrup
Grab your umbrella and stock up for the week this Saturday. See you at the market!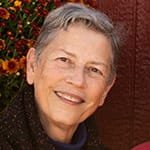 Eileen Nichols founded the Webb City Farmers Market in 2000. From a handful of producers, the market has grown to become nationally recognized.