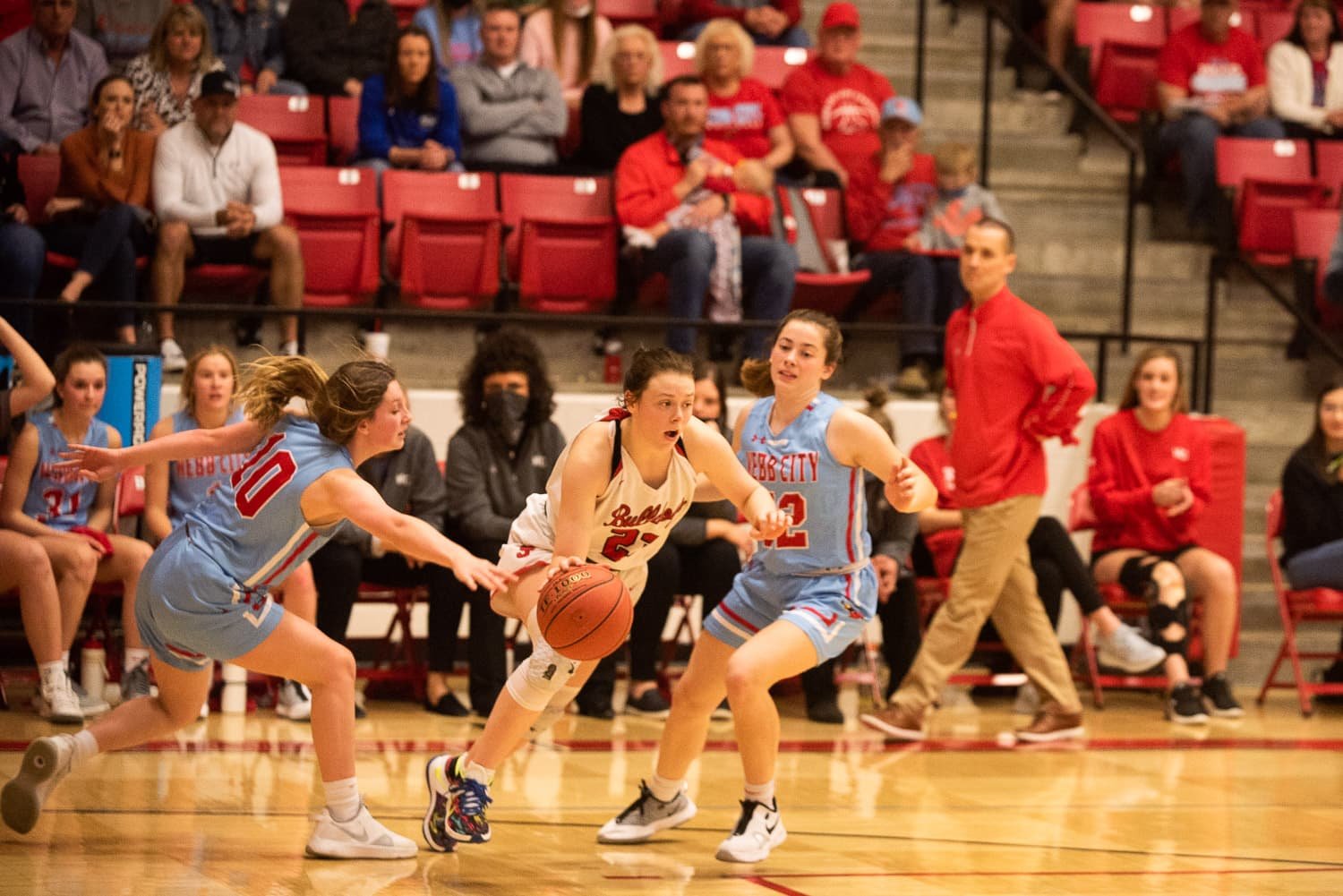 Mia Robbins and Ripley Shanks guard Destiny Buerge.
Close, but Cardinals finish with second place in districts
Two back-to-back heartbreaking district-championship losses ended the basketball season at Webb City High School last week.
The Cardinal girls had lost to top-seeded Carl Junction by 26 points a month ago so an upset would have seemed unlikely. But Webb City took a 25-20 halftime lead and were still ahead 37-36 at the end of the third quarter. The game was tied 47-47 when the Bulldogs, led by Destiny Buerge's 35 points, took the lead for good. Buerge, a sophomore, had scored 50 points when the two teams met last month. It was the Bulldogs (17-8) sixth straight district championship. SOMO Sports' Jason Peake has the complete game story.
Webb City was led by its two seniors, Jaydee Duda and Sierra Kimbrough, who scored 15 and 11 points, respectively. Kate Brownfield added 10 points. The Cardinal girls (9-15), seeded third in Class 5 District 12, upset second-seeded Nevada 59-48 to reach the title game.
The Cardinal boys (18-9) were also in it until the end when they fell 52-49 Friday to the Nevada Tigers in the Cardinal Dome. They were the No. 1 seed and had hoped to win their third consecutive district title.
Trenton Hayes led the Cardinals in scoring, with 16 (four 3-pointers). It was the last high school game for Hayes and four other seniors, Luke Brumit, Mekhi Garrard, Nickhai Howard and Shane Noel.
Logan Applegate scored 29 points for the Tigers (20-5). Here is Jason Peake's story at SOMO Sports.
Webb City is represented at the MSHSAA state wrestling championships this week by Roger Carranco, at 182 pounds, and Jacob Ott, at 195 pounds.