Market-made granola success may lead to other market-made products
Lots of vendors and nice weather expected this Saturday at the market
We're looking forward to another beautiful Saturday market. I'm ready for warmer, sunnier weather every Saturday (and Monday, Tuesday, Wednesday….) and it's bound to come. Before you know it, the pavilion sides will be removed and the market will be filled with flowers! I can't wait. Of course, there was that year when one Saturday morning in late May we looked out and saw snow coming down! You know what they say about Missouri weather. If you don't like it, just wait a few minutes.
But for this Saturday, the weather looks good and so does the market. You can pick up breakfast at Harmony Hill and Asian food at Songbird's Kitchen. Drew Pommert is on the market stage.
The Free Kids Meals are:
– Breakfast: banana-blueberry smoothie with a granola bar and milk.
– Lunch: chicken pot pie casserole, fruit salad and milk. 
Anyone aged 1 through 18 gets both meals. Adults can pick up for their kids, just show a photo of you and the kids to the server so we can get a head count.
The market-made granola was a big hit last week and sold out early so they will be making even more for this Saturday. The choices will be pecan and oats or cinnamon apple and oats. It features pecans from Fairhaven and honey from Helms Family Farm. The apples are from a local orchard and dried in the dehydrator in the market kitchen. For $5 you get a 1 pound bag. You can enjoy the granola as a breakfast cereal, to top off yogurt, or as a crunchy snack.
Profits from granola sales help cover market costs, give our staff more paid hours, and, hopefully, will allow us to buy additional equipment to make the kitchen even more efficient for processing market-made foods.
This Saturday we're expecting:
FARMERS
Braker Berry Farm–produce
Helm Family Farm – honey
Lee Family Farm–produce
MO Mushrooms – fresh mushrooms and dried mushroom products
OakWoods Farm – produce, wheat grass
Yang Family Farm–produce
Ranchers
Clear Water Shrimp Farm
Misty Morning Farms
Sunny Lane Farm
BAKERS
Harmony Hill – plus produce
Redings Mill Bread Co.
OTHER DELIGHTS
DnD Smoked – salts, spices, mixes
Juniper Coffee – coffee beans, coffee drinks and house syrup
Kings Kettle Corn
Songbird's Kitchen
2Ts Soap & Stuff
You'll notice when you come that part of the market's garden north of the pavilion has been installed. There's more to be done and we'll meet this Saturday starting at 1 p.m. to finish the job. You're welcome to join us.
But first, join us Saturday morning between 9 and noon for fresh food and fresh fun. We'll see you there!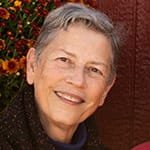 Eileen Nichols founded the Webb City Farmers Market in 2000. From a handful of producers, the market has grown to become nationally recognized.