The yellow-and-white-striped tent and flowers are sure signs of spring. (RACHAEL LYNCH PHOTO)
Indications of spring are popping up
Even an unexpected, timely donation
Signs of spring are everywhere – the creeping phlox is lush with color in our courtyard, the paper whites and daffodils that Maypop Flower Farm is selling at the market are luscious, and the yellow-and-white-striped Kids Tent is set up and ready for the first yoga class of the year.
And the pavilion is ready to host an open-air market again.
The Parks Department set up the tent this week and is taking down the vinyl sides on the pavilion. Usually we keep those sides up to protect the plants from spring winds, but this year because of COVID, they are coming down early to keep the market as safe as possible. So come dressed for the weather.
Andrea Dicharry will lead a beginner-friendly yoga class from 8 to 8:45 Saturday morning. Bring a mat and meet under the Kids Tent. Andrea plans to lead the class the first Saturday of each month – and may add classes if there is enough interest.
Stop by the mini composting garden in the pavilion. It's greening up nicely with spring veggie plants. Pick up a free planting guide to help with your home gardening.
Luke Smith is on the market stage.
The Free Kids Meals are:
Breakfast – biscuit with sausage patty, an apple, and milk.
Lunch – ham and cheese wrap with lettuce from the Lee Family Farm and shredded carrots from Braker Berry Farm, plus sliced cucumbers with smoked ranch dip courtesy of DnD Smoked, and milk.
Adults may pick meals for their kids by showing a photo of themselves with the children. All children, aged 1 through 18, receive a free lunch and free breakfast from 9 to 11.
Harmony Hill will have biscuit and gravy and eggs to order. Songbird Kitchen will have made-at-the-market Asian foods.
Pick up some market-made granola at the information table. The choices are pecan and oats or cinnamon apple and oats. The pecans are from Fairhaven. The apples are from a local orchard and dried in the dehydrator in the market kitchen. Both varieties are sweetened with honey from Helm Family Farm. For $5 you get a 1 pound bag. You can enjoy it as a breakfast cereal, to top off yogurt, or as a crunchy snack. Last Saturday the market staff doubled the quantity from the week before and still sold out at 10:30 so they are making even more for this Saturday.
Savory Sauce is back for the first time this year. It's a treat on fresh market greens and great as a marinade too.
This Saturday we're expecting:
FARMERS
Braker Berry Farm–produce
Helm Family Farm – honey
Lee Family Farm – produce
Maypop Flower Farm
MO Mushrooms – fresh mushrooms & dried mushroom products
OakWoods Farm – produce, wheat grass
Yang Family Farm–produce
RANCHERS
Clear Water Shrimp Farm
Misty Morning Farms
Sunny Lane Farm
Bakers
Harmony Hill – plus produce
Redings Mill Bread Co.
OTHER DELIGHTS
DnD Smoked – salts, spices, mixes
Good Golly Tamale
Juniper Coffee – coffee beans, coffee drinks, & house syrup
Kings Kettle Corn
Savory Sauce
Songbird's Kitchen
2Ts Soap & Stuff
We had a nice surprise this week – a $500 check from a T. Rowe Price Charitable donor-advised fund. This out-of-the-blue gift designated for maintenance and pavilion improvements couldn't be more timely. Our board of directors just met Saturday to discuss some needed improvements so we are ready to put that donation right to work. While the donation didn't give us a way to contact the donor, we'd like to say thanks, Richard, for helping us make the market a safe, welcoming, and thriving community gathering place!
See you at the market.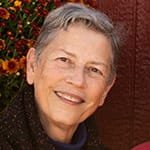 Eileen Nichols founded the Webb City Farmers Market in 2000. From a handful of producers, the market has grown to become nationally recognized.