Unfortunately, there will be no strawberries Thursday, but we expect them Saturday and Tuesday.
Too many vendors now to list them
You may say it's too early for strawberries, but…
As seems to happen every year, the first Tuesday market of the year was held under threatening skies. Luckily, the storm held off. Spring storms and the opening of the regular market season seem to go hand in hand.
Pupusaria Jandres and Songbird's Kitchen will be at the market Thursday. We'll be open from 11 to 2 so lunch is in order. 
It'll be a great day to pick up your tomato plants because Tim Green is coming. You may remember from last week's column that Tim grows almost 20 varieties, and they are big, healthy plants. And, of course, there will be other vendors as well but with three markets a week now, I'd better not try to list everyone for every market. Scott Eastman will be on the market stage.
At 1 p.m. Thursday, University of Missouri Extension nutrition educators will be talking strawberry spinach salad. Spinach will be available. Strawberries, however, won't be available until Saturday and Tuesday.
You may say it's too early for strawberries. And you'd normally be right. It is too early for field berries, but not for ones grown in high tunnels as they are at Yang Family Vegetables and at Pate's Orchard. In fact, our strawberries this year may all be tunnel berries. The Brakers have field strawberries planted, but with the super cold temperatures in March and the freeze just last week, they don't know yet if there will be much to harvest. Here's hoping!
This Saturday, the Market Walk starts up for the season. Meet by the bike rack just west of the market at 8:15 every Saturday for a short walk through the park. All the walker names go into a hat and the winner gets a bag of produce when they get back to the pavilion about 8:40. Vendors Misty Phillips and Robin Green are our walk leaders.
The Free Kids Meal on Saturday is a to-go pack of breakfast and lunch: 
Sausage & (local) egg casserole, biscuit, an orange, and milk, and Nachos with lettuce and tomatoes, and a meaty mix of Misty Morning beef and MO Mushroom's finely chopped oyster mushrooms, and milk. 
The mushrooms are finely chopped because kids often don't like the texture of mushrooms, but they'll love the flavor. The meals are free to anyone aged 1 through 18. Adults can pick up for their kids by showing a photo of themselves with the kids so our servers can get a head count.
Saturday is also the kickoff of this year's Cooking for a Cause. Carthage High School's Project Graduation will prepare and serve the breakfast and use the profits for their seniors.
The Complete Breakfast is scrambled Stormy Farm eggs, 2 sausage patties, and a choice of market fresh hash browns or cheddar hash brown casserole. Top all that off with biscuit and gravy (or Jam'n Biscuits featuring Fairhaven jam if you prefer), served with orange juice. Cost? $6.
Not that hungry? There's always the Just Biscuits Plate for $3 which is your choice of our biscuit and sausage gravy and OJ or a Jam'n Biscuit, 1 sausage patty and OJ.
Pupusaria Jandres will be making pupusas to order and Lucy Lee will have egg rolls and other Asian delicacies. Justin Cauble is on the market stage.
Next Tuesday, Ghetto Tacos and Songbird's Kitchen are slated to be at the market. A new performer, Marshall Hill, is making his market debut.
At every market this time of year, you'll find lots of beautiful plants – potted geranium, flowering bedding plants, vegetable plants, handcrafted planters, and hanging baskets. 
And now that we're open for the full season, you can pick your favorite market. Want to avoid a crowd? Thursday is usually our quietest day, then Tuesday. Looking for specialty items like freshly roasted coffee beans or tamales? Saturday is your day. On any day, you'll find some of the best produce grown in southwest Missouri, so you really can't go wrong.
See you at the market!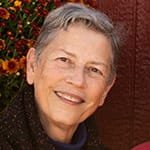 Eileen Nichols founded the Webb City Farmers Market in 2000. From a handful of producers, the market has grown to become nationally recognized.