With our new green tomatoes kit, it takes just a few minutes on the stove before you're enjoying these. (RACHAEL LYNCH PHOTO)
End of Tuesday markets means it's almost time to warm up the pavilion
Lonely green tomatoes have become the market kitchen's latest thing to try
That's a wrap! Our Tuesday market is officially closed for 2021. It has seen a nice turnout this year, I know this because our farms noticed a slight increase in overall Tuesday sales. Just like the sap in the trees this time of year, our market is winding down from the summer bustle. Our vendors and I will huddle away and hibernate in our Saturday morning market.
When I say huddle I mean it. In November the Parks Department will install the sides on the pavilion to enclose us from the weather. That means the space for vendors shrinks in length from 275 feet to 175 feet. 
I've been asked how we stay open with such scanty amenities during freezing temperatures, but it's simple, protection with a little bit of heat. The market has two propane heaters that are portable and a permanent heater that sits on the north end of the pavilion. Similiar to the high tunnels that grow your food all winter, the tent-style walls with heaters create a space that stays about 62 degrees.
During November and December, you will see a few booths dedicated to gift items and holiday decorations. These booths brighten the place up for the holidays. Historically, before the market was blessed with so many year-round growers, the market would dedicate half or more of the pavilion to craft booths during the holiday season. It was the Christkindle market. Every Saturday crafters could find a one-stop-shop to set up in. We enjoyed leather and woodworking, pottery, hand-sewn items and lovely glassware.
We still wish to honor the tradition of Christkindle by decorating the market and having a number of designated Christkindle booths. Names like Jane's Glass Art, Nancy's Doll Closet, and Rustic Woods will start showing in the market's vendor lineup starting at Halloween. They'll join the large number of year-round vendors bringing in fresh locally grown produce, quality bread items, coffee, jams, and more.
Something I find myself saying a lot "It's going to look different, but that's okay." Change means growth. A slew of volunteers set out 21 years ago to establish a venue for local food sales and that is exactly what's been achieved. It is my pleasure to be the person to carry our beloved farmers market through a few years of transition, that will hopefully spark the next 20 years of success for farmers in the Four States.
This Saturday, Oct. 16th, Justin Cauble is back to play his country blues for customers. Grison Dairy & Creamery attends, offering cheese made from their family's dairy cows. Grison only attends the market once a month. Fun fact about this vendor, he's studied the craft of cheese making in Switzerland, learning and taking notes from people well advanced in this art. His strong flavors pair well with wines and belong on any charcuterie board.
Crafters from Love & Grace House will be offering their items to raise money for their organization. Love and Grace is a home for women and single mothers. They help them find employment, learn life skills, and find affordable housing that can set them on a path to a healthy and secure life.
I will follow Tuesday's lead and wrap up soon. Last Saturday, I walked by Fu Yang's table and these cheery bright green tomatoes called out to me. It was after close and these round little fellows had been left, looking abandoned. 
Here's a quick correlating story. My daughter stopped eating around the age of 18 months. I don't think she slowed down enough to get hungry, and I was the hard momma believing that if I just left her to "get hungry" surely she would eat again. Nope, she would go days with no more than one bite a meal or nothing at all. 
She wasn't snacked or heavily juiced, we had the money for three meals a day and that was it. She was just busy. So the first time I noticed a decline in her weight, I got creative. I knew she loved imagination play and little things.
To get her to eat I sat and had her food "talk" to her. I'd tell her that her food on the plate was sad, the broccoli or carrots or whatever's lifelong dream was to be nutrition for a little kid's growth. "That broccoli says 'please, please eat me. I have grown my whole life to be food for your bones and energize your brain.'" 
I am not crazy (much), parents are understanding me. Her older brother would giggle and play along to get Sis to sit still long enough to eat. To this day it's a favorite story in our home, and occasionally my daughter asks her food to talk. After a few solid years of these mealtime routines, I have a strong relationship with produce.
TRY OUR FRIED GREEN TOMATOES KIT
So, Fu's green tomatoes called out as I passed and the purchase of all his remaining boxes happened – and the market kitchen's fried green tomatoes were about to throw down. I soaked the slices in buttermilk, battered them and flash froze packets that can be purchased at the market's information booth. Last week was a small batch, and I was tickled to sell out. This week I tripled the purchase because I don't want any customer to miss the opportunity to have locally grown fried green tomatoes that have been made so easy. 
You just pop these puppies in some medium-temp oil, cook for 4 minutes on each side and you're done. Eat up and enjoy what local food can be.
Have a great week beautiful people and we'll see you on Saturday!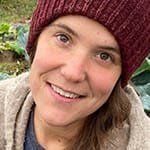 Rachael Lynch
Rachael Lynch is the manager of the Webb City Farmers Market.  For more current updates, visit the market's Facebook page.