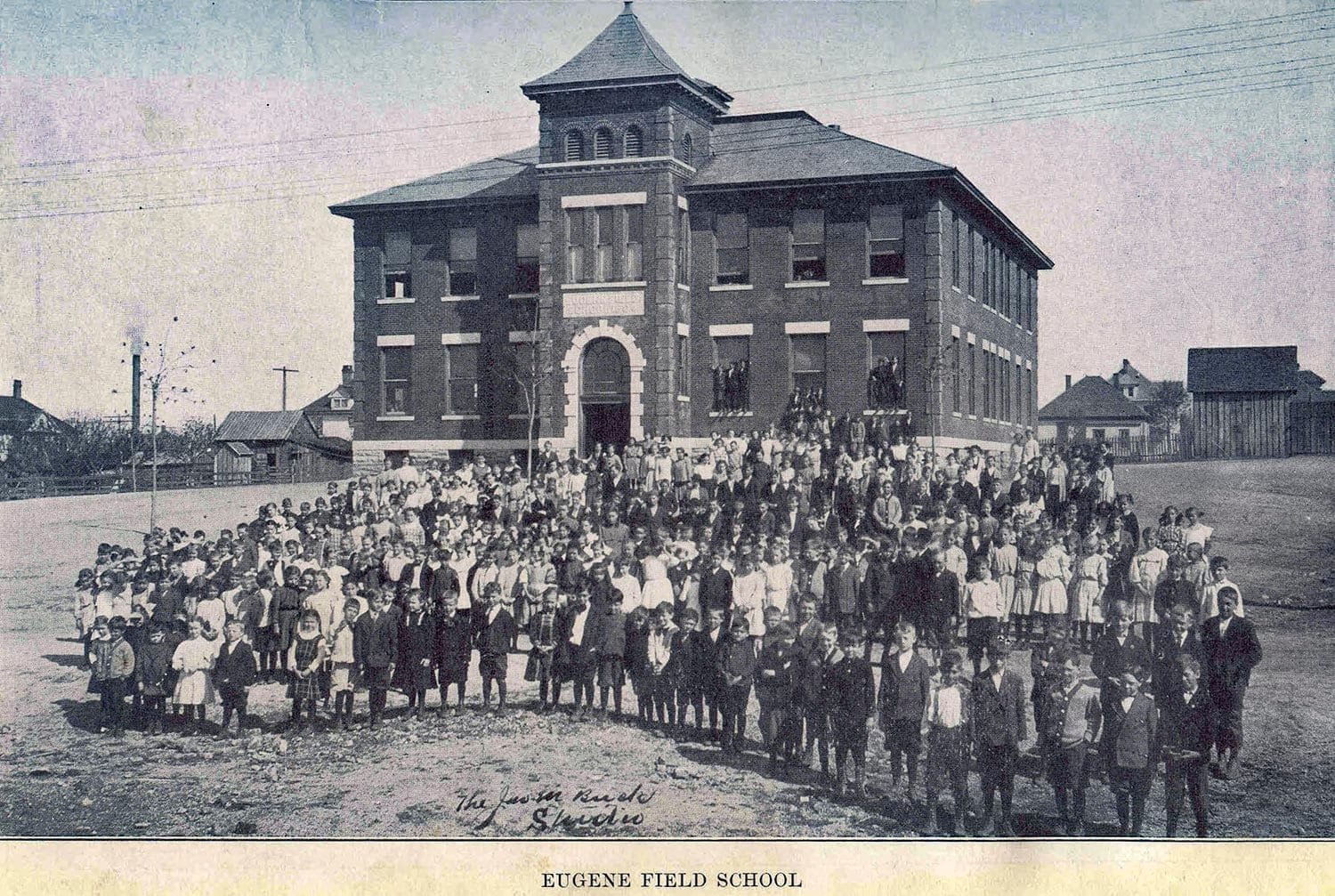 Eugene Field Elementary School, circa 1906, on the northwest corner of Oronogo and Fourth streets.
From the 3rd floor
of the Webb City Public Library
Eugene Field moved to what was the south end of town when the new Maximlite-style building replaced the old building in 1954
Eugene Field, circa 1954, was among the first Maximlite Schools. According to the U. S. Inflation Calculator, the $117,045 cost to construct it would equal almost $1.3 million today.
Eugene Field School was built in 1904 as a four-room school house at the northwest corner of Fourth and Oronogo streets. It was named, of course, for Missourian Eugene Field, author of "Wynken, Blynken, and Nod" and known as the poet of childhood.
The school was designed by famed Joplin architect, A. C. Michaelis and constructed by H. F. Strange at a cost of $8,100.
Four lots on West Fourth were purchased at a total cost of $875. In 1906, as part of a $20,000 school bond issue, the school was enlarged to an eight-room building. Cost for the addition was $7,744.69, and it was constructed by the Lillard Planing Mill of Joplin. A.C. Michaelis was again selected as the architect.
In 1952, voters approved a bond issue of $180,000 for a school building program that would include a new auditorium and gymnasium for the high school as well as a new elementary building. Voters approved an additional bond issue of $40,000 in January 1954, making a total of $220,000 available for the program.  
Lots on the west side of Oronogo Street between Fifth and Sixth streets were purchased for the site of the new school house. A groundbreaking ceremony was held on Feb. 4, 1954. The Bryce J. Davis Construction Co., of Fayetteville, Ark., erected the building under the direction of Don Karnes of Bissman & Matthews of Springfield. The building was constructed according to copyrighted designs of T. E. Shelton, the Fayetteville architect who created the Maximlite School* design.
Natural lighting was the primary feature of the Maximlite School. The wall design allowed greater surface area within each classroom to capture exterior light and bring it inside. This created rather odd-shaped classrooms but provided large quantities of light. 
Maximlite Schools' walls were usually one-half to two-thirds covered with light-directing glass blocks. These blocks allowed additional light in, but directed it upward, to reduce glare. 
In Eugene Fields' approximate 17,000 square feet, the new building had, in addition to 10 classrooms, a 32-foot by 50-foot general purpose room with stage and storage area, a private office, general office, supply storage room, a health room, teachers lounge, library, janitor's room and two central toilets. Total construction price was $117,045.64.  
In 1961, two classrooms were added due to the growing enrollment of students, and kindergarten classes were established in 1963. 
In 1983, first grade students were sent to Webster School on North Main Street. Webster became the new first grade center, and students in Webster's other classes could go to either Eugene Field or Mark Twain Elementary. The change allowed for smaller class sizes at Eugene Field. 
By 1988, trailers had been moved in to accommodate more students. Five classrooms were added to replace the trailers.
More classroom space was gained in 1993 when all of the district's sixth graders were moved to a new wing at Webb City Junior High school. That left Eugene Field and Mark Twain with just the second through fifth grades. Then the second grades were moved to the Webster Primary Center in 1996, and the fifth grade classes were moved to the new Middle School building in 1999.
Since the 2017-18 school year, Webb City students in the third grade go to Mark Twain and fourth graders go to Eugene Field.
*Maximlite School information can be found in this article online, "Light, Liberty and the Pursuit of Education: The Unique Design of Maximlite Schools."
T.E. Shelton's first Maximlite School was built in Eureka Springs, Ark., in 1951. Before the trend ended, there were Maximlite Schools built in 20 states.
Eugene Field, circa 2005, before the current bright color scheme.
Sentinel bound volumes are now in the Genealogy Room
The WCAGS has accepted ownership of the complete collection of bound volumes of the Webb City Sentinel, from 1983 (after the fire) until the final issue on Dec. 30, 2020.
Those issues can also be viewed on microfilm, along with much older issues.
Webb City Area Genealogical Society
WCAGS members staff the Genealogy Room on the third floor of the Webb City Public Library. Current hours are noon to 4 p.m. weekdays and 10 a.m. to 2 p.m. Saturdays. Meetings are held at 6 p.m. on the first Tuesday of each month in the Genealogy Room.
Everything you want to know about Jasper County Missouri Schools is available at a site compiled by Webb City Area Genealogical Society member Kathy Sidenstricker.