Everything (but corn) is ready now
Can't complain about the crowds; somebody's got to buy the tons of produce being harvested
It not only feels like summer – at the market it looks like summer.  The market is filled with summer produce – tomatoes, summer squash, onions, beets, green beans, new potatoes… and now blackberries are in season. 
I had to laugh at a conversation I had today.  The caller asked if the sweet corn was in yet.  Typically we'd see sweet corn soon, around the Fourth of July.  But when I explained that she responded with "so you really don't have any vegetables yet."  Oh my, we have vegetables all year!  And we are loaded with them now.  I'm not quite sure how, after 21 summer seasons, everyone doesn't know that, but the market continues to  surprise many who come, and I suspect there are a lot of people out there who don't come and don't know what they're missing. 
And you may be thinking "I hope they don't find out because it's too crowded now."  But remember, we are coming upon the time that could be called the growers' Black Friday, those six weeks of the year when the produce arrives literally by the ton and to sell it all we need hundreds, nay, thousands of customers.  Now that doesn't mean everyone needs to come during the first hour.  After all, we do have tons of produce, but it does mean that a lot of people need to come sometime during those three hours, three times a week in order for the farmers to sell it all and make enough to care of their family and to plant another year.  So celebrate the crowds with us and the success they mean for local agriculture and the people who raise or make our food!

Tomorrow the Free Kids Meal is a Pita Pocket stuffed with Fruity chicken salad, a side of sugar peas, and milk.  The meal can be packed to go or children can enjoy it on the picnic tables under the shade of the big tent north of the pavilion.  Kids don't need to be present but adults should show a photo of themselves with their children so we can get a headcount.  The Kids Meal is served from 11 to 11 under the green canopy across from the red barn on Thursdays.
MU Extension nutritionists will have dueling skillets going – one with an edible pod pea recipe, the other with a shelled pea recipe.  Try them both! 

Every Thursday at 12:30 p.m., MU Extension presents Eating from the Garden, an interactive lesson about the foods we eat and how they grow. We stretch, we listen to stories, we get moving and learning.  Then at 1 p.m., Ms Vicki is here from the Webb City Public Library for Tails & Tales, an outdoor story time and craft. Both activities are located near the Kids Tent north of the pavilion.
Lunch Thursday is international: Central American from Pupuseria Jandres and Asian from Songbird's Kitchen.  Tim Snider is on the market stage.
On Saturday, Clickety Clack – We're Reading Down the Track is pulling out from the station at 9 with Friends of the Library folks reading "Pete the Cat Takes the Train" as the children follow along.  The ride is free and runs about every 20 minutes until market closes at noon.  There will be a game at the station for kids to play while they wait for the streetcar to pull in or after they get off and a craft under the tree next to the Kids Tent. 
The Free Kids Meal packs on Saturday are: 
Breakfast – strawberry banana parfait and milk and
Lunch – ham sandwich with market veggies, local raspberries, and milk.
 The meals are free and can be eaten on site or taken home.  Adults can pick up meals for their kids by showing a photo of themselves with the children.
Cooking for a Cause benefits the Lion Co-op.  This food pantry on the Missouri Southern State University campus has provided assistance to students dealing with food insecurity since 2018.  Last year the Lion Co-op expanded their program to include tokens so students in need could buy produce, meat, and eggs at the market as well as get staples at the food pantry.  The full breakfast is $6 and a light breakfast is $3.  It is served from 8:30 to 11 under the green canopy just north of the pavilion.  The Just Jake Trio will be on the market stage.
On Tuesday, Ghetto Taco and Dazed and Cornfused will have street tacos and corn.  Max Barnett is on the market stage. 
The Free Kids Meal is a beans and rice bowl with market veggies and a side of fresh blackberries, plus milk. 
The Kids Gardening Club meeting is come-and-go on Tuesday.  Master Gardener Nancy will help them plant in the garden.  Stormy Farms is bringing chickens for the kids to see and there will be a kids craft, too.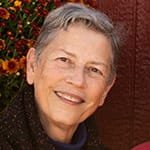 Eileen Nichols founded the Webb City Farmers Market in 2000. From a handful of producers, the market has grown to become nationally recognized.