Meeting children's needs is part of the market's mission this summer
Free kids meals on all three market days plus reading, gardening and nutrition programs
School's out and that means we'll be seeing lots of kids at the market (of the human variety). 
There will be free kids meals on Tuesdays from 4:30 to 6:30 p.m., on Thursdays from 11 to 1 p.m., and on Saturday from 9 to 11 a.m.. The meals will be ready to eat under the kids tent but can be packed to go. The USDA still allows us to send food home for kids not present so parents and grandparents can pick up food by showing a picture of themselves with the children. And the kids don't have to be at home; they can be at the ball fields or the splash pad or where ever life is taking them. The USDA is also allowing us to do more than one meal at the time, so on Saturdays we'll have ready-to-eat breakfast and lunch packed to go.
On Tuesdays and Saturdays this summer there will often be a gardening activity for children. 
On Thursdays through July, the Library will have story time and a craft for kids. The whole family is invited to participate in the library's Tails and Tales program from 1 to 2 p.m. near the kids tent. At 12:30 on Thursdays an MU Extension nutrition educator will teach kids about Eating from the Garden. 
Our three VISTA volunteers begin work at the market on Monday so that will dramatically expand our ability to feed kids and engage them in learning activities. This is going to be a great year for kids at the market.
This Thursday's Free Kids meal is a hotdog, chopped broccoli* salad and strawberries* (*fresh from the market), plus milk. It will be served from the green canopy just north of the pavilion.
For the adults, Thursday lunch is international – Central American from Pupuseria Jandres and Asian from Lucy Lee. Just Jake & Corky are on the market stage. University of Missouri Extension nutritionists will demonstrate a market fresh recipe.
Vendors we expect Thursday include:
FARMERS
Braker Berry Farm – produce & plants
Bee Hunter–specialty jellies and marmalades
E & O Produce – plants & produce
Lee Family Farm–produce & plants
Lykou Lee Farm – produce
Nature Valley Farm – produce & plants
RANCHER
Stormy Farms–all natural pork & chicken & eggs
OTHER DELIGHTS
Pupusaria Jandres–filled pupusas + baked goods
Lucy Lee–Asian food + produce
Juniper Coffee
SATURDAY we'll have our farmers and ranchers, plus shrimp, tamales, kettle corn, and baked goods. Debbie Fedie and Harvest Hill with have kitchen sewn and woven goods. This time of year, the pavilion is very full so we will spread out beyond the pavilion under the market canopies. You may have noticed if you drive by during the week that we just have the canopy frames up. That's because we learned the hard way last year that putting the tops on is an invitation to disaster. They are just not built for storms or even a stiff breeze so market staff and volunteers only "roof" them if we need the cover, typically only on Saturdays. Now if there's a storm it just blows through the frames without catching the tops like giant sails and twisting everything into a heap.
The Webb City Band Boosters are serving Cooking for a Cause Saturday. Breakfast is served from 8:30 to 11 just north of the pavilion. A full breakfast is $6. A light version is $3. The market's GROW committee, which is our fundraising group, is working to find underwriters for the costs of the breakfast. Currently the market has to spend a third of the proceeds on ingredients and paper goods and we'd love to give 100% of the breakfast sales to our charities. If you or your business would like to sponsor a Saturday or a month of Saturdays, let us know!
Luke Smith is on the market stage Saturday.
It's the first Saturday of the month so the streetcar will have free rides every 20 minutes from 9 to a little before noon, leaving from the depot west of the market. Yoga at the Market is under the kids tent from 8 to 8:45. It's free, though donations are welcome. It's suitable for beginners and experienced people of any age.
Every Saturday with suitable weather, the Market Walk begins on the walking path just west of the market at 8:15. The short walk led by market volunteers returns prior to market opening.
Saturday's Free Kids Meals are: Breakfast of Strawberry Parfait and milk and Lunch of chicken noodle soup, grapes and milk.
TUESDAY Ghetto Taco and Songbird's Kitchen are back. The Free Kids Meal is grilled cheese, sliced tomato & cucumber salad, grapes, and milk.
The Kids Gardening Club is meeting Tuesday near the kids tent. Master Gardener Nancy will talk to kids about seed growth, leading them in planting a green bean seed in the market's raised beds. Each child will receive a seed in a bag with a wet paper towel and instructions to tape it to a window to watch it sprout. Then they can transplant it to their own garden.
Marshall Hill is on the market stage.
The produce is pouring in and we're finally getting some nice weather. But regardless of the weather, we're always glad to see you at the market.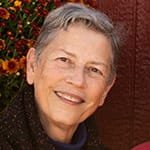 Eileen Nichols founded the Webb City Farmers Market in 2000. From a handful of producers, the market has grown to become nationally recognized.