There's only one thing to do when you hear it's almost the end of strawberry season, get to the berry farm as fast as you can.
We took our Vista Volunteers out to Braker Berry Farm. They got busy bringing in the last batch of strawberries bound for Thursday's Free Kids Meal. The remainder will be made into a pure fruit sauce by Chef Adriana for our kid parfaits.
Police to hand out do-it-at-home kid ID kits at the Thursday market
On Tuesday it's time for Eat Street again
Get ready for a great Thursday this week! The Webb City Police Department will hand out free do-it-at-home kid ID kits. We all hope they'll just be fun scrapbook mementos someday but in case of a crisis like a lost child, a completed ID kit can give the police a head start at a critical time. Be sure your children, the neighbors' kids, the grandkids, any child that you might be responsible for has a completed and easy-to-find kit. The police are also happy to visit with adults, too, while they're at the market just in case you have questions like how to legally navigate a traffic circle.
MU Extension nutritionists will sample a beet and cabbage slaw recipe during market. At 1:30 they'll be at the kids tent leading Eating from the Garden, an interactive lesson for elementary and younger children about the foods we eat and how they grow. We stretch, we listen to stories, we get moving and learning.
Then at 1 p.m. Ms Vicki is here from Webb City Library for Tails & Tales, an outdoor story time and craft. Both activities are located near the Kids Tent north of the pavilion.
The Free Kids Meal is served from the green canopy, just north of the pavilion, from 11 to 1 Thursday. It will be nachos with market lettuce and tomato, a side of the last strawberries of the season, and milk. Kids can enjoy it under the kids tent, or the meal can be packed to go in case they have a ball game or want to cool off at the splash pad. Parents and grandparents can pick up for the kids if they show a photo of themselves with the children to our server so we can get a head count. The lunch is free to anyone age 1 through 18, regardless of income or residency.
Be on the watch for a school bus. We have students from Sarcoxie visiting the market Thursday.
Songbird's Kitchen and Pupuseria Jandres will serve snacks and lunch for adults. Drew Pommert is on the market stage.
ON SATURDAY Drew is back on stage and the Joplin Association for the Blind is running Cooking for a Cause. It's served from 8:30 to 11 under the green canopy north of the pavilion. A full breakfast is $6. A light one is $3.
The free kids meal pack on Saturday is:
Breakfast: scrambled eggs with ground sausage, a banana, and milk and 

Lunch: baked ziti with meatballs and tomato sauce, cauliflower, sugar peas, and milk. 
Breakfast is ready to eat but can be packed, lunch is packed to go. It will be served from 9 to 11 under the kids tent.
Master Gardener Eric will talk to kids and adults about creating a planting calendar. There will also be a kids craft in the garden area north of the kids tent.
Tuesday is EAT STREET! How can it already be the third Tuesday of the month? Seems like our first Eat Street of the season, which featured a fabulous mariachi band and wonderful traditional dancers, just happened! Music is always extra special for Eat Street and this Tuesday we're featuring a new artist – Webb City's own Patti Steel. Patti is a multi-instrumentalist, soulful singer/songwriter whose musical styles incorporate a wide range of genres, including American roots, blues, jazz and more. We are looking forward to her market debut from 4 to 7.
The other star of Eat Street is Food! We're expecting Ghetto Taco, Songbird's Kitchen, Flounders, Culver's BBQ, Kings Kettle Corn and Squeezer's made-at-the-market lemonade, and Hersey's Mobile Ice Cream Parlor.
The Free Kids Meal is served from 4:30 to 6:30 on Tuesdays from under the green canopy just north of the pavilion. The menu is ham and cheese sliders with market veggies and milk.
Of course, at every market we'll have our award-winning line up of vendors with some of the best produce in the state and other delights. Plan to come at least once this week, better yet, come grab a meal and restock on goodies several times.
And bring company. A certain city manager told me he had what, for him, was a bit of a surprise family reunion last Friday night and that 20 of his out-of-town kin went to the market Saturday morning and had a great time. Amaze your out-of-town friends and kin – bring them to the market! See you there.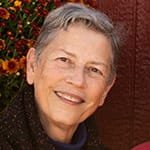 Eileen Nichols founded the Webb City Farmers Market in 2000. From a handful of producers, the market has grown to become nationally recognized.